Jo Waterhouse Sits Down With JamFactory
Juxtapoz // Thursday, 27 Aug 2009
1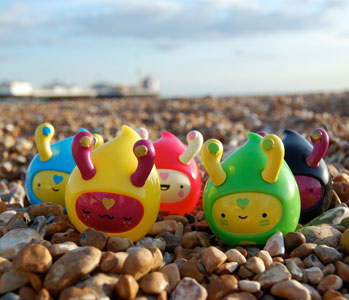 As the founding member of Xynthetic can you introduce us to the collective? How did you get together and who's involved?
Well, let me introduce you to the family, it consists of: M4KINOV, Mr Jago, Klingatron, Waste, Richt, Sums, Danny Wainwright, Pone, 45RPM, China Mike, WheatFree, Black Cloud, Louis Marshall, Alex Digard, Sam Taylor, Eric Thomas, Darryl Reid, Lee page, Wilko and myself. It all started back in 2000, when I started designing and making skateboard graphics in my friend's garage in Leicester. They were pretty rubbish but I really wanted my own board company, I just didn't know how! Over time I did more and more graphics, at that time with stencils and spray paint. A small group of us used to skate together too, and we made little edits under the Xynthetic name. It wasn't until a few years later that I thought I could let Xynthetic go and expand out of my hands, so it started to grow, with new skaters and filmmakers and photographers. Then new artists joined us, expanding further and giving us a variety of styles.



What are the objectives of the collective and what would you say are the benefits of being part of a group?
I wouldn't say we have any particular objectives, like I say, it seems like things are taking their own direction. I would love it to continue on like it is now: doing more exhibitions, making more films and generally getting stronger. Being in a group of like-minded individuals is great, not only do you learn an awful lot about different techniques and styles, it makes me feel proud to be in a group with these hyper-talented cats that I look up to myself. There's just something very satisfying about being in this collective with these guys, it makes me feel proud. And after all, strength in numbers!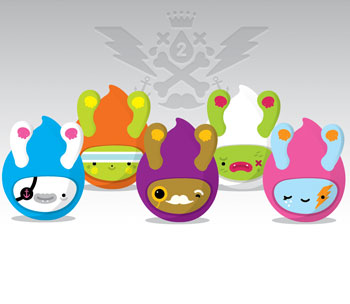 Was there any particular remit when you were gathering members?
No not at all. I was good friends with all the guys before they became Xyn members so it was all a natural process. I've looked up to them and their talents, so it felt like the right thing to do, to ask them to be part of the family. I didn't have a game plan for expanding, it all just happened as and when really. Moving to Bristol introduced me to a lot of new and very talented folk who became friends and then members.
Would you say there are any common denominators in terms of the artwork by members of the Xyn?
I don't think so, no. Everyone has a different style and different mindset behind how they create things, and that's what I love about it. The variety of styles is inspirational to me so I hope it can inspire other peoples too!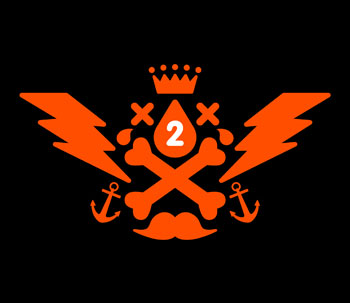 You go under the name of JamFactory for your personal and freelance work. When did you first take on that name and start down the freelance path?
I first started using the name JamFactory about 8 years ago. At first it was just the name of my own website that I set up to use as an online portfolio and playground for me to learn more about the web and upload my own bits of work. Over the years that developed further as I got better at building websites (I constantly re-designed and re-built jam-factory.com,) but also using it as a proper portfolio, uploading my efforts at illustration, design and photography. That continued to grow until after 4 years of working for a design agency in my hometown of Leicester and with an online portfolio behind me, I quit and started JamFactory as my very own company! I carried on doing what I was already doing really, working hard and showcasing pretty much everything I created on my website, pointing people towards it to have a look! That perseverance paid off though, as I started to be offered work with lots of nice folk, that snowballed to a whole variety of projects, which still continues today! God bless the internets!
The Xythetic artists work across different mediums and disciplines, but you seem to straddle many different ones all by yourself - web, graphics, painting, vinyl toys, photography, filmmaking - how do you split your time between each medium, and does any one medium give you more satisfaction?
I think that's an eternal battle that I can never win. Splitting my time isn't what I'm very good at. I tend to work on whatever it is that needs doing at the time! I'm really, really fortunate in being able to work on lots of stuff that really interests me, and at the moment, I'm jumping between mediums depending on what has a deadline and what doesn't! They all give a different type of satisfaction but there's nothing like holding a finished tangible item that is the fruit of your labors, so because of that I'd have to say a printed graphic or vinyl toy - something that started life in my head, then on a computer, then is a real object in the real world. That's the most rewarding part I think!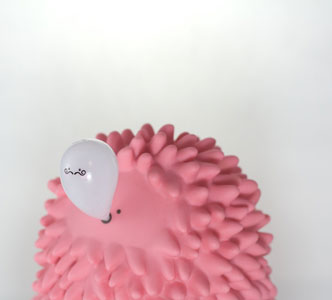 You have a very clean and pared down aesthetic that seems to run through most of your work. Was that something you consciously set out to create?
I don't think it's a conscious choice but something that comes without planning really. Maybe it's because I feel comfortable working with that kinda style that it sticks. I do like to try and break out of that style and try something new when I can, but breaking a style, especially when it's how you work best is really difficult and usually results in me swearing a lot and throwing my toys out the pram, but you've gotta give it a go!
Who are some of your favourite artists and designers?
Oh man, 'the' list, here we go: Luis Cook, ISO50, 123 Klan, Estevan Oriel, Mister Cartoon, Struggle Inc, Jeff Soto, Emil Kozak, McFaul, Chris Cunningham, Deseo One, Spike Jonze, Tado, Benny Gold, Mike giant, Bartelme, Paris, Eko, Pete Fowler, Supakitch, Sanna Annuka, Hydro74 - the list goes on!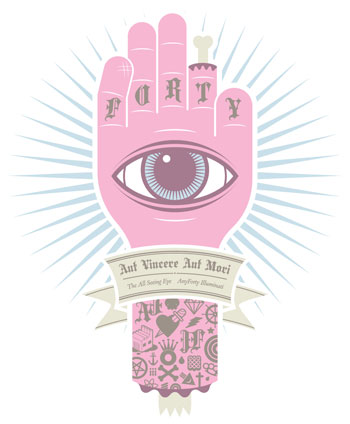 By day you work at Aardman Animation. Can you tell us what you do there and how you fit in your JamFactory and Xynthetic doings alongside that? Are Aardman supportive of your extra curricular activities?
At Aardman I'm privileged enough to be 'Senior Online Designer' which means I get to design websites, flash games, interfaces, the odd bit of print work and even some character design! We do lots of work for internal properties such as Wallace & Gromit and Morph, as well as working for external clients like the BBC and Cartoon Network. It really is the dream job! I'm not entirely sure how I fit in being JamFactory and running Xynthetic to be honest: a lot of long days and late nights really. It gets tough and can all get a bit much sometimes, but I'm so lucky to be able to do this for a job and for me to be able to have a creative life, so I try not to whine about being a bit sleepy sometimes! Aardman are really supportive of me doing things outside of work, and that's really nice. It let's me do things without worrying about keeping it secret. It also means opportunities can arise inside of Aardman that might not have happened before, like vinyl toys or clothing design etc.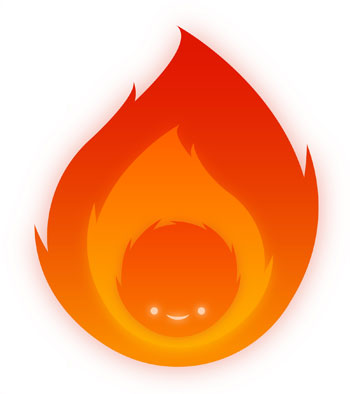 You're based in Bristol, which has always seemed like a pretty cool place if you're into the likes of skating and art. Was that what drew you there from Leicester to begin with?
Yeah it was. I absolutely love Bristol! It's the whole creative atmosphere that makes this place so special. I came here to visit Mr Jago many moons ago and I fell for the place straight away, as it's such a beautiful looking city with its Georgian architecture. My girlfriend moved here to come to university and that was the perfect opportunity for me to have a fresh start and come to Brizzle!
What do you do/where do you go if you are ever in need of some extra inspiration?



I'm finding it increasingly difficult to find time to step outside of my normal day-to-day cycle and get fresh inspiration, but I do try to step away from the computer and just get outside. Riding my bike is always a fun way to do that and it's nice to be outside in the fresh air having a think. Aside from that I like to leaf through books: I have a plentiful supply of swanky coffee table books with lots of pictures and not a lot of words - my favourite kind of book.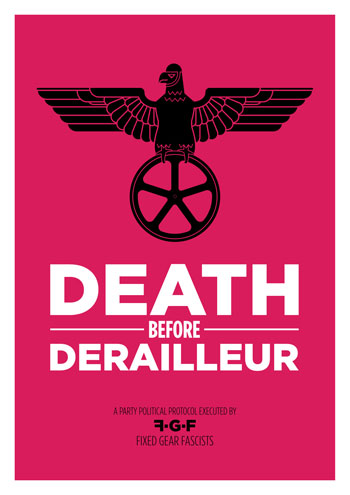 As someone who's massively into skating and art, it was a natural step for you to design board graphics professionally. Is that a crossover you still enjoy? I saw that you've done a couple of graphics using laser etching, which produces such a fantastic effect. Can you tell us about those and whether it's something you plan to do more of?
I absolutely LOVE designing board graphics. It's such a unique shape, you're forced to think as much about the composition as the design itself, and I love that. The laser etching is all because of a friend of mine has a giant laser in his garage in the USA. He can pretty much etch/engrave anything on anything, so the possibilities are endless! I'd love to do more laser stuff and have another board graphic coming out soon for FiftyFifty store in Bristol, so it'd be great to see an engraved version of that too!
In 2008 you released your first vinyl toy series known as 'Droplets'. That must have been pretty exciting to see that come to fruition. Can you tell us about them, how it came about and how the design came together? Can we expect to see more adventures in vinyl from you soon?
I can't describe how good the feeling is to have my own vinyl toy, it really is a dream come true and every stage was very, very exciting! It all came about through sheer luck! A friend of mine online asked if I'd ever thought about getting my characters turned into toys, and of course my reply was "yes, it'd be a dream come true!" He suggested getting in touch with a man named Andy Woo, who owns and runs toy production company Crazy Label, the people responsible for the Treeson figure. So, I just gave it a shot - emailing Andy, asking what he thought of my work as I'd love to take it further in the vinyl world.
Much to my astonishment, he got back to me and said he liked my work and would like to take it forward, and the relationship was born! I worked on some design ideas and we went back and forth, I developed ideas further as Andy gave me feedback and thoughts. The droplet shape came about just from doodling and that got expanded on until we settled on the shape of a Droplet (which is actually a liquid drop inside a Droplet shaped suit, like a parka jacket, with the 2 evil mind-controlling Droplets poking out the top). 5 different old-classic-sweet colourways and face graphics later, we have the Droplets you see today! Yep you can indeed expect more from me. I'm working on Series 2 of Droplet at the moment, as the first series have all but sold out completely, which is a fantastic feeling! I'm also working on a character called Shirley Creamhorn & Shithawk, which has been turned into resin sculpt by a very talented man named Alex Avelino, which we hope to make a low-run available this year! So definitely not the end of my vinyl journey, I hope to keep on going as far as I can!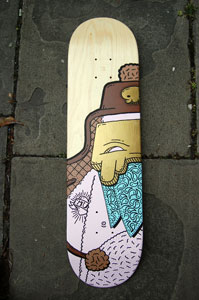 What would you say is the biggest/best lesson life has taught you so far?
That being nice and making friends is the most important thing there is, when they say "It's not what you know, it's who you know," they weren't kidding!
What's up next for you and Xynthetic?
More exhibitions, more films and the release of our very own coffee table book! We've got a couple of shows happening in Bristol, one that recently took place inside the new Aardman building and also one at Friend & Co gallery. We're trying to film as much as possible for a forthcoming bike film too, but the recent rubbish weather has put a stop to that. If the sunshine comes back out soon then we'll get back on it. The book is something I should have started putting together about a month ago but haven't gotten around to it, but in true Xynthetic fashion, we'll get it finished at the 11th hour!