JEST in Time: Art Auction to Benefit ArtHatch
Juxtapoz // Tuesday, 31 Aug 2010
1
JEST in Time ends this Saturday, September 4th with many of the pieces at less than half of retail. With so many vital arts programs being cut in our tough economic times, make sure creative youth are still able to attend school and access art classes and materials by bidding on a piece in this worthy auction.
The exhibition features 36 artists from around the world who have created pieces centered around the theme and size 12 x 12 inches or smaller.
The exhibition will be silent auction style with all pieces starting at $100. Bidders will have the opportunity to take their chances and bid on the piece, for $100 or higher, or purchase the piece for the "buy it now" price stated by the artist.
About ArtHatch:
ArtHatch is a multifaceted organization founded on the principles of creativity as a way of life and dedicated to being a welcoming, non-traditional venue for young, established artists to gather. ArtHatch also provides young, aspiring artists a unique environment and experiential landscape from which they can grow, learn, and blossom.
Through the nurturing and specialized experience of its founders, ArtHatch is uniquely positioned to deliver an artistic panorama of young artists' work to society, thus enriching this arts loving community with the gift of youthful creativity.
100% of Distinction's profits will be donated. A portion will go towards ArtHatch activities and a portion will go towards college art scholarships at Palomar College in loving memory of Charles 'Chuck' Leslie Walker.
Take a look at a couple of our favorites available for grabs below, but head over to distinctionart.com/current and take a look around yourself!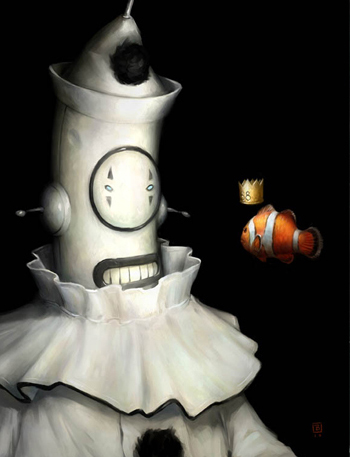 Brian Despain, "A Simple Audience"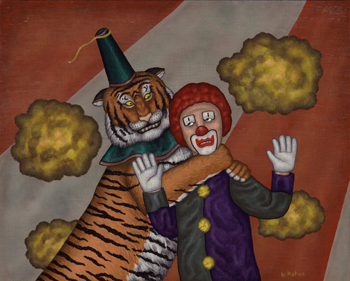 Ben Kehoe, "A Difficult Situation to Gauge"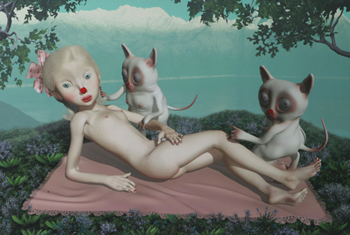 Jana Brike, "The Consecration of a Clown"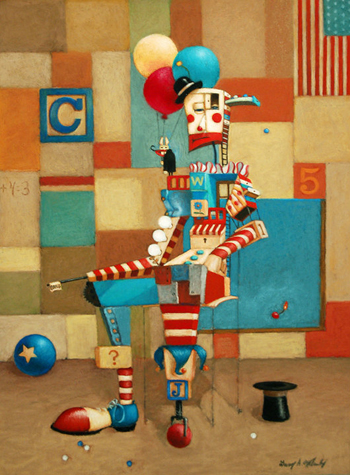 Gary McCauley, "Wellington the Clown and His Id Cid"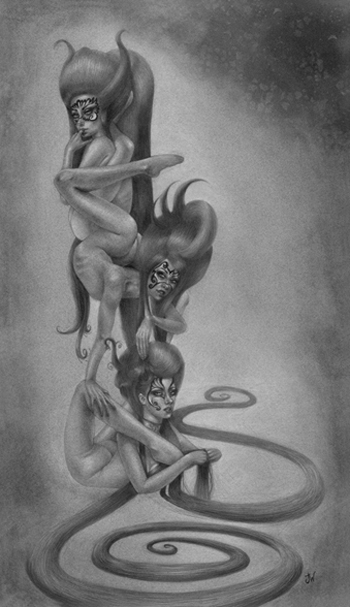 Jessica Ward, "Id, Ego, and Super Ego"