Jeremy Fish x Snoop Dogg "Listen and Learn" for Joshua Liner Gallery
Juxtapoz // Tuesday, 07 Jun 2011
1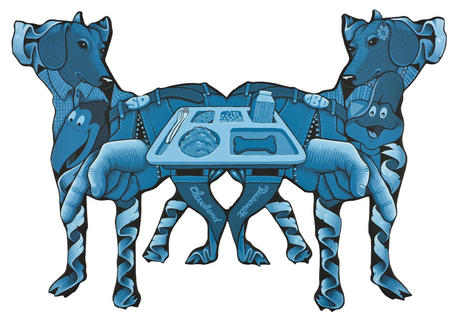 As you may know by now, Jeremy Fish is opening a new solo show,
Listen and Learn
, at Joshua Liner Gallery in NYC on June 21, 2011. For this exhibition, Fish prepared "story paintings" with accompanying audio, including this one with Snoop Dogg.
As the show's press announces, "The exhibition features assorted tales from a wide swath of contemporary life—including from artists, skateboarders, rappers, athletes, a stripper, a cop, and a historian—which Fish has reinterpreted in lovingly realized painted works.
For this impressive project, Fish gathered a selection of friends and acquaintances whose rich lives have engendered no end of interesting tales. Most prominent among them is rapper/producer/actor Snoop Dogg, who recounts a story from childhood. In the tale, Snoop is among a select group of neighborhood kids to be bussed to a brand new, highly touted elementary school. Right off, Snoop gets into trouble when he allegedly exposes himself to a female student in the lunch line. The rapper's account of the principal's reprimand displays his undisputed gift for storytelling and turning naughty content into witty word games with a humorous twist. In 'Pulled Out My Worm', Fish's painted rendition of the tale, these story elements are incorporated into a baroque-style mirror image of two dog silhouettes, adorned with scrolling filigree, cartoon characters from an American childhood, and neighborhood identifiers."
We will have a bunch more details and information about Fish's new solo at
Liner
, but we wanted to get a few previews up on the site this morning.
Jeremy Fish
Listen and Learn
June 21—July 16, 2011
Joshua Liner Gallery
New York, New York