Jeremy Fish Artwork from Upcoming DEUS EX: HUMAN REVOLUTION Group Show
Juxtapoz // Thursday, 14 Jul 2011
1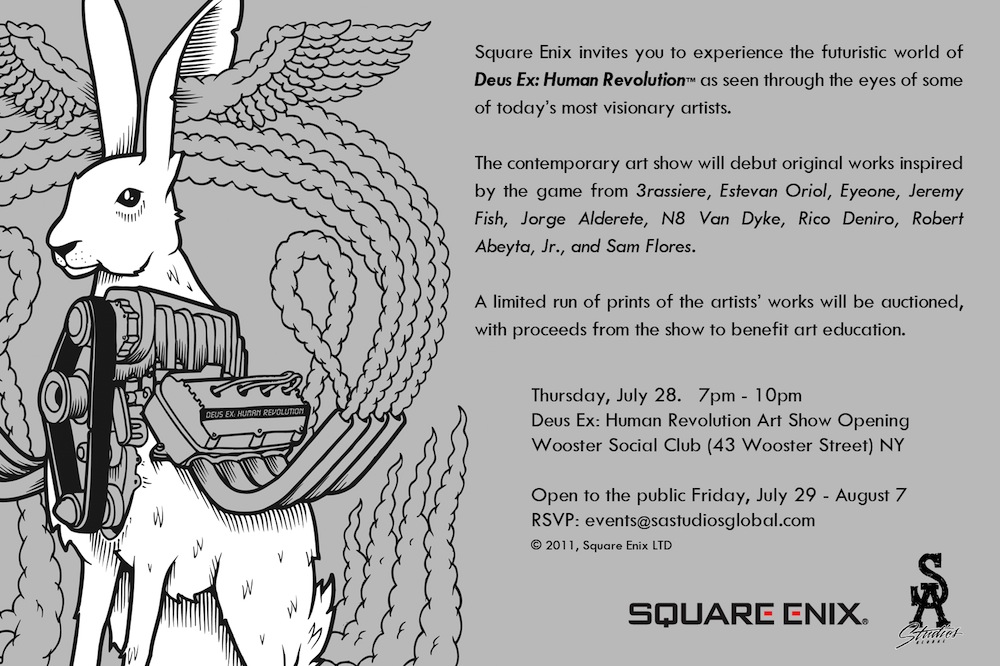 Square Enix Unveils First Piece of Artwork from Upcoming DEUS EX: HUMAN REVOLUTION Group Show
We just got our hands on what appears to be the first piece of artwork from the upcoming
DEUS EX: Human Revolution contemporary art group show
. This flyer is what Square Enix and SA Studios are using to invite NYC artist community, editors, fashionistas, scenesters, musicians, DJs and the like to the opening on July 28 at the Wooster Social Club. The image was created by Jeremy Fish and represents his take on the pro and anti human augmentation futuristic theme explored in the video game, which comes out on August 23.
We're hoping to get our hands on more artwork from the show before it opens, but in the meantime, here is what our boy Fish had to say about the working on the project:
"I'm in great company with this group show. I'm a fan of all of the artists who are creating and photographing original works to bring the theme of DEUS EX: Human Revolution to life. Plus all proceeds from the show benefit art in schools!"
Other artists creating original works for the show are:
•      3rassiere
•      Estevan Oriol
•      Eyeone
•      Jorge Alderete
•      N8 Van Dyke
•      Rico Deniro
•      Robert Abeyta, Jr.
•      Sam Flores
And you know the JUX staff will be onsite at the opening to bring you an inside look.  Word out the street is that Square Enix and SA Studios are creating limited edition T-shirts to celebrate the show, more on that to come, and we'll be sure to score some to giveaway to everyone.
www.deusex.com