Jenn Porreca at Miami
Juxtapoz // Tuesday, 24 Nov 2009
1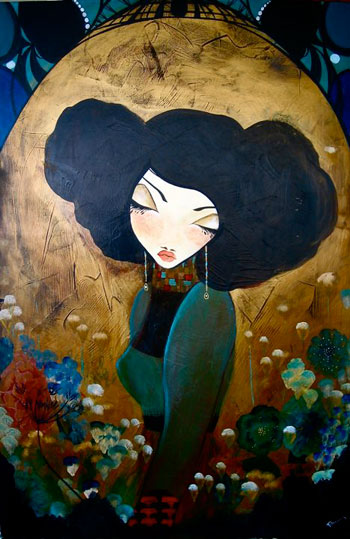 Harmony in Blue, 36 x 24 inches


San Francisco based artist Jenn Porreca will be showing off some of her latest (and best, in our humble opinion) work this year at Scope Miami. Jenn has progressed significantly in her work this year, so seeing what she has in store for us in Miami should be a treat.

Jenn Porreca is interested in the human quest for beauty as a vehicle for power and how this concept plays out in our daily lives, frees us at times, and also binds us to material things, to people. "I'm interested in the vanity of humankind," she explains.

Porreca draws her inspiration from multiple cultures in history through fabric patterns, fashion, wallpapers and color palettes. Porreca's new modern paintings are self-portraits in a sense, but also reflections of the world around us; a mix of cultures and race, a reflection on the painter's personal life, travels and experiences.

"On any given day, I'm on a wild hunt for fabric patterns from the 1930s and 1940s from Shanghai, or Russia - or am obsessed with Zhostovo painting, or kokeshi dolls. I just research where the world takes me. I also very much enjoy leafing through swatches of old wallpaper to get a sense of the history of a country."

Jenn Porreca will be showcasing new paintings during the SCOPE fair in Miami with gallery Mauger Modern. Stop by and see her newest creations in person should you be so lucky as to be in Miami for this art extravaganza!
Learn more on Jenn at www.jennporreca.com


Cerulean, 48 x 18 inches