Jeff McMillan: "Zuben Rat Salad and Friends" & EZO
Juxtapoz // Monday, 16 Mar 2009
1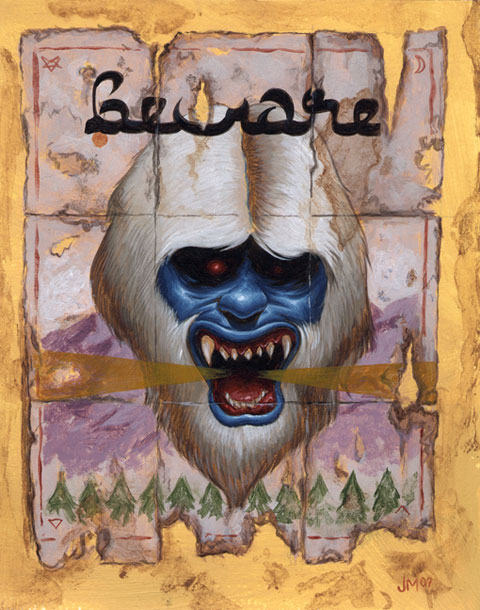 California's own Jeff McMillan (work above) and graffiti legend, EZO (work below) are the latest creators to grace the digital walls of Dirty Pilot for a showing on view now through April 15, 2009.

McMillan's Zuben Rat Salad and Friends features new acrylic paintings on paper along with a limited edition print, while EZO's Work on Paper is just that: a collection of varied and beautiful drawings and paintings on paper.


Jeff McMillan's influences lie heavily in '80s pop culture. The artist proclaims that the decade boasted the best television programming, cartoons, toys, and movies. It was a decade of imagination and creativity during a time when the world was changing so drastically on all levels.

As he continued to make use of the right side of his brain, it eventually became time for McMillan to begin the final stages of schooling. He attended the Academy of Art in San Francisco from 1999 to 2001 until he made the big move to Southern California, where he continued his schooling at the prestigious Art Center College of Design, in Pasadena, CA from 2001 to 2004. He studied illustration at both schools until he graduated from the Art Center with honors.


EZO has been writing graffiti since 1979, and he began his first comic strip in the seminal Latino culture magazine, Latin New York, in 1984 called Graffiti Tales. He reenergized and reorganized the Graffiti Hall of Fame in Spanish Harlem to its former glory in painting the entire location at once by enlisting the top NYC train era artists from Stan 153, to Seen, to Tats Cru, and 30 other artists (which hadn't been done since it's inception in 1982.) EZO's accomplishments contiunue, but you'll have to check out the rest of his work and read all about him in checking out his latest work now online with Dirty Pilot at www.dirtypilot.com