Jason Bryant's 'Trilogy'
Juxtapoz // Saturday, 28 Aug 2010
1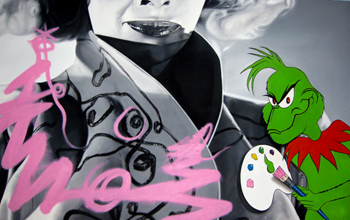 Trilogy is a continuation and further exploration of Jason Bryant's fascination with film, skateboarding culture and the presentation of the self. This show, composed of eight large-scale paintings, showcases his signature photorealistic style through aggressive compositional cropping and the uniform editing out of a subject's eyes with technical refinement.
The artist states, "For the past several years I have been developing large-scale oil paintings and small intricate depictions of figures, and their clothing in a highly realistic manner capturing and evoking the importance of a film still or cropped photo.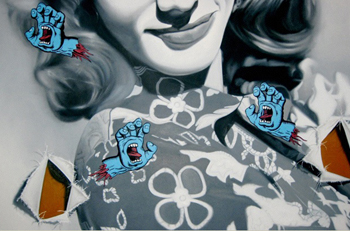 Inspired by film and comic book images since my childhood, I try to crop my images to create a more dynamic perspective, putting the viewer intimately closer to my subjects--close enough to see individual hairs or the smallest detail on a shirt collar."
The exhibition's eight large-scale paintings are organized in three distinct conceptual series informally identified as Rubric, Merging Iconographyand Symbolic Portraiture.
Rubric
Four paintings comprise the Rubric series. Based on source images of iconic black and white stills from classic Hollywood films like The Wild One (1947) starring Marlon Brando, and Bringing Up Baby (1938) starring Katharine Hepburn and Carey Grant, Bryant builds canvases that evoke a dramatic, cinematic format. He then adds subtitles to the bottom of the composition, creating dissonance between the overall image and the meaning of the copy. These subtitles are either of Bryant's own creation or plucked from the cultural landscape of song lyrics and movie dialogue ultimately changing the complexion of the original film still.
Merging Iconography
Comprised of two paintings, these works serve to combine two aspects of Bryant's life by merging skateboarding icons into paintings of black and white film stills. Employing trompe l'oeil, the brightly colored skate graphics, interact with the canvas and the picture plane in mischievous and playful ways. Bryant presents viewers with a complex view of himself and popular culture through the juxtaposition of elegant, silver screen stills and raw, aggressive skateboarding graphics.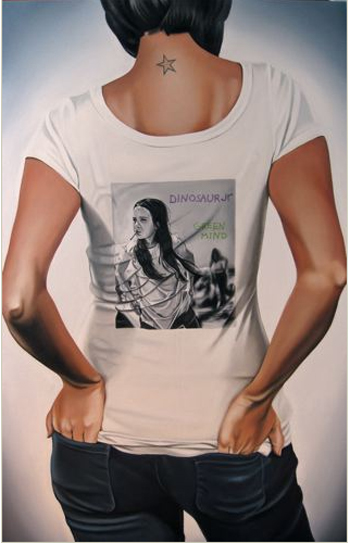 Symbolic Portraiture
Continuing in his tradition of portraiture, the two paintings in Symbolic Portraiture confront the viewer with the back of female subjects, dressed in t-shirts, which depict album cover art. The artist and album cover presented is an identification and portraiture device, presenting a specific facet of an individual's personality to the viewer.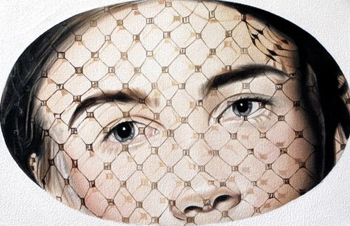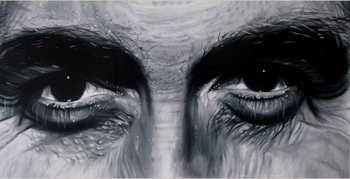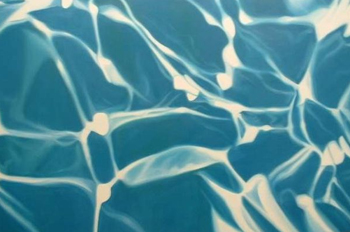 About the Artist
Jason Bryant was born in 1976 in Wilson, North Carolina and lives and works in New York City. He received his BFA in Painting from East Carolina University in Greenville, North Carolina in 1999, before completing his MFA at Maryland institute College of Art in 2004. He has had solo exhibitions in New York, Maryland, and North Carolina, and has been included in group exhibitions throughout the U.S. and internationally, at venues including Il Ramo d'oro in Naples, Italy; The Show Room in Nashville, Tennessee; Gallery 32 in London, England, and The Hemicycle Gallery in Washington, D.C.
Opening Reception: Thursday, September 16, 2010: 7 - 9pm
Exhibition runs Sept 16 through Nov 11, 2010
Raandesk Gallery
16 W. 23rd Street
4th Floor
New York, NY