An in-depth look at the January 2011 Juxtapoz featuring Tiffany Bozic
Juxtapoz // Monday, 03 Jan 2011
1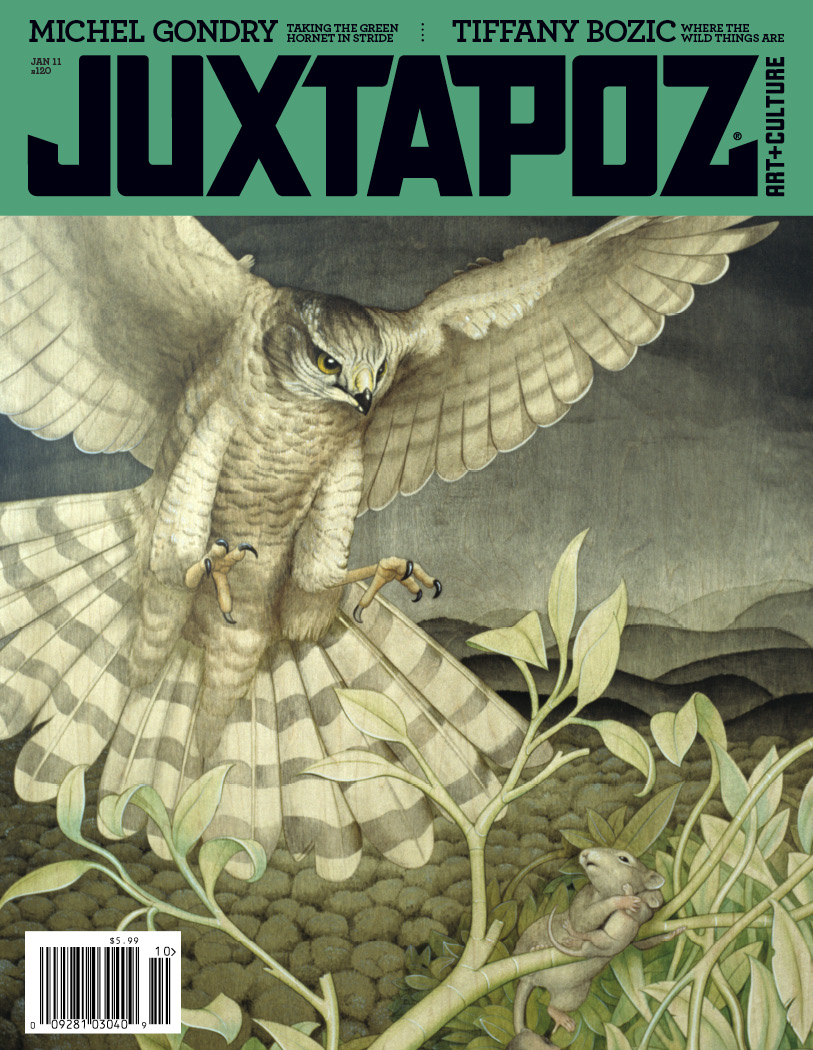 Tiffany Bozic
—The San Francisco-based fine artist is interviewed by Mike Giant, as Bozic was in preparation for her solo show at NYC's Joshua Liner Gallery. She tells us "The fight for survival can be so cruel and unbearably painful that the spirit erodes and separates the individual for their collective experience." Just look at that image above.
Devin Troy Strother
—The young artist from Los Angeles has been making waves and gaining criticial attention with shows at Richard Heller Gallery in Santa Monica. Gabe Scott interviews the artists and finds the energy of the "mixed media machine."
Michel Gondry
—World famous director of "Eternal Sunshine of the Spotless Mind," "The Science of Sleep," and "Dave Chappelle's Block Party," takes time off his busy "Green Hornet" press schedule to speak with our contributing editor, Joey Garfield. Because Gondry is a busy man, we art directed our own Le Pettit Gondry in the spirit of Big Gondry. We'll see what he thinks.

HuskMitNavn
—Caleb Neelon seeks out the Danish artist and gets the meaning behind
Awaiting the Upturn
and how it was to show with Barry McGee this past year.

Mike "Cept" Ballard
—The former graffiti artist from the UK talks about Madlib, Dadaism, and Duchamp.
Cory Arcangel
—The multimedia artist transforms your 8-bit Mario into a museum exhibition. New Media and Technology Editor Alexander Tarrant interviews.
Profiles
& Showstoppers
—Amy Casey, Robert Bowen, Carolin Lobbert, Jason Hernandez, Kenji Nakayama, Rik Lee and reviews on Joe Sorren's latest exhibition, and the New Image Art Gallery exhibition with CR Stecyk III, Steve Olson, and Melanie Berry.
But the January 2011 on newsstand now,
or right now in our webstore
.