Image Gallery
James Quigley aka Gunsho @ Double Break, San Diego
Juxtapoz // Tuesday, 18 Oct 2011
1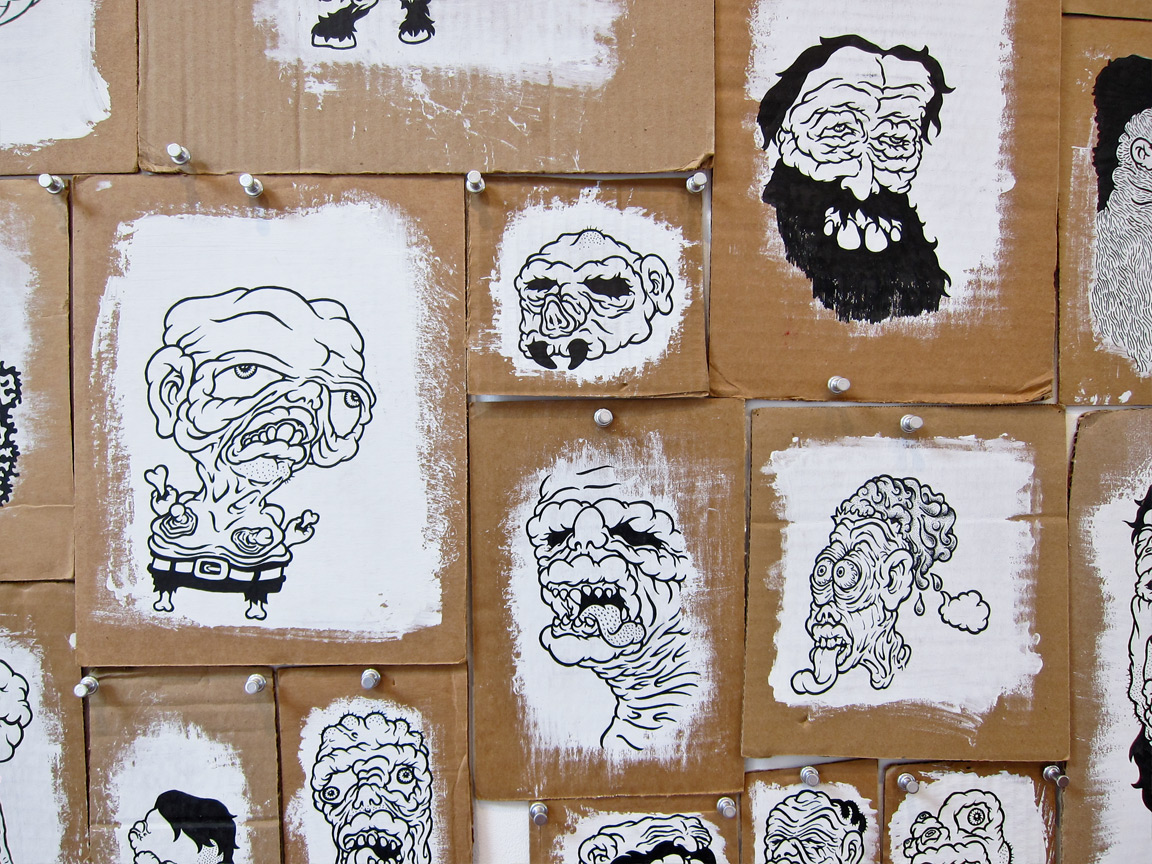 Recently opened at 
Double Break
is
Horror Days
, a series of drawings and prints by
James Quigley, aka Gunsho
. The show runs until November 6th, perfect for the month of Halloween. These cardboard pieces in particular are our favorites from the exhibition.
Here's the press release: "Double Break is excited to announce
Horror Days
, a solo exhibition of works by Gunsho (a moniker for the Providence, Rhode Island-based artist James Quigley).  His ongoing series
Demonology
is a modern interpretation of the seventy-two demons classified in the occult text known as the
Goetia
.  This series of screen prints began in 2006 as part of a continuum of autobiographical cartooning that began very early in his childhood.
As a musician in the DIY networks of the the early 1990s, his work in the mediums of flyer-making and screen printing began in his teenage years and continued to advance in his twenties into the production of rock posters for underground shows in the New England area.  Quigley eventually delved into the realm of professional magazine illustration, working for Tokion, Complex, and Transworld Skateboarding, among others.  His art has appeared in the form of record covers, shirt designs, video game art, skateboard graphics, and animation for the likes of Diplo, Landed, Kylesa, Street Carnage, Heroin Skateboards, Sixpack France, and Andrew WK.  He has shown work in North America, Europe, and Australia.  Over the past few years, Quigley has devoted a significant amount of his time to working with developmentally disabled adults in an arts-based day program, making music, videos, and drawings, and where he also continues to teach a regular weekly character design class.
Often described as "Gross-Out" art, his current work generates around themes of rural isolation, addiction, mental illness, death and violence.  Typically visceral and expulsive, the past five years of Gunsho's work has been produced with an intent not to offend, but to promote healing on a non-ordinary transpersonal level.  Horror Days collects work from the Demonology series, as well as posters, other art prints, and original drawings from the past five years."