It's a 'Two-Way Street' between NY and Brazil
Juxtapoz // Friday, 23 Jul 2010
1
Two-Way Street is the latest installment in what has been an ongoing cross-cultural dialog between Jonathan LeVine Gallery in New York and Choque Cultural in São Paulo, Brazil.
Work by the four artists in this show represent the new generation of street art coming out of São Paulo today, as these artists are younger than those who have previously exhibited here in the US.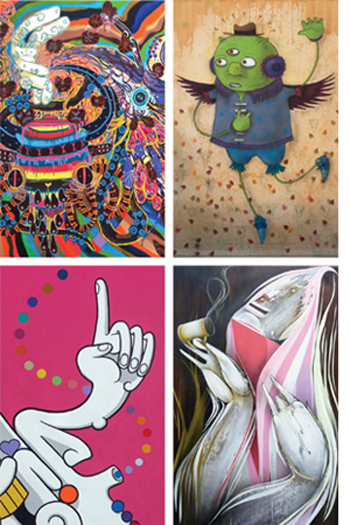 The conversation that began in 2007 with Ruas de São Paulo: A Survey of Brazilian Street Art, has continued in the years since, as Jonathan LeVine Gallery has presented solo exhibitions for Brazilian artists Stephan Doitschinoff (aka Calma), Hamilton Yokota (aka Titi Freak), and Vitche in New York, while exhibitions at Choque Cultural have included a solo exhibition of works by Tara McPherson, a two-person show of works by Gary Baseman and Josh Agle (aka Shag) as well as group shows featuring numerous artists from LeVine's roster.
Two-Way Street
Group Exhibition
in association with Choque Cultural
August 4—August 21, 2010
Opening Reception:
Wednesday, Aug 4, 6—8pm
More info at www.jonathanlevinegallery.com