Interview—Julien Pacaud
Juxtapoz // Friday, 25 Feb 2011
1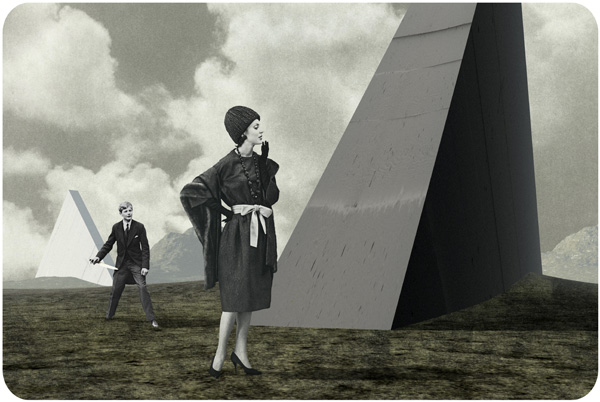 Julien Pacaud is an illustrator currently living in Le Mans, France. On his website, he mentions before he was an illustrator, he was, by turns, "an astrophysician, an international snooker player, a hypnotist and an esperanto teacher." He wasn't. He also wants to time-travel. We hope that works out for him.
Interivew by Caitlin Fitting
From your bio I take it that you didn't begin as an artist, can you tell me what initially drew you towards art?
My first approach to art came from my interest for fiction, or at least I think so. I've always preferred fiction to the real world. This led me to an interest in cinema as teenager. This is a very "complete" form of art, mixing image, composition, music, sound, and literature. Cinema was the trigger to the artistic part of my mind. Like most kids, I always had the fantasy to create worlds of my own and I art was a way to do it. I studied cinematography, but didn't follow the cinema path after that. I realized that I needed a more solitary way of creating. I discovered the possibilities of image manipulation with Photoshop in the late 90's and started experimenting on my own. I quickly knew that it was the perfect tool for me. But I suppose that cinema and TV are the strongest influence on my work.
I see the influence of vintage advertising and geometric shapes in your work, what about these draws your attention?
I generally use vintage imagery from the 1900s to the 1970s. I think I need to work with retro images to have a distance from our contemporary world. I intend to create images that are quite timeless and spaceless; where the viewer cannot really identify when and where the scene is taking place. In my mind, even if I use vintage images for my collages, some of my images can very well depict a very distant future. I like to mix various eras and landscapes to create these "parallel worlds" or "perpendicular dreams".
I have difficulty analyzing the reason why I'm attracted to geometrical shapes and why I like to use them in my compositions. Maybe it's the graphic power they can bring to an image, the balance (or unbalance sometimes). There's always a moment in the creation process when I feel that this shape would need to come up here or over there. I'm also really interested in the confrontation between the randomness of nature and man-made architecture. There's something esthetically emotional for me in the contrast of the geometrical shapes of architecture among the "wilderness" of nature, where these shapes are impossible to find. They are signs of an intelligent conscience trying to organize the chaos around. That's a bit what I do with collage, organizing the chaos of all these various elements that have no relation to one another.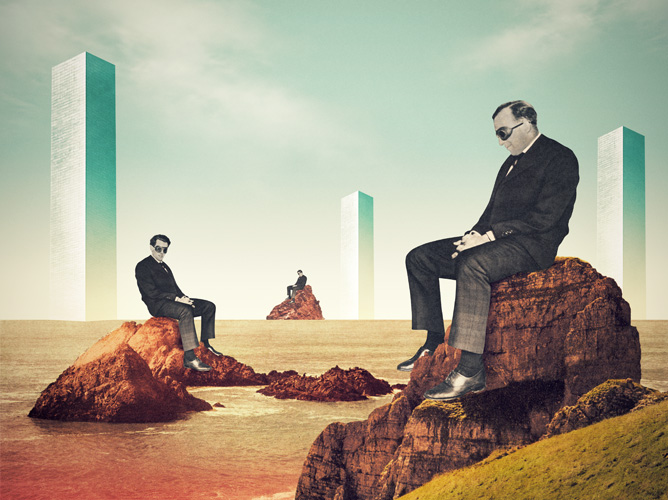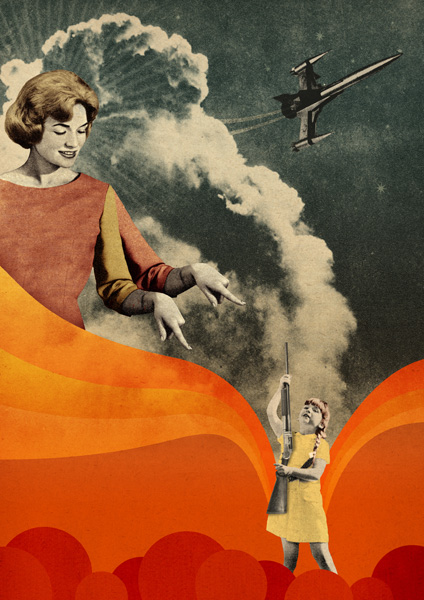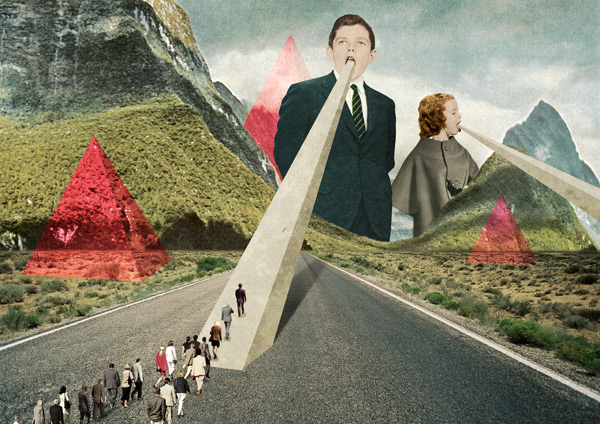 Is there a particular era of imagery you like to use more than others?
Not really. It depends. Maybe I was more attracted to the 50's or 60's imagery a few years ago and now it's more the 20's and 30's. The era is not really relevant, and inspiring elements can be found in any of them. I'm currently re-watching the TV show "The Prisoner" and it brings me back to all the greatest of the 60's.
Is there any political or societal commentary in your work?


Not at all. I don't have the overconfidence to share opinions on politics or society. That's something I'm generally not keen of, which is art with a "message" because art doesn't have to be serious.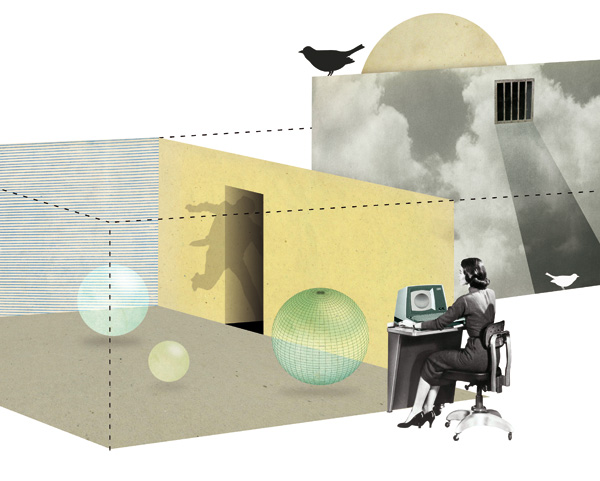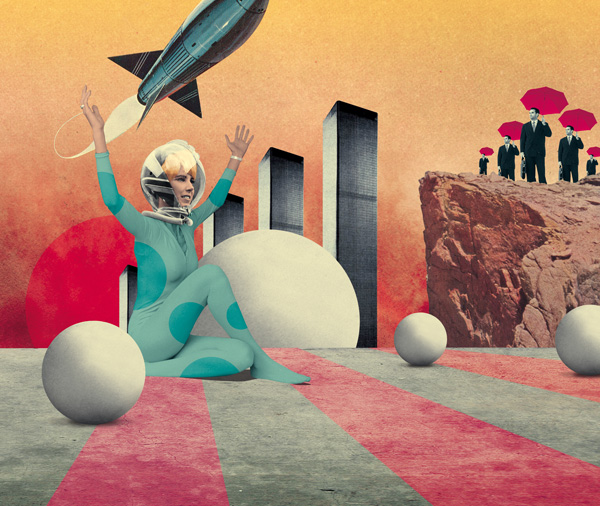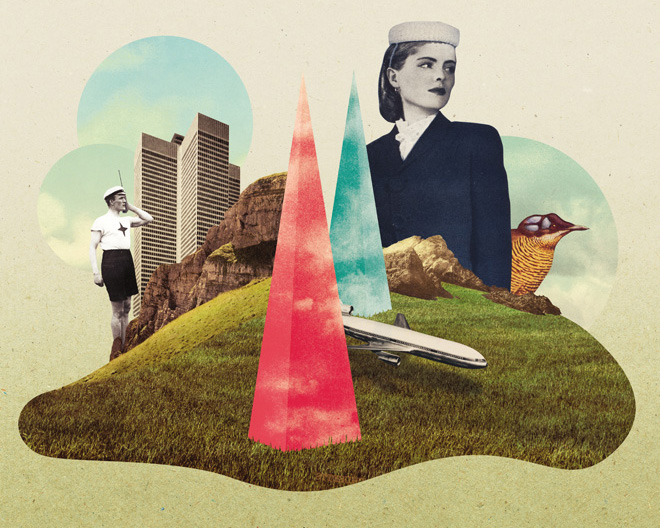 Your studies of cinematography and the animated nature of your imagery appear to lend itself to motion, have you ever had any interest in that?
I've been told that a few times but I guess I would be more interested to make films with a real camera, using flesh and blood real people (even though I would certainly manipulate the images after shooting). I'm afraid that animating my artworks would be like manipulating puppets, i.e. there would be too much limitations of what can be done. It would look like some Monty Pythons' animations (which are really cool, but I'm not sure that it's what I would like to do). I suppose there may be some ways to go beyond that, technically speaking, but I don't have the ability yet. I'm a bit of a control freak, and I like to do everything by myself, so it's not a, "never" but more like a, "maybe someday".
What do you think of your art, where do you like to see if shown?
I don't particularly like to see my art; I'm quite critical about it. Anyway, it has not happened to me yet, but it would be nice to meet a stranger, he or she would invite me to their place and unexpectedly I'd see one of my works on their wall.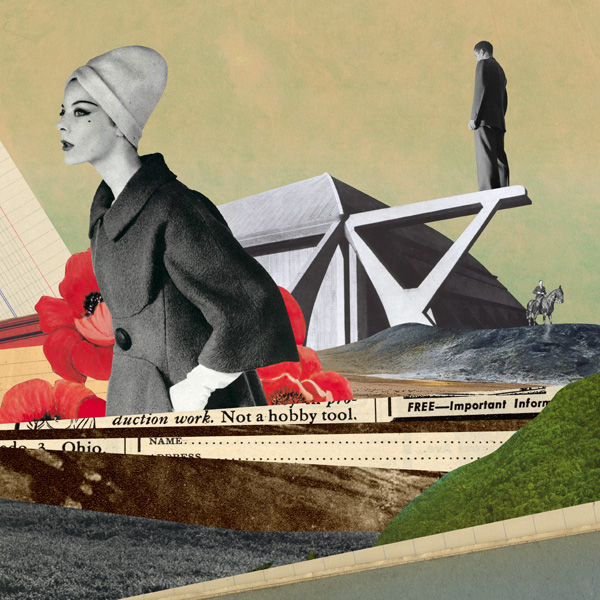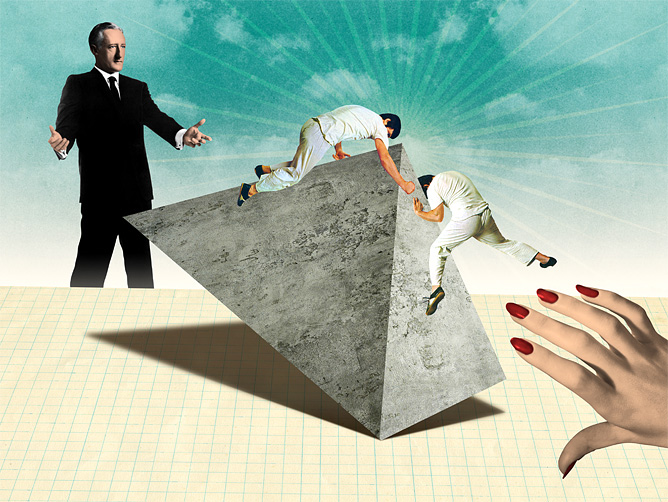 Are there any artists or pop culture that have influenced you or that you are particularly fond of?
Influences come from everywhere, no matter what medium. In arts, among the classics, I've always loved Magritte. I'm very fond of the surrealist/Dadaist movement. Also, Storm Thorgerson's Pink Floyd record covers have influenced me. My parents had these records when I was a child and they were among the first images I saw. I was very intrigued and they made a strong impression on me. Music can also be also inspirational, like the works of Nurse With Wound, with sound collage, and mysterious ambient soundscapes. I'm also influenced by cinema or TV like "The Twilight Zone", "The Prisoner", "Twin Peaks" & David Lynch's work in general.
What is your biggest interest of the moment?
This is the most difficult question for me to answer right now, strangely. I think I'm in a quite "empty" phase, not really inspired at the moment, and not overwhelmed by anything I see or live. I hope that it won't last too long.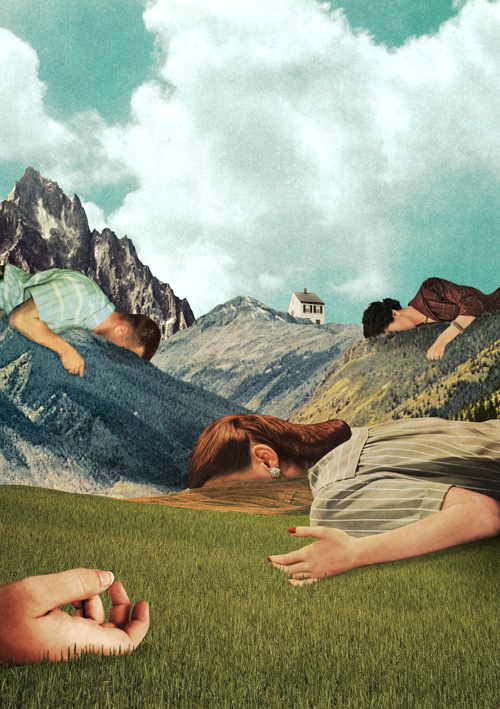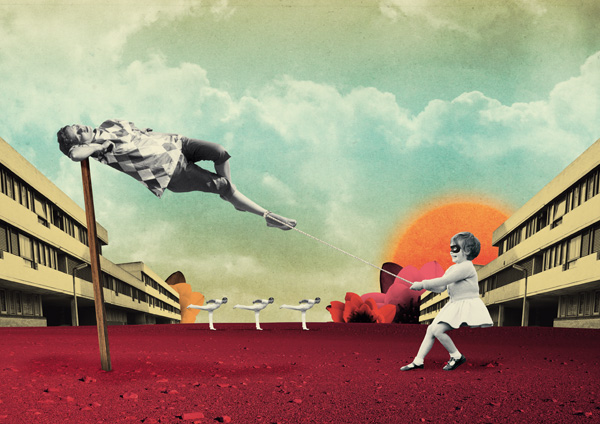 Besides art, what else do you get up to daily?
Controlling the laws of physics on a snooker table, but that's the most difficult task I have been confronted to, so far! Experimenting the ubiquity by travelling virtually thanks to Google Street View, and Hypnotizing groups of people with music. Everyday life is really not interesting; I don't think it's worth being described.