Interview—Claire Partington
Juxtapoz // Thursday, 17 Feb 2011
1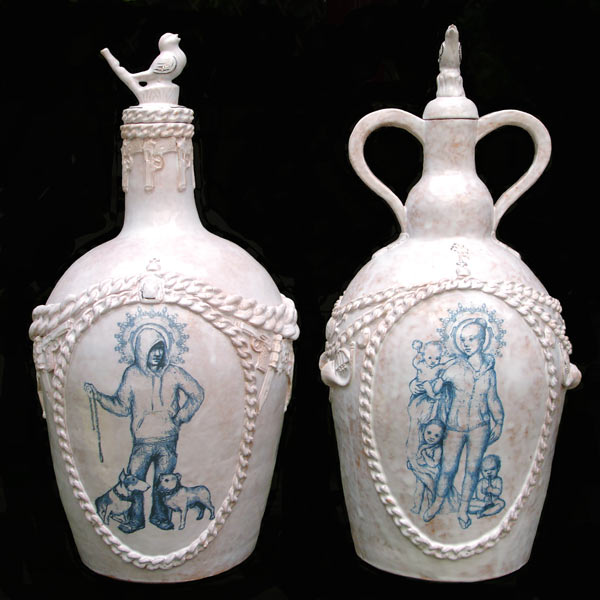 Our Helen
Soteriou sits down with UK-based contemporary ceramic sculpture
artist Claire Partington, who creates unique porcelain pieces that take an antique process and adds a contemporary visual.
Have you always been creative?



For as long as I can remember I've always been drawing or messing about with plasticine. I followed this through to the standard Art School route, but I totally lost that pleasure and spontaneity so decided to work in the Arts rather than making Art myself. It was only when I changed career and worked away from Visual Art that I got that urge and enjoyment back and I started to make ceramics, partly because It's still largely considered a craft medium and not Fine Art, so I didn't feel I was having to come up with some complex multilayered statement.
Do you come from a creative background?



My parents are both very practical people, both big DIYers and that's something I've inherited. My Mum was always busy making things, clothes, upholstery etc. and our house was always full of bits and pieces that could be utilised for some flight of fancy. It helped that my Mum was always (and still is) willing to indulge and assist with my relentless projects.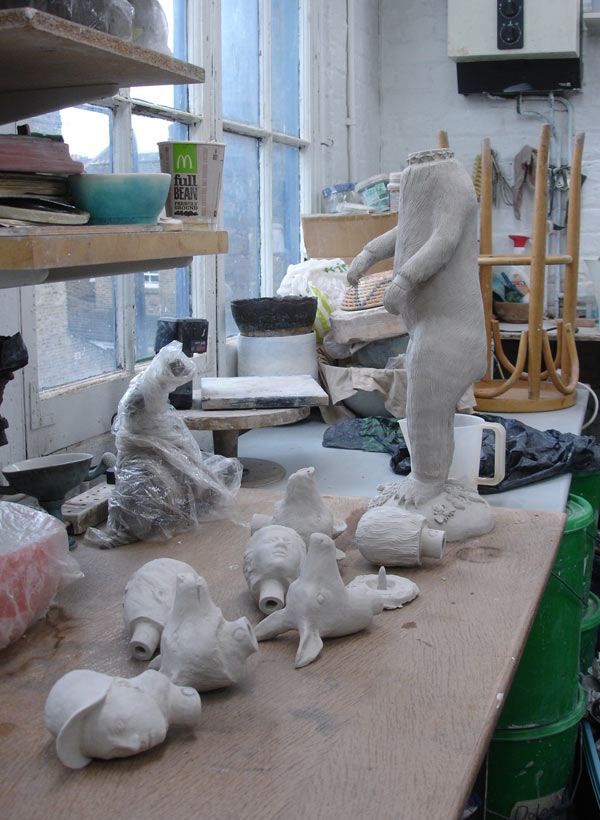 Why porcelain, did you grow-up surrounded by porcelain figures?



I work with earthenware, its a softer, less robust clay that dinnerware is generally made from, although I have made a few porcelain things. I prefer working with earthenware because it's easy to keep workable for a long time so it's good for making larger pieces, but because its not as strong as porcelain it doesn't lend itself to fiddly fine detailed work that well.


I'd always seen figurines as a bit naff, something sold on the back of the Sunday supplements, I remember a school friend's Mum had copies of famous marbles in their living room, displayed in front of red velvet and I bought a few odd figurines from my local shop as Mother's day gifts, which were dutifully displayed, but I didn't live with collections of 18th century figurines. I guess my biggest exposure to ceramics was via the V&A Museum. I worked there, so was very lucky see the collections in depth, to handle pieces and see how they were constructed. Although I have to say, of all the V&A's collections, ceramics is the area I was least interested in (even though they do have some amazing figurative ceramics). I just like the random nature of some of the objects there, cobbled together from all sorts of odd and "exotic" stuff to show off a maker's skill and the owner's status. And of course those fantastic 18th Century Mantua court dresses, completely insane.
How would you describe your art?



Historically influenced vessels, but it unavoidably and intentionally has a lot of contemporary influences, too.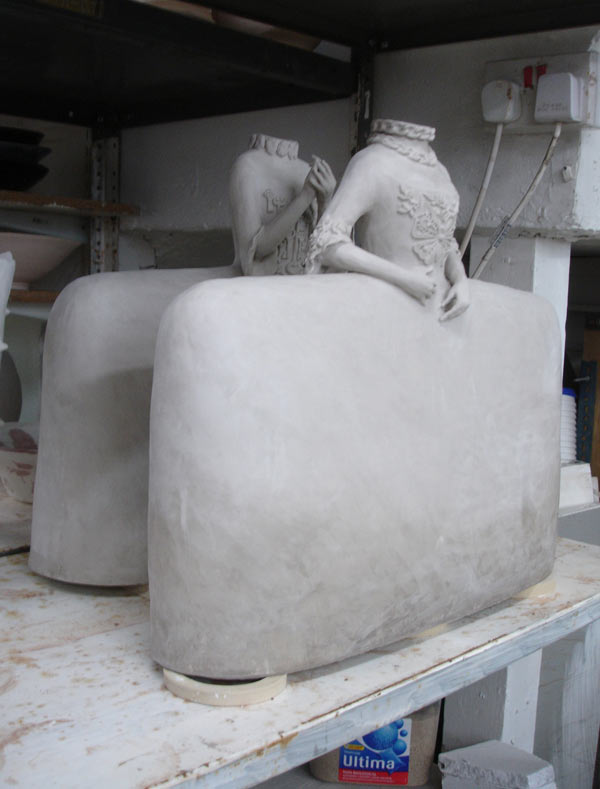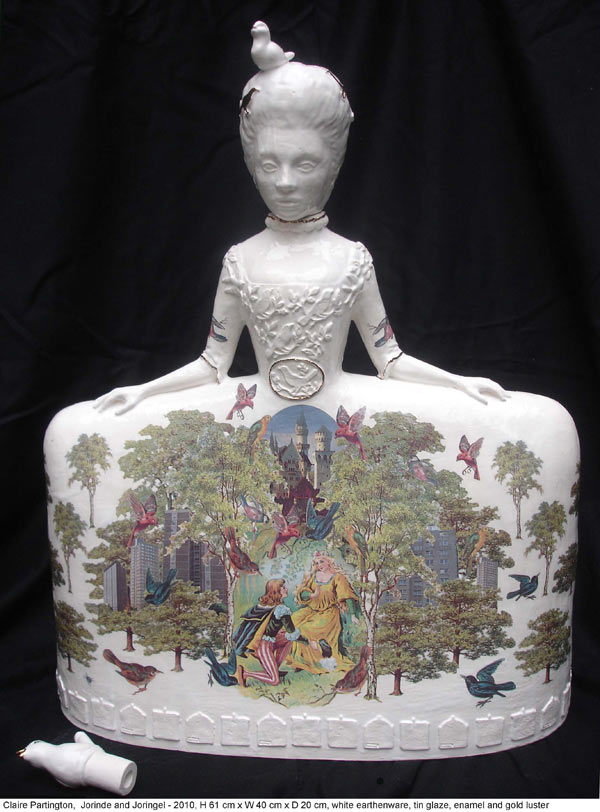 How long does it take to produce a piece?


At least a few months. I can have a couple of things on the go, but all the processes take time.


Can you take us through the process?



All my work (including the traditional vessels) are coil built, that means they're made by building up sausages of clay, then smoothed together, this process takes a long time because the clay has to dry sufficiently to support the next layers and hold the form. Once there's a recognizable vessel or figure there's a lot of refining involved to get a good shape and surface, and I add relief decoration of press molded objects called sprigging. I make plaster molds of objects usually related to each particular piece which can be anything - cheap jewelry, spray can caps to my son's toys. Clay is pressed into the moulds then that relief is "glued" onto the pot with vinegar. Once the form is complete it has to dry out completely before firing to a stage called bisc, where the clay becomes ceramic, then I can do subsequent firings for glaze, enamel transfers and metal luster. For the transfers, I either draw, paint or Photoshop surface decoration related to each piece, which I get printed up into ceramic transfers that fire onto the surface of the glaze.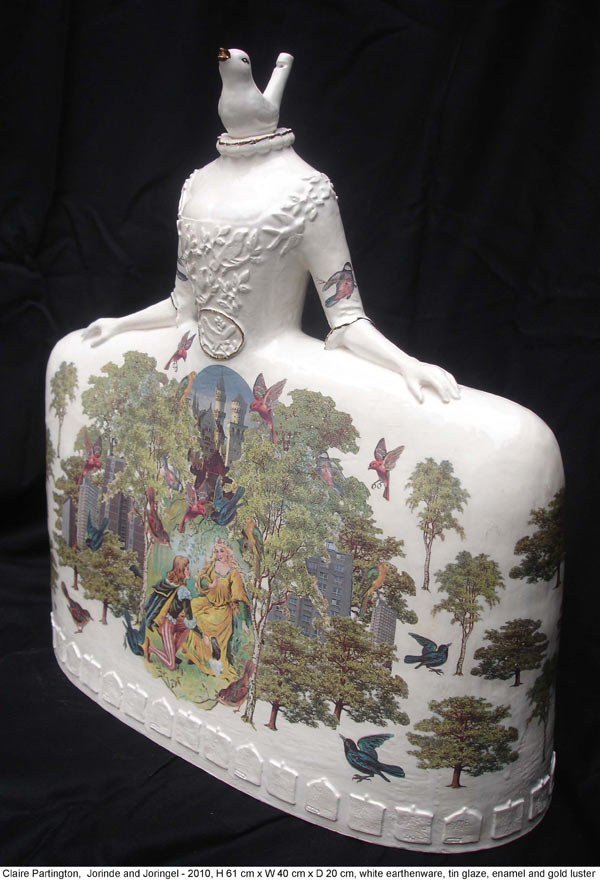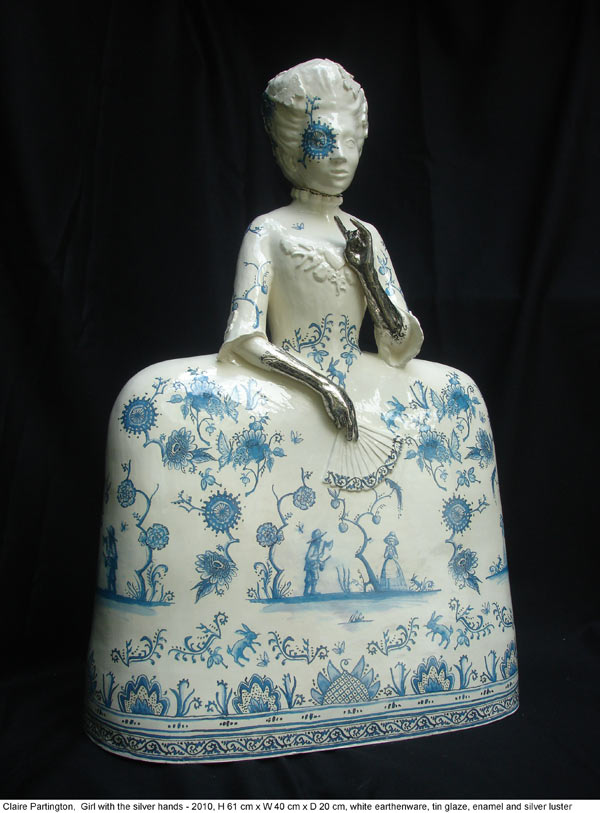 Who do you admire and who / what inspires you?
I admire that Outsider Art compulsion to make and adorn that you see all over the place. I once lived in a rented house that had the craziest garden walls with all sorts, and I mean all sorts, of random tat incorporated into them. But, at the other end of the historical and skill spectrum, I am totally in awe of genius like Grinling Gibbons and the countless other unattributed makers who's astonishing objects grace our National Collections.


All work is the result of appropriation from somewhere or other and I'm following in the European tradition of appropriation and reinterpretation of "exotic" styles. At present I'm working through my obsession with high court fashion of the 18th Century.


Obviously, the subjects of some of my work is taken directly from, traditional children's rhymes and folk tales, stories that have certainly inspired fear and imagination in equal measure.


What advice would you give to up-and-coming sculptors of today?



I don't think I'm qualified to answer that one.



What is it like being a sculptor in this economic climate?



I don't have anything to compare it against really. I left Art School during the last recession so it seems kind of normal to me. I guess less people are buying work on a whim and may be more considered so I assume it's harder on the dealers than the artists, it's easier for artists to diversify.
What type of reaction have you had to your work?



Positive on the whole. I guess it has a very familiar feel to it, due to the historical and literary references even though it has it's own very definite aesthetic.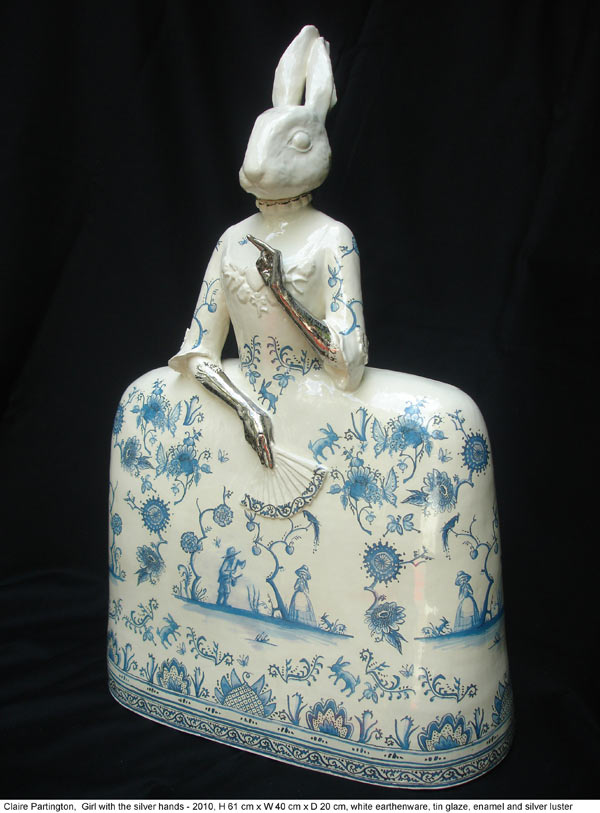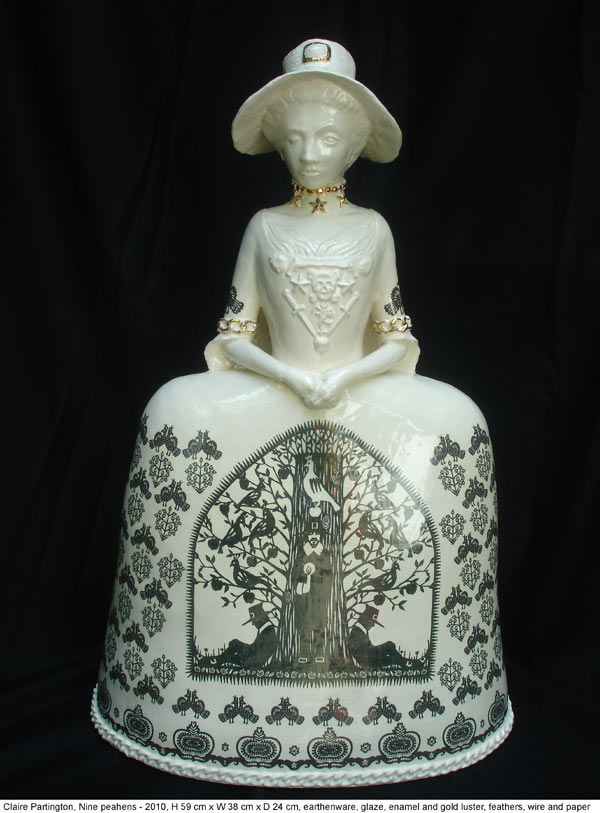 Do you have a 'type' of buyer?
I don't think I have a 'type' and certainly not purely ceramics collectors. I know some people have bought my work because they have felt a particular affiliation with the subject. A woman who I used to use a studio with bought a pair of vessels featuring verse by Leroy F. Jackson and images of contemporary youths; a young man in a hoody with fighting dogs and a young woman with three young children. She said the images reminded her of her own children, she also saw me make them and appreciated the amount of work involved.


Do you experiment with other materials?



I have worked in all sorts of media previously as a sculptor and my ceramics often incorporate other materials as embellishments, but for the time being I really enjoy working with clay.



Do you have a favourite piece out of your whole body of work, if so, can you tell us why?



I think it's the pair of vessels I mentioned before. I like the classical connotation of having pair of vases and I think faux historical the images worked really well with the Leroy F. Jackson children's verse, "Crown the King with carrot tops" and "The army of the Queen". The glaze was really uneven and drippy and I like those happy accidents that working in ceramics can create.



What do have coming-up in 2011?



I'm showing some work at the AAF in London in March and will be having a show at the James Freeman Gallery later this year. Beyond that I'll be producing more work and working through obsessions.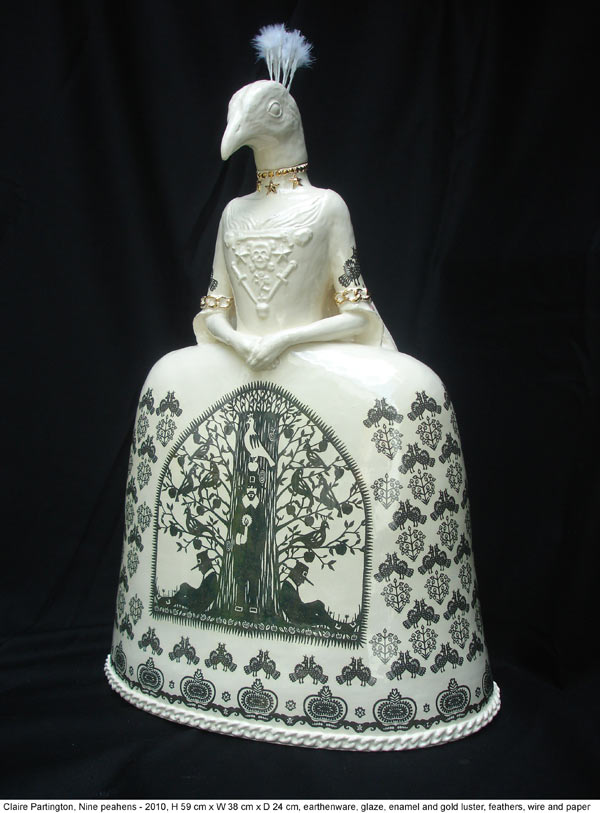 http://www.clairepartington.co.uk/