Interview with Venice Beach Muralist Rip Cronk
Juxtapoz // Friday, 18 Jun 2010
1
Helen Soteriou: Can you tell me about your background and how you got into art?
Rip Cronk: After graduate school, I was disenchanted with the failings of Modernism in art and society and moved to Kona for a bohemian lifestyle of coffee shacks and water. I painted my first public mural on Oahu in the mid 70s and was hooked immediately.
Wall art's affect on the viewer was immediate, aesthetic and socially relevant. For me, innovation in art was no longer about stylistic progression or art for art's sake. It was about finding innovative ways to interface the fine art context and content relevant to the community.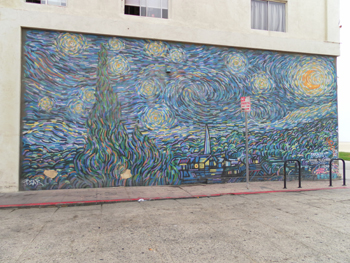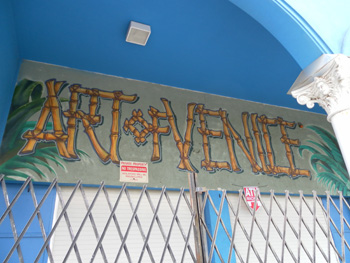 What was the first piece you painted at Venice Beach and when was this?
My first Venice mural was 'Venice on the Half Shell', painted in 1978. This Botticelli parody was replaced by 'Venice Reconstituted' in 1989, which parodied both the Botticelli and the previous mural.
Why do you think Venice is a mecca for street art?
The Venice beachfront is a small community of a few thousand people with a character all its own. It includes a number of rich eccentrics, a substantial indigent population as well as an assortment of famous artists, writers, actors and musicians (who remain fairly anonymous in their tee shirts and sunglasses). The community is politically and culturally active, and while it can be a rowdy place, it's not particularly dangerous and it is all very democratic. In the summer, over 200,000 people from all over the world parade up and down the boardwalk every day. Every country and subculture is represented in a cultural event that has gone on for decades.
Standing on the beach in Venice are two legally sanctioned graffiti walls. They have become a mecca for graffiti artists. At times in the summer, every location on the walls is taken. The pieces stay up just long enough for photos to be taken and then the next crew steps up. It is an amazing process and goes on almost unnoticed in the shadow of throngs of tourists passing nearby. Every couple of years, one organization or another will attempt to regulate the process, none very successfully.
The downside of the graffiti walls is the community in the surrounding area takes a lot of collateral damage by taggers. Also, V13 and Crips are both represented in Venice and the streets bear the territorial markings of both. Here too, various programs and campaigns have been tried to keep the streets clean. The most successful is for each owner in high traffic areas to paint over graffiti the day after it goes up. This appears to inhibit repeated tagging of the wall.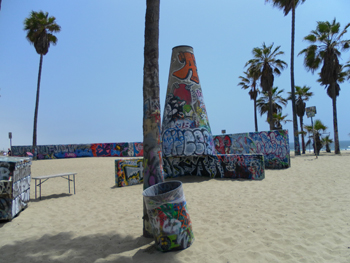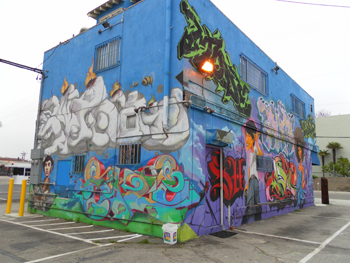 You are not scared of experimenting with different styles - were any of your murals especially challenging to complete?
The projects are not particularly difficult but they can be time-consuming to paint. On the crowded boardwalk, the process constitutes a kind of theatre. It's fun, but requires an assistant to run interference.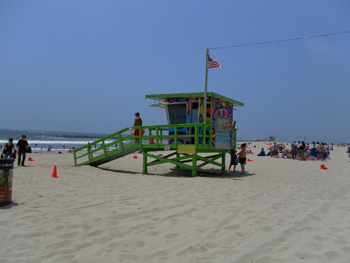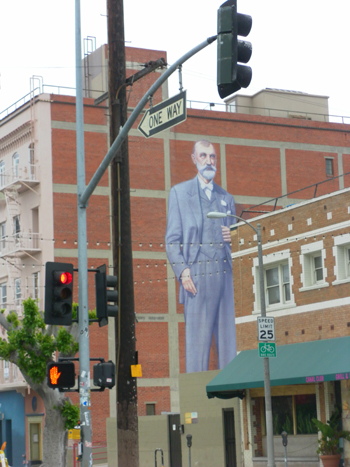 How did the portraits of Abbot Kinney (the founder of Venice) and Jim Morrison come about?
The original idea was to put standing portraits of Venice residents on walls all along the beachfront. This would incorporate multiple images and the space between them into one composition. Another figure in the group, a portrait of a local cop, has already come down. I invite other artists to take up the idea. There are plenty of walls and counterculture personalities that should be included.
Can you tell me about The Trompe L'oeil piece?
I like how for the fraction of a second it takes the viewer to realize the Trompe L'oeil, his objective view of the world is temporarily deconstructed, and the nature of our perception of reality is brought into question.
Who influenced you growing-up?
When I was young, I was so arrogant, I thought everyone was wrong, While I absorbed every experience and idea I could, I claimed no allegiances or direct influences in my art and I still don't.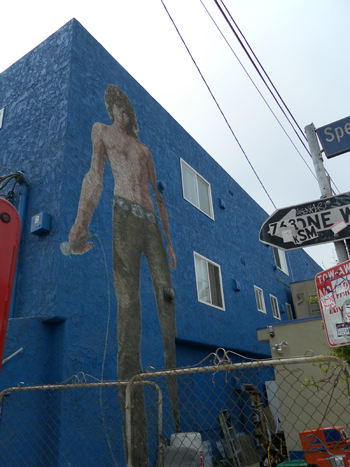 Are you still painting on walls?
In negotiation.
All photos by Helen Soteriou
More info on Rip Cronk at  www.rcronk.com