Interview with Tiffany Bozic
Juxtapoz // Thursday, 09 Jul 2009
1
"There are no laws in this dimension, and an animal's legs can just as easily grow into vines as two gigantic snails can levitate. With the accuracy of a scientific drawing and the subtle chaos of the subconscious, Tiffany's paintings are fully engaging.

"Perhaps Tiffany's imagination developed such vibrancy while she played on her family's farm in Arkansas as a child. As a young adult she moved to San Francisco and now resides in Oakland, where she has more room to paint. Her travels to Papua New Guinea, her marriage, and animal anecdotes are select topics of our conversation.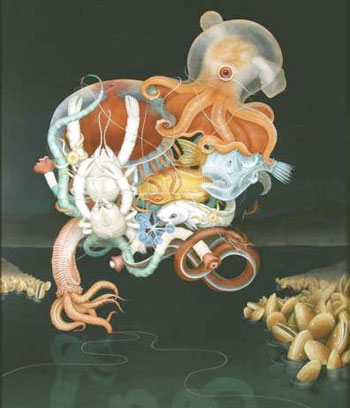 Kirsten Incorvaia: What kinds of pets do you have?
I can't have any pets because we travel too much. I do however long to have a symbiotic Snow White relationship with a Frogmouth that could come and go at its own free will. We have a friend on Scotland Island (near Sydney) that has a whole clutch of wild baby Kookaburras that fly into his house every morning and eat breakfast with him at his kitchen table. We also stayed with a couple in Namibia that has a bat-eared fox that befriended them, and grew into the role of playing the family dog for a spell before returning to the wild. I like to think she'll have funny stories for her grandpups someday about her escapade with the humans.

Your work is delicately controlled; are you able to draw or paint when you are upset?
I am very interested in finding ways to convey emotions. I am not an angry person so thankfully it doesn't show its face to me often, and if it did I think I would probably just burn it off physically. In order to execute a painting I generally have to be removed from my emotions and I have to go to a neutral, calm, meditative state.

How did you overcome cancer as a child?
I had a cancer scare but thankfully the biopsies came back negative. It is my mother that has survived cancer 3 times. By her example I learned to live each day like it could be my last– to be grateful to be alive and conscious of my contribution to the world.

What's marriage like?
I am extremely fortunate because I feel like I married my hero. Everyday I try to think of ways to make him stronger and happier, and he does the same for me. It is an extraordinary way to share your life with someone and build a future.

What caught your attention in the world today?
This morning I noticed a couple small birds rolling around in the dew on the Oxalis in my backyard. They were making summersaults, spinning around like tiny children.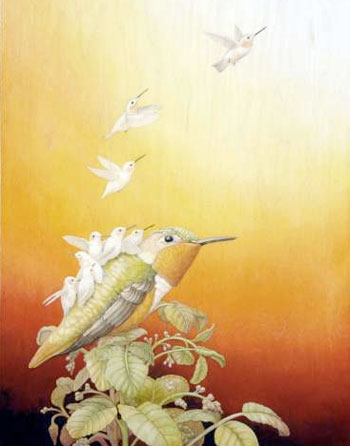 Why are you better off without an art degree?
How could I know? I started painting because I had to. There is no way to describe that very raw intense desire to share and be a part of something bigger than me. I am very happy where I'm at and I can still support myself doing something I love.

What could a BFA and an MFA offer you that you don't have access to now?
There are so many experiences that I hope to have that I don't necessarily believe I need a degree for. However, I would need a degree to teach. If I ever found extra time, it would be interesting to work for a local company up North designing immersion habitats and dioramas. I got a chance to check out some of the dioramas they were building for the new Academy of Science building before they were installed.

You seem like the kind of person who internalizes everything great and small. How do you deal with art critics?
I have respect for art critics just like any other person. It is important to remember why it is that you create and choose to share your work with the public in the first place while staying open to change and new ideas. So I am my own worst critic – and it is up to me to both believe and make my work happen. It is a good thing that I am bored easily so I have to constantly push my work towards the unknown by maintaining an open mind to new possibilities. I have found that I can access an unshakable state of peace and happiness. I have my very own happy bubble that no one can take from me. Maybe the world would be a better place if everyone felt they could find this safe haven inside themselves.

Have you experimented with digital media?
I mostly work off my own digital photos that I sometimes play around with in Photoshop. I can't say I'm too interested in sitting in front of a computer for too long, but it can be a very useful tool.

How do you pronounce your last name, and where is it from?
Like Bow–Zick. It is Slovenian for Christmas.

What magazine do you pick up first while perusing an oversized corporate bookstore?
National Geographic.

What did that girl in Papua New Guinea tell you about marrying a man who already had three wives?
She told me her personal story and I listened. We are so very fortunate to be able to choose our mates for strictly love and companionship. To share your life with someone you love deeply is one of the most incredible experiences that we can have in our life times. I look forward to a time in America where any two consenting adults can marry for love if they choose to.

Why do you paint?
I paint because I love the process and I believe in the purpose of creating. "You must be the change you want to see in the world." —Mahatma Gandhi

More on Tiffany Bozic at www.tiffanybozic.net