Interview with Rock Poster Artist Alan Forbes for Fog Rising
Juxtapoz // Wednesday, 28 Oct 2009
1
Sentimental stories continue to celebrate the 40th anniversary of Woodstock in the mainstream media, but the year was a turning point for rock 'n' roll -- when music fragmented into many styles and scenes.

Prog-rock. Metal. Experimental psych. Kraut-rock. Stoner-rock.

This is why Tee Pee Records, Secret Serpents, and Converse will present Fog Rising- a celebration of the offspring of that musical fragmentation.

San Francisco is the home of the club festival concept, not to mention psychedelia and poster art. It all started here - long before the masses passed out and latched onto Woodstock.

To celebrate,we asked poster artist Alan Forbes a few questions about his craft:
What drew you to poster art? How long have you been at it?
I have loved the poster art form since I was a kid. I have been doing them since 1994 and I have created over 400 of 'em.


What do you like about the fusion of art and music designing posters can offer?
When it comes to music that you are really into, it really makes the two come together so well. I hand-draw everything as I am listening to whatever band I happen to be working on. The music can, in most cases, be really inspiring.


Do you try to incorporate aspects specific to bands performing in shows you create artwork for? Or is it more of an overarching representation of music for which you aim?
I have been working for the Black Crowes for about 20+ years, so in that case I really try to get their input or ideas. The rapport is great and makes for a excellent two way street because it can give you a lot of ideas you my not have thought about. As far as a lot of the other stuff I do, it is more of my representation of the music.


What types of bands are your favorites to work with? Why?
I like to work with a lot of the psych/rock and heavier stuff. Most of those bands really like what you come with when listening to their music.


How do you see the genre of poster art changing in this rapidly evolving climate for the business of music?
More and more bands are into it. As most of the posters are for single shows, it gives their fans a more personal connection to it. People like seeing different art of all kinds done for the bands they are into. Live music is so important nowadays, you don't get that on iTunes or whatever, and I think the posters are just an extension of that. I personally like the ones that people physically draw. It opens you up to a whole group of artists you did not know about before. It is an art form that is largely ignored in the art world but not for the hardcore music fans.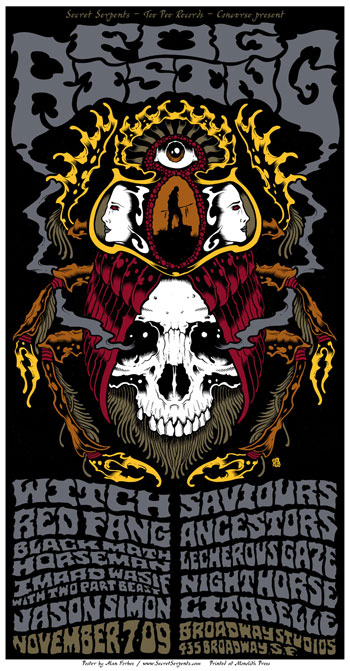 Artwork will be displayed by famed poster artists, Alan Forbes, David D'Andrea, Alan Hynes and Marq Spusta.

Among the bands performing are:
Witch, featuring Mario Rubalcaba of Earthless on drums (this will be Witch's only West Coast performance of 2009); Saviours, who release their brand new album "Accelerated Living" on October 26th; Ancestors, who have a highly anticipated release of their own coming out October 6th titled "Of Sound Mind"; Red Fang; and many more.

The Fog Rising event goes off on Saturday, November 7th, 2009
Starting at 2pm
Broadway Studios: 435 Broadway Street
San Francisco, CA