Interview with Rachell Sumpter
Juxtapoz // Sunday, 13 Feb 2011
1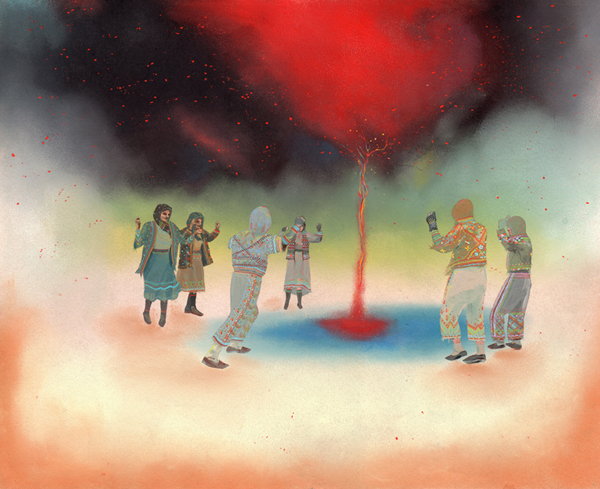 We catch up with fine artist Rachell Sumpter, who recently showed at Richard Heller Gallery in Santa Monica, both exhibiting her solo works, as well as collaborative works with husband Jacob Magraw-Mickelson.

Sumpter, who has also shown at Jack Hanley (SF), creates works that are colorful, dense, detailed, humorous, and at times dark. The first time we saw her work was in McSweeney's Issue 24, and we have followed her career ever since. Looks like there is a book with McSweeney's coming soon...

Interview by Caitlin Fitting


Where did everything start for you?
I've been creating art for as long as I can remember, but my career officially started by drawing portraits and ponies for nickels. I never took art making seriously until I started meeting other working artists.  Luckily my school chums were a pretty talented lot. To name a few, Souther Salazar, Saelee Oh, Jeff Soto, Steven Harrington, Justin Kreitmeyer and my then not-husband Jacob Magraw-Mickelson. I think we inspired each other a lot to keep progressing and art school showed me doing this forever was a possibility.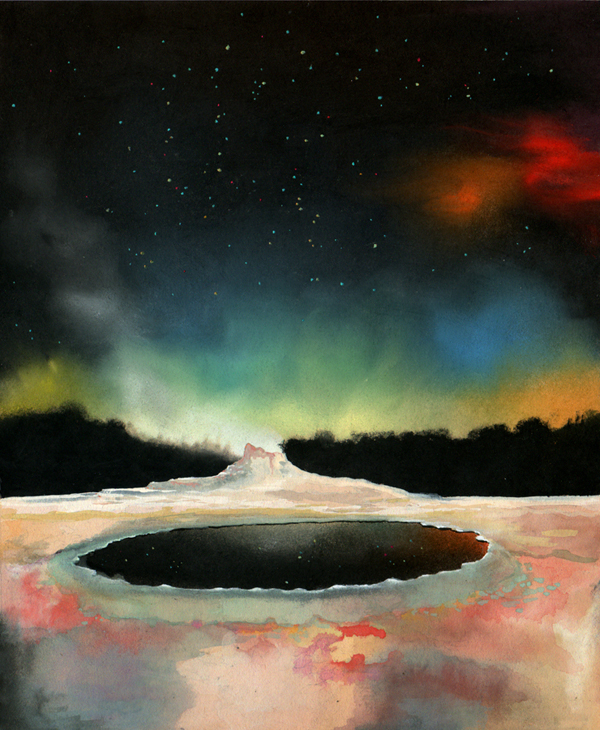 What's your greatest source of creativity?
Living! Everything can be inspirational really, but where we live, a tiny island in the Puget Sound, it is super amazing and incredible. We live on a sandy cliff in a crumbling, weather beaten cabin, where there are huge trees surrounding us. Sometimes there are storms that blow 70 mph winds and the trees tick and tock like pendulums. The community is like a tribe and DIY, for survivals sake. It snows, it rains so much, and there's mud everywhere, no asphalt, no stores, off the grid and that's just the technical info. It's where I like to create and the island and the community find their way into my paintings more and more.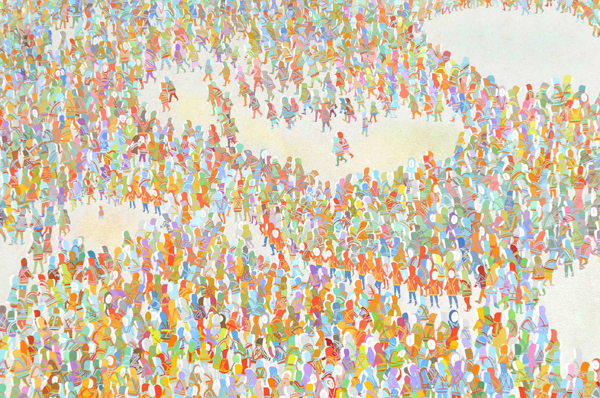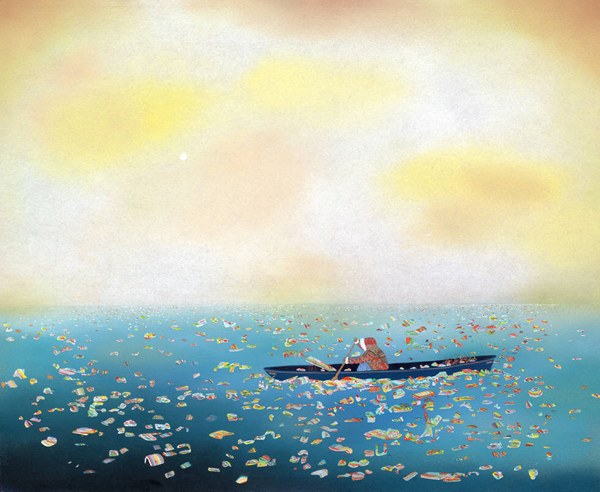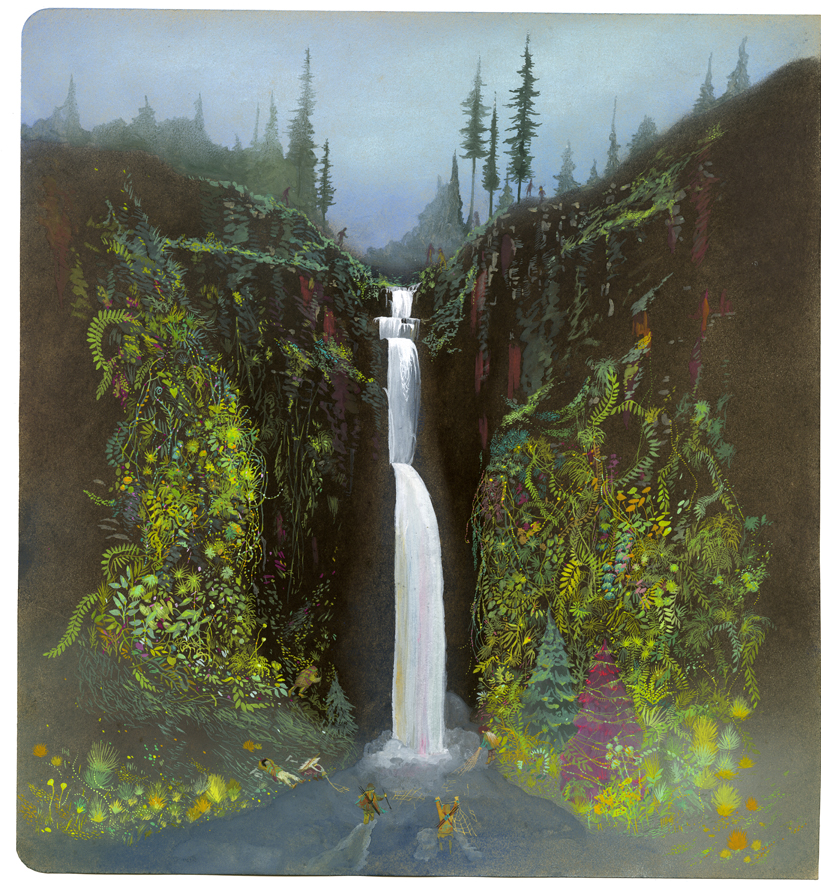 I know you art school buddies were an influence but are there any other artists or people in your life that are a source of inspiration?
Many artists have been inspiring at different points in my life for different reasons. My grandmother, who was an artist, was adamant about providing me with art materials and art making experiences. She taught me calligraphy and how to paint with oils. At the age of two I mistakenly drank a glass of her turpentine! She was always very resourceful and would offer to make trades with people. She'd paint a portrait of her doctor in exchange for healthcare. She also created artwork for ads, children's textbooks, and signage.
When I moved to San Diego I became involved in the skate scene there during the mid 90's. An acquaintance friend asked if I wanted to be the first intern at their work, a place called blkmarket. I said sure and tried my best to be the world's worst intern. I'm pretty sure I succeeded at doing so and in the interim also met and most importantly saw two amazing artists at work, Dave Kinsey and Shepard Fairey. Unfortunately I was cocky as hell and didn't want to spend my time promoting other people work, which is what good interns usually do. I wanted to make art too but I learned enough while I was there to know that I didn't really know anything and that I should go to art school.
My husband of course, he can draw like no one else. The colors he paints are gutsy and I like that. His influence is definitely there, in color and content. There are other artists too like Henry Darger, who is also an amazing colorist, but when it comes to the inception of a painting I find photography, both still and moving to be a spark. Old photos of the Pacific Northwest, artifacts, films, I like to look where others have recorded their experience and find the commonality. Asking what is it that makes something resonant for another person and then later for myself. I guess its like listening to a song over and over again - trying to understand what it is that makes it feel so good to hear it and at the same time pulling on that beauty, transcribing and storing it. I'm always wondering if others are as moved as I am.
What else was pushing you towards art school and your courage to make that step as an artist?
Around the same time I saw Barry Mcgee's show at SFMOMA. It was the first time I saw work that I could relate to on a personal level. He was from my home turf, I'd seen his tags on the streets and then to see his work in a museum setting somehow made pursuing a career in art seem reasonable. Later I discovered Margaret Kilgallen's work. Her scale and content, paintings of signage, people and places I had seen growing up left me awestruck. Then I read a comic called Non #2, by an artist named Jordan Crane who wrote and illustrated stories that seemed to be about people I knew. All these artists created images I could relate to in a personal way and helped me believe that what I make is also relevant.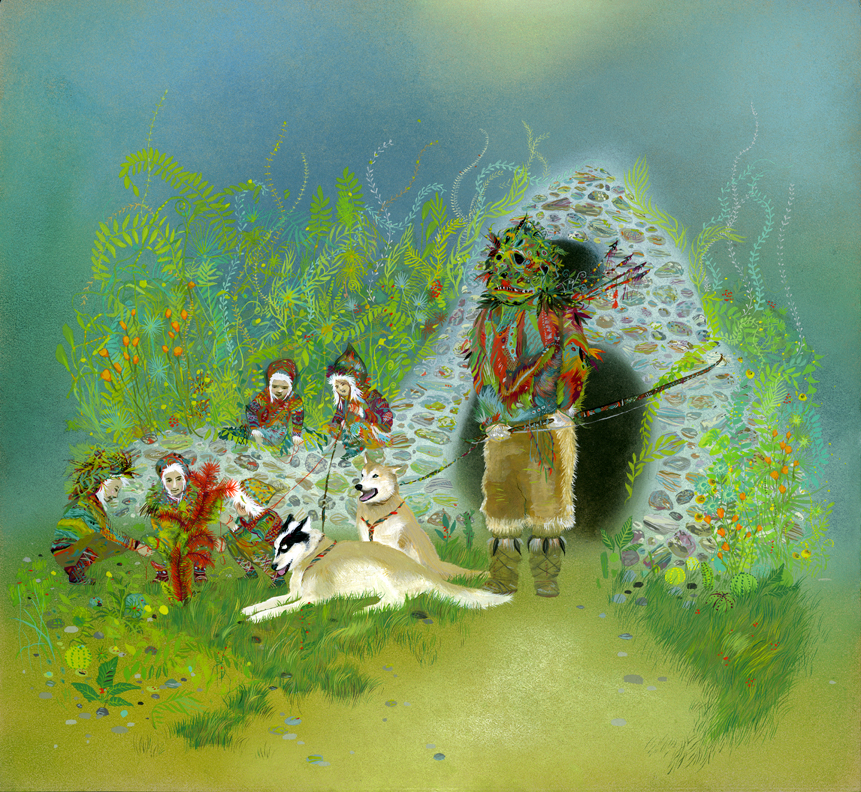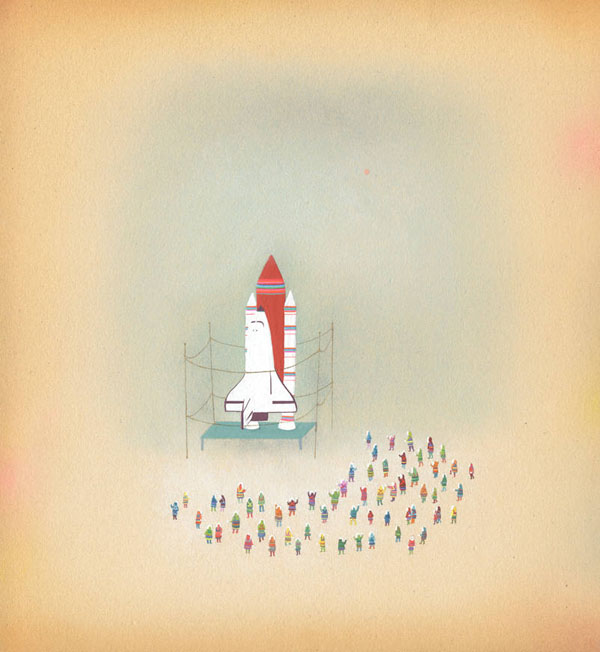 What about the creative process do you enjoy?
I love seeing things new, researching, discovering something that I can share with people and let them feel the wonder of it too. Being my own boss is also incredibly wonderful.
Do you think anyone is capable of creating art?
Absolutely – anyone can create art, but creating art for the self and creating art with the intent of showing it to others is two different dynamics.
What would you suggest for aspiring artist who want to make a life out of it, any advice?
Go to art school and work harder than anyone else and you might make it. That sounds a little dire but really it's a lot of fun. Be wise, be the idiot and avoid the cynics.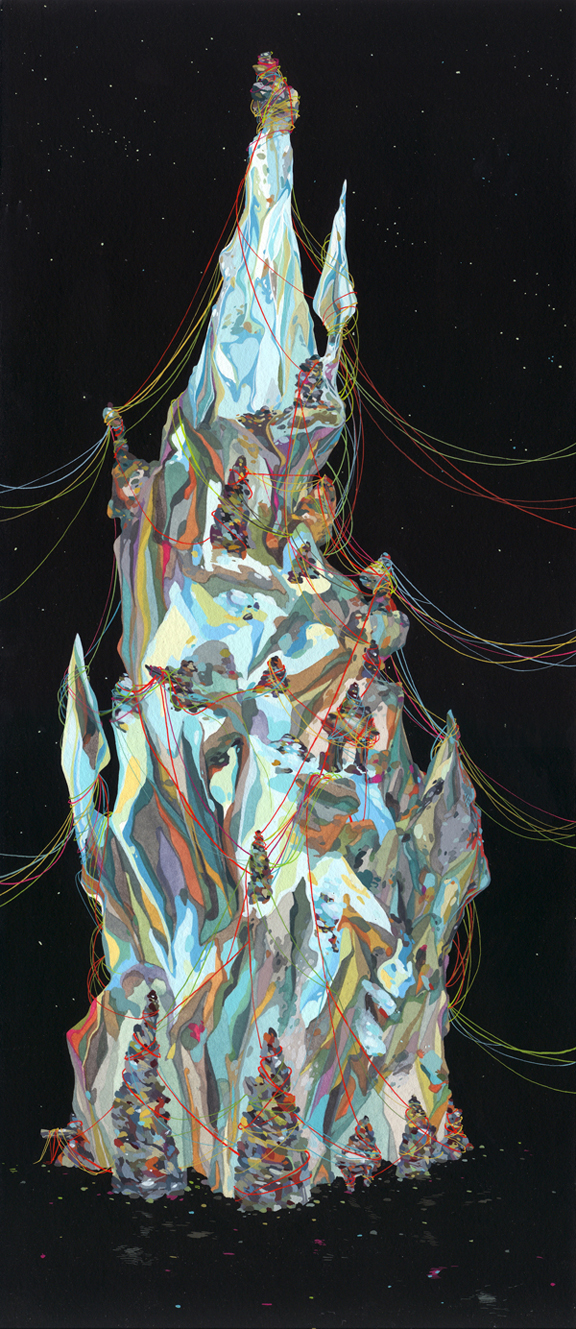 (Work by Jacob Magraw-Mickelson)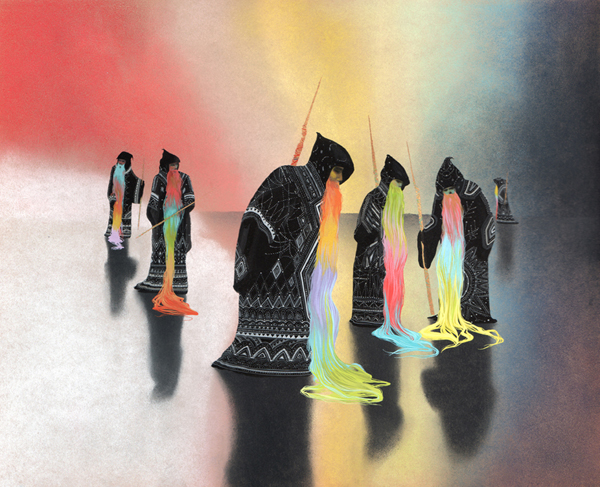 What's a day in the Life of Rachell Sumpter like?
Calder (my son) wakes me up at about five and wants to play, then around 7:00am Mica (my daughter) attacks us and we all hang out until dad finishes making breakfast. While were eating we try to figure out schedules, who had a deadline to meet first, that sort of thing. Then one of us works while the other plays with the kids, we tag team it throughout the day till dinnertime. Kids are asleep by seven, and then we work some more.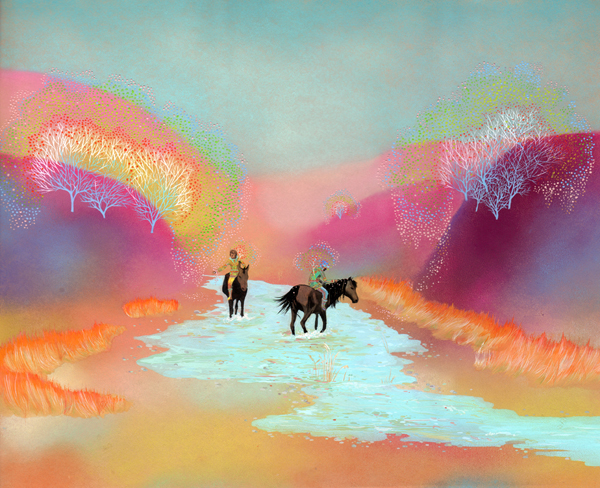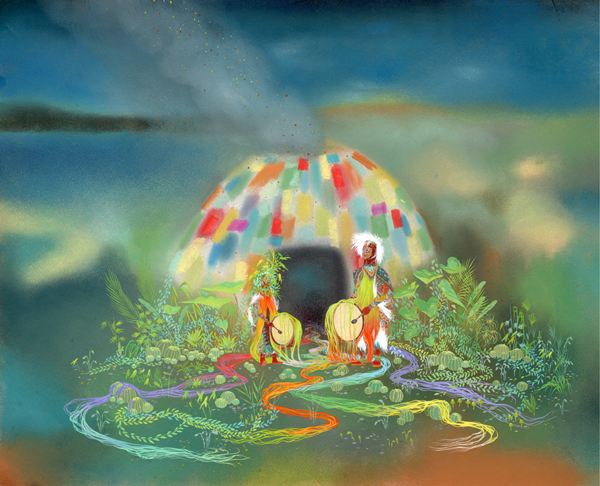 Any dreams or desires that come to mind? What are you working on?
I'm part of an exhibition in Stockholm at the National Historical Museum, that'll be in April. Jacob and I are almost finished with the art for our book that McSweeneys is publishing. After that I'd like to go to the Queen Charlottes and camp for a while.
http://www.rachellsumpter.com/