Interview with Pekar Project artist Tara Seibel: Part 2
Juxtapoz // Thursday, 08 Jul 2010
1
With fellow artists Joseph Remnant, Rick Parker, and Sean Pryor, Tara collaboraties with Harvey on the Pekar Project, a special effort created by Jeff Newelt, to create web-comics that appear weekly on SmithMag.net. Here we pick up where we left off yesterday during Part 1 of our chat with Tara.
Evan Pricco: When did you first become aware of the American Splendor series, and the whole Harvey thing? Was it when you were in college? Were you a comic fan?
Tara Seibel: Well this story is so bizarre that I'm afraid when I tell it; people are going to think I'm such a nut case.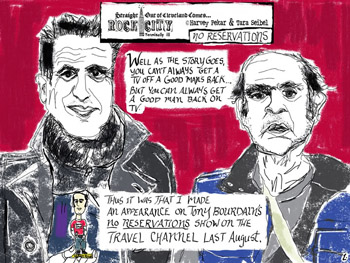 People LOVE bizarre stories. People love the bizarre.
I just wear my heart on my sleeve so much. But you know I am an artist. So here it goes… my best friend saw the film, American Splendor, here in Cleveland, and I had just had my first child and I was totally out of it. I was freaking out over a baby in a room and I wasn't doing anything social and she really wanted me to go see American Splendor, and she was like you have no idea.
I never did see it for a while and my husband got a job change to Chicago again. So we moved back to Chicago and I was there for a year or something and I kind of got homesick. So I walk down the end of the street to a movie store and I see American Splendor and I thought oh, Amy told me to see this so I will absolutely get it. So I brought it home and my husband and I were watching it and I was like 'it's pretty damn good.' I mean I don't know what it was, I was just like, this guy walking down the street, this is where I'm from. This is Cleveland. I just felt a major connection to Harvey because he's working class, and my family has working class roots. It brought a tear to my eye. It just got right back to the neighborhood that my grandparents grew up.
Then as I started to watch the movie more and more, there is this one scene where Harvey is sitting in the lawn chair and he's got the cap on and he's just talking about how he started getting into his record collecting and every once and a while you might find something worth while. And honest to God, I just had a tear rolling down my face. This man is just getting me. There is something about him that I connect with and so I started getting into his work. At the same time I just got done working on some children's book illustrations and I started exploring different areas. I found myself in the graphic novels sections at Borders and started getting into them because I thought that it was possibly a way for me to start branching off into doing more of a narrative in illustration.
I started getting into American Splendor after that movie, and I started getting into Crumb's work. Plus Crumb worked at American Greetings and I worked there. It just all really started to hit me. So now I'm getting into American Splendor, so for about a year I started reading Harvey's work, getting into Crumb's work, getting into a bunch of different underground cartoonist, Jeffery Brown, a lot of autobio cartoonists, and I'm getting a real flavor for this. I started reading the Quitter, and then my husband gets a job transfer again, and then boom we are back in Cleveland. And then I'm not kidding, maybe about a week later, my husband is reading the paper and he says Harvey is going to be speaking down at the local college, and I'm like yeah so I end up going.
When I got there it was really strange. The only seat that wasn't taken was the seat next to Harv. We just hit it off right away and we were talking our heads off. He just asked me what I did and I told him I'm an illustrator and he's like "Oh yeah, well you should give me a call because I might be able to hook you up." So I was like. all right. He wrote his number on a copy of the funny times paper, and I gave him a call in a couple weeks and I asked him, "Hey Harvey can I take you out to lunch?" He says "No, no, no, you can just come over we can sit in the kitchen and I'll give you a piece of cake."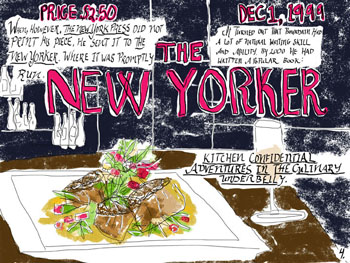 Sounds perfect.
I showed him my published cartoons. I was doing political cartoons for U.S. Catholic magazine. And that's what I was showing him and he was like "Yeah, this is cool. You kind of got a totally different style. You've got a fine art background I think maybe we could do something different here. We can push comics in a different direction, maybe we can do something together."
I was thinking to myself, "Hell yeah." We started doing some comics together. I started illustrating some comics. He started digging what he saw, and our first gig was we got a cartoon called Rock City in Chicago News City magazine. So we started doing a paper cartoon and it was coming out every two weeks. It was really fun and we started looking for different outlets. And then we were looking for Internet outlets. Actually what happened was Harvey liked what we had going on in our cartoon and he called up one of his associates, Dean Haspiel. Dean was the illustrator for the Quitter book and they have done a lot of work together. So Harvey called up Dean and said "I'm working with an illustrator that's doing some really different stuff and I'm wondering if there's any work out there that we can branch out." So Dean said, "Yeah. I've got almost the perfect venue."
Dean connected us with editor Jeff Newelt with Smith Magazine. Smith is a personal storytelling site. It was the most unbelievable perfect marriage of personal story telling comic, you know American Splendor. So we hooked up with Jeff and started brainstorming and coming up with ideas and we worked together for about 4-6 months planning it and everything, and I was sort of on the ground floor of helping conceptualizing the whole Pekar Project idea with Jeff. We had the same idea. Except I was doing a personal blog with Harvey already, and we were doing that cartoon in the Chicago News City and then Jeff and I had the same idea of let's take American Splendor and kick it up a few notches. Get it up to date; get it hip, you know Harvey is a hipster. He needs to be in the times. Lets enjoy every moment we've got with this guy on the planet.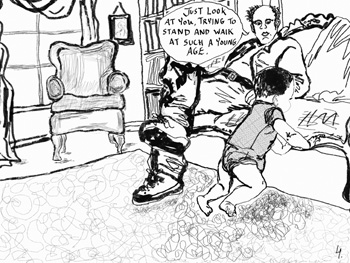 Was Jeff responsible for getting the other 3 artists? Because what I like about it and what I've noticed on the site is that all three of your styles are so different. I saw on the site, I've got to ask this, that you're the 'Thelonious Monk' in the bunch. Was that you that wrote that? I guess it must mean that you're the most eclectic of the bunch.
Yeah, it means the most avant-garde (laughs).
How do you like your work with Harvey, and then how do you like Harvey's work with these other artists? How do you see it all fitting into this kind of complete kind of Harvey Pekar Project. What does everybody bring to the table?
An analogy that has been used a lot that I think works really well, is that we all kind of play different instruments in a band. And I think that Harvey is the lead singer. We all work together as a whole. Wait actually there might be a better analogy. When I play with Harvey you are going to get a certain sound and when Joseph plays with Harvey you're going to get sort of a classic sound. You might get more jazz with me. It all works really well together. Sean's been kind of, his stuff sort of has kind of a rock feeling towards it, and Rick Parker is, God I don't know like the John Phillips or something.
I guess I would be Thelonius Monk. You know you get different flavors and different sounds and I guess we all work really well together that way where we all compliment each other.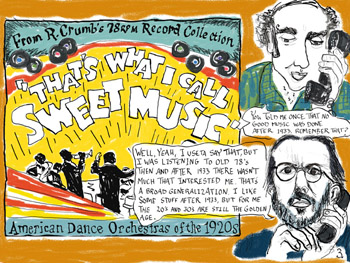 I have a few questions, is this project a way of honoring Harvey, or is this a way for a new audience to see his work that may have not seen his work over the past thirty years. Or is this a way of taking things he has done and made it more of a 21st century version with blogs and Internet and all that? How does all of this fit in the Pekar legacy? Is this an honoring or a broadening is what I'm meaning to ask.
It's sort of a broadening. I think it organically honors him, obviously, because we are working with him and people want to work with him still. There's been this trend overall, even with fashion where like Martha Stewart, I mean I don't want to say that Harvey is the K-Mart of comics, but Martha Stewart went to K-Mart and came in and did her thing and really brought some products up to high-design. It's been hip for designers to go into Target. That trend. So in a way he's honored to work with us. Because in a way he wants to be part of the younger crowd and he still wants to play. He wants to stay engaged.
If you missed Part 1 of this interview, you can read it online here.
For more information, contact Smithmag.net/pekarproject.