Interview with Pekar Project artist Tara Seibel: Part 1
Juxtapoz // Wednesday, 07 Jul 2010
1
With fellow artists Joseph Remnant, Rick Parker, and Sean Pryor, Tara is collaborating with Harvey on the Pekar Project, a special effort created by Jeff Newelt, to create web-comics that appear weekly on SmithMag.net.
Evan Pricco: How did you get introduced to this project? Are you an exhibiting artist yourself?
Tara Seibel: I'm a graphic designer by education and I'm an illustrator by trade. I do a lot of editorial illustrations. I do paintings on canvas and I just started the gallery scene in November 2009, which is something that I have always been moving towards slowly and slowly and that's where I've always wanted to be.
I started out because I wanted to be a political cartoonist, but there wasn't any type of program for that. So I sort of designed my own curriculum and I started doing sociology and political science and got enough units in those to minor in it and then majored in applied media arts and go my actual BFA in that. When I graduated from college, from Eden Borough University in Pennsylvania, I started doing some political cartoons for local magazines and things and then I went to work for a design firm. Luckily the design firm was more of an illustration-based firm. Actually it was Murphy Design. My portfolio was more illustration based and I was doing more 'cutting edge' illustrations and I was into that stuff.
It's strange to think of the first job you get out of school. It could really direct you in a direction. You don't know how important it is getting on the right road, because then things start leading from one thing to another. I could have been at an ad agency, worked for Cleveland Magazine or worked for Murphy design. And it just seems like that first job I got was very creative, very cutting edge, very illustration based. It leads me into getting an illustration position at a restaurant design firm in Chicago. I started illustrating covers of menus.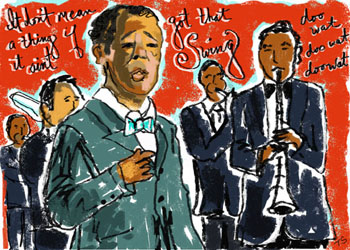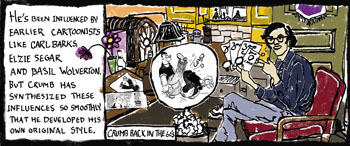 This is kind of exciting for me. I've never talked to anyone who had the ambition of becoming a political cartoonist. I'm trying to figure out what kind of, well, you have to have illustration skills, and you have to have a contemporary, political sense, or is it something where you have an editor telling you what he wants. How does that situation work? Is it something where you come up with the concept? The American economy is down and I have a great idea for a cartoon. Or is it you and an editor are getting ideas?
There are a lot of areas you can go into. You can be an editorial political cartoonist and you could work for a newspaper and you're going to be mostly doing current events. And you've got have something the next day so its like right away. In two days its going to be dead because its old news after 48 hours. Then there is more of the New Yorker cartoonist. Some of those are editorial cartoons, but they don't have to be so current. You can talk about all kinds of issues. I think the manifest equality painting I did was a political cartoon.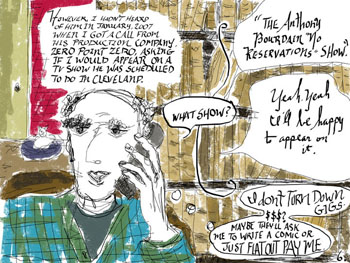 I can see that.
I don't know how many fine art political cartoons have been done. But the stuff that I've done with Harvey, I'm doing like political comics. We did one for a magazine right before Obama was elected and it was called "Are Gods Children Too Stupid". And it was talking about how could we have elected Bush two times in a row? Stuff like that, and that's a political cartoon.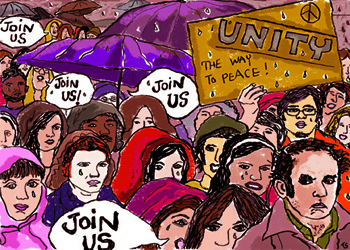 Do you think what Harvey has done forever is almost like a social cartoon. Everyone uses the word mundane, and that he comments on the mundane. I'm trying not to use that word. Its more like colorful monotony.
I think quotidian is a better term. I like that better. Mundane is like you're already bored before the word is finished. I mean give the guy a break. His stuff is so interesting its unbelievable.
It's interesting everyday life. He was blogging before the bloggers. I mean everybody is obsessed with everybody's mundane. I mean look at Facebook. Tell me that that's not mundane. I mean what are you doing right now? It's the art of the simplest idea or something. It's a way of getting somebody right in the moment.
I think that was the most fantastic commenting on his work that I've heard. That was great.
Besides he's my hero.
Tomorrow we unveil Part 2 of our interview with Tara Seibel. Stay tuned.
In the meantime, gain more information at Smithmag.net/pekarproject.