Interview with Natalia Fabia on Inspiration for Fashionable Aftertaste Without End
Juxtapoz // Monday, 28 Jun 2010
1
You have been hard at work on a new series of paintings, which you have stated, "is my favorite group of work and concept ever." What is the new concept and why are you so enthusiastic about it?
Yes, I have been working like crazy on my new body of work for over a year now, and I am beyond thrilled! My new show is completely, purely inspired by my LOVE for KAWAII, which is a Japanese term that means crazy, supreme, saturated, delicious CUTENESS.
The show is also influenced by my trips to Japan. I fell in love with Japanese pop culture and their traditional culture.
Every time I look at something Kawaii and adorable, I get a warm feeling in my tummy and I want it and must have it! I love all the amazing fashions I saw there on the street; I love the toys, advertisements, food, charms and gardens!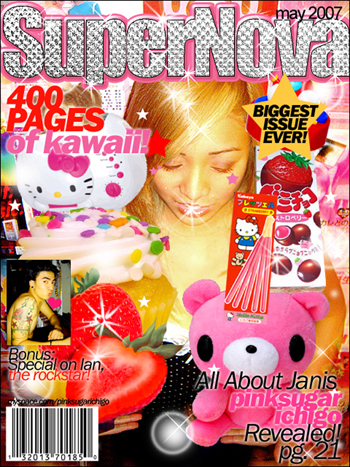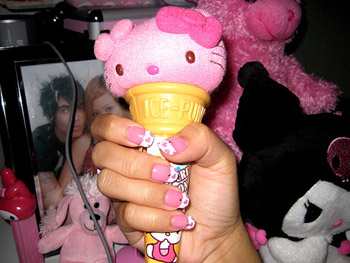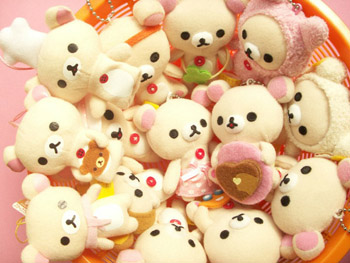 When we last spoke, you referenced your trip to Japan last year as a major influence. The women's crazy outfits, jeweled nails, and toys and charms everywhere. Is this helping to inform your work now?
Hell to the yessssss! One thing I was really influenced by is Kawaii nails (pictured below). They are so amazing and cute! I want my nails decorated like that and everything I own to be Kawaii deco-ed! I bought many thick magazines that only show bejeweled nails. I love it, it so innocent but attractive!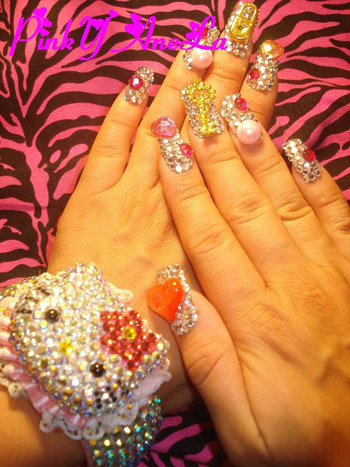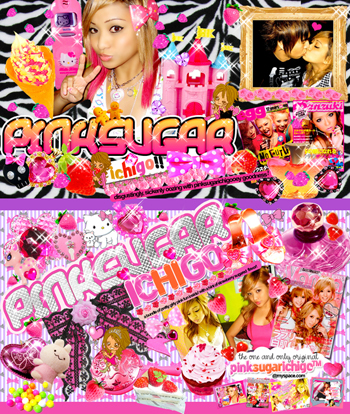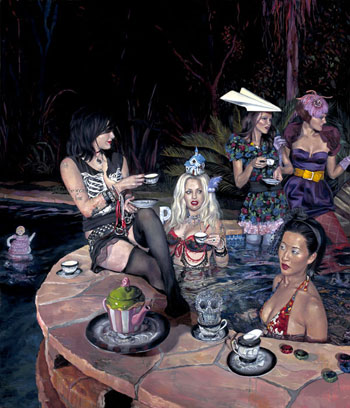 You participated in Corey Helford Gallery's Bristol Museum exhibition, Art From The New World. Your piece for the show features elaborately clad women sipping tea in a hot tub. Can you talk about your inspiration for this piece?
I really wanted to do a painting that showed my ideal vision of an environment that represents me.
I painted five of my girlfriends in this intimate setting having a fun tea party. The best part about this piece or the process of creating it is that the girls going into the hot tub with their clothes on was totally spontaneous. We were all just having fun and I suggested that someone put their feet in and pretty soon they were all in and having a merry time. Each girl is wearing a cute colorful outfit that depicts her personality and style.
It may look like a whimsical rendezvous, but it is not an unlikely situation for us and what it symbolizes is real.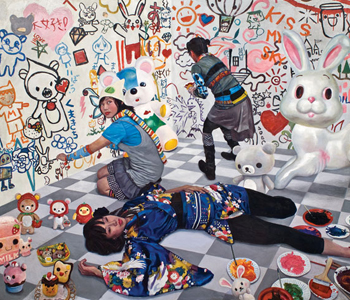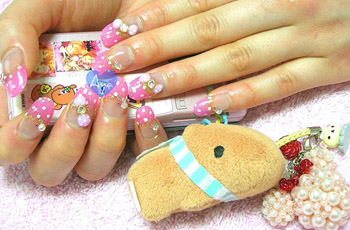 Any last words on future plans? When can we see your new collection?
My new show Fashionable Aftertaste Without End will be on July 10th at Corey Helford Gallery...that's what my main future plans are.
Just painting painting painting! Hopefully some travel in between. But mostly painting big paintings.
For more information about the artist, please visit www.nataliafabia.com.
Natalia Fabia
Fashionable Aftertaste Without End
Solo Exhibition - Full details on the show here.
Opening Reception Saturday, July 10, 2010 from 8 11pm
On View July 10 – August 11, 2010
Corey Helford Gallery
8522 Washington Boulevard
Culver City, CA 90232
T: 310-287-2340
Open Tuesday - Saturday, Noon to 6:00pm