Interview with Magda Sayeg of Knitta Please on Austin City Limits Install
Juxtapoz // Sunday, 17 Oct 2010
1
Austin City Limits, the annual art, music, and overall good times festival, drew Knitta Please to fashion a large-scale knitted 'ART' installation, as well as custom designed knitted light stick covers which hung above the sound stage.
In an interview with ACL, Sayeg further explains the project:
What was your most recent project before coming out to ACL?
I was in Bali for three weeks and I wrapped the pistol of an 8 meter high statue of a soldier. And a dagger. I also wrapped a Vespa and its sidecar, which is awesome–it's like my fourth vehicle and I guess I'm turning into the wacky, "I'll cover your vehicle in knitting! Yah!" It was cool because it was used in a campaign and I remember seeing it driven by this beautiful, tall German model riding through the desert.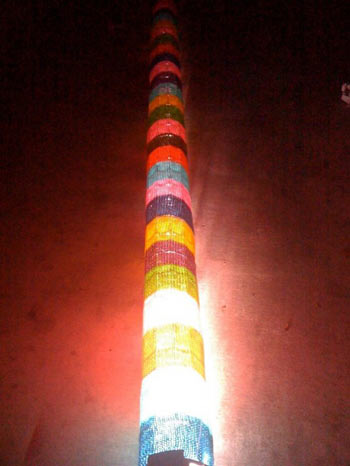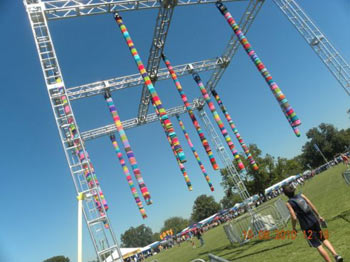 Any upcoming knitting projects you're excited about?
I have two projects in New York right now. Once is for Etsy's headquarters; I'm going to be wrapping their complete A/C duct system–like 10,000 feet! Also, at the Standard Hotel I'm doing an installation with lighting and knitting, something I'm really enjoying.
Who are your influences?
I really do relate to the graffiti side of art. Because as much as it is kinda sweet and cute, using knitting, I started this just like a graffiti artist would: unsanctioned and out on the streets. Early on, when I discovered Barry McGee at one of his first shows in Houston it really blew my mind. My understanding of graffiti was dudes writing their names on underpasses. Here I saw graphics and art and I loved it. Besides that, I love Jeff Koons and Tom Friedman, taking materials that are familiar and making beautiful sculptures from them. I like the idea of taking familiar things out of their context. Also, Dr. Seuss.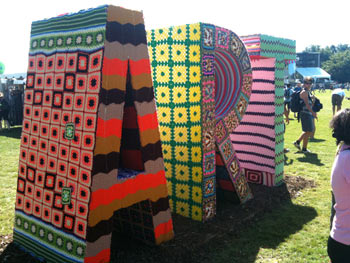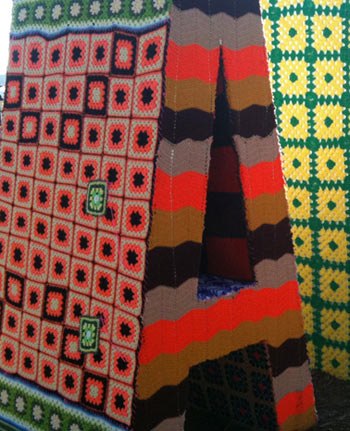 What's next for Knitta, Please?
I think that in a perfect world, I'm living, breathing, and working in a creative environment. I want to dabble in product design–I did iPhone covers and I had so much fun with them and they were such a success that it makes me want to do other cool stuff like that. That's the thing, I'm traveling a lot, which is fun, so I get to see all these awesome places. I'm traveling the world doing something I love.