Interview with Isaac Pierro: I Killed Qupid
Juxtapoz // Friday, 13 Jun 2008
1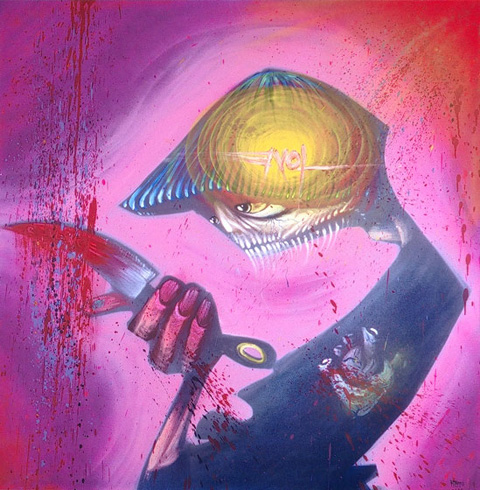 Distinction Gallery Presents I Killed Qupid, an epic showing by Isaac Pierro opening this Saturday, June 14th.

Isaac Pierro's work is character driven, with subjects reminiscent of a dark and twisted children's book. His roots as a graffiti artist can be felt through the splatters and over-saturated drips intentionally layered into the works for a more organic discomforting chaos.

I Killed Qupid is also the name of book written by Isaac Pierro scheduled to be published in late 2009. All of the artwork for this show is based on, and will be published in, this book about a boy who blames all of the world's problems on misguided love and takes it upon himself to "save the world" by killing Qupid. Sounds sweet to us.

Just in time for his opening tomorrow, Pierro took some time to answer a few questions about his artistry:

What was the inspiration to tie a book into this series of artwork, or are you tying this artwork into your vision for the book?

Every painting and character I come up with I always create a story for. The inspiration for my first I Killed Qupid painting came from my frustration and hate for love in my late teens and early twenties. At that time, all of my relationships and the relationships around me were dysfunctional and destructive.

In the case of the original I Killed Qupid painting I created the painting first and then the story. After I added the bear character, Michael (pronounced "my-kill") the story became so elaborate I decided to create a book out of it. It is set up like a children's book with illustrations on one page and the story on the other. The show will be set up similar to the book. The story pages will be hung along side of the paintings.

Your bio mentions crafting GI Joe toys out of cardboard and hitting the graff scene in your later youth. To what extent do these and other pop culture influences play into your inspirations?

Like most kids growing up in the eighties I was raised on television which makes pop culture a big part of my work. The graffiti influence is what really made me want to start painting. Once I started graffiti, that is when I really started to learn how to use color and design. From that came the transition into fine art.

Your work seems to very narrative and character driven. Have you always invented characters and worlds to entertain yourself (and others)?

Yes, I have always created stories along with my characters. I read a lot of comic books as a kid. And I love the idea of a story being behind a piece of art.

As an artist, what is the most difficult emotion for you to communicate within your art?

Happiness.

What impression do you hope to leave with viewers of your work?

I'm not trying to leave any one single impression. If I can take viewers through a range of emotions, much like a movie does and possibly bring somebody to tears, I would feel like I've accomplished the goal of my story.
I Killed Qupid shows June 14th through July 11th at Distinction Gallery.