Interview with Harry Kim, Filmmaker of "Dirty Hands: The Art & Crimes of David Choe"
Juxtapoz // Friday, 13 Mar 2009
1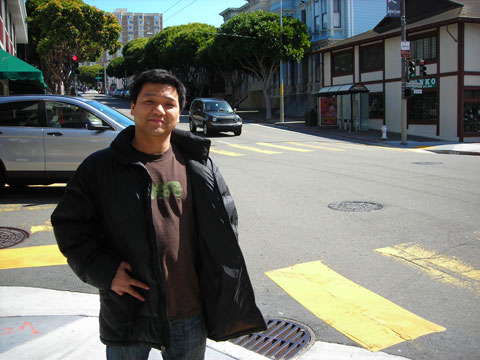 Interview with Harry Kim, Filmmaker of Dirty Hands: The Art & Crimes of David Choe
by Jeremy Hatch


Harry Kim, director of Dirty Hands and David Choe's (Juxtapoz cover #72) longtime friend, is in San Francisco to attend the screening of his film at the Castro Theatre this Saturday night, and I caught up with him Friday morning at his hotel in Japantown.
He's a great guy, always ready with a huge laugh, and for almost half an hour we talked about other things completely, starting with cars that can drive themselves ("If you die at the wheel," he said, "it'll just drive around the block making right turns"), which led to Ray Kurzweil, Kevin Kelly's One Machine concept, artificial intelligence, WALL-E, whether androids would form religious cults, and if they did, what would a robot god be like? (Also discussed: an albino hooker he met in the Congo, and why a jetpack would be ideal to search for living dinosaurs.)
At some point we got around to discussing his film.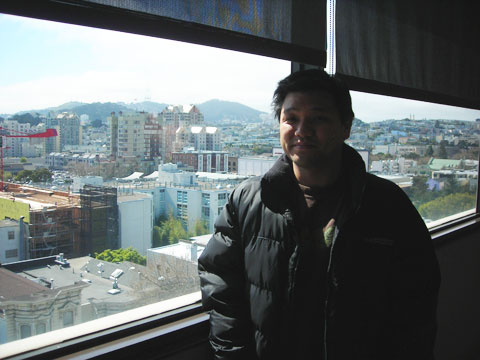 Jeremy Hatch: It seems that you and Choe are pretty close.


Harry Kim: I've known him since I was thirteen years old. Actually at first I was friends with his older brother Jimmy, but was closer to Dave by the end of highschool.
We all actually met at this Korean-American summer camp. Everybody was into this smoothed out R&B on the ill tip, and they'd get up at 6 AM to do their hair, and the thing that everybody wanted to wear was Z. Cavaricci. We were the outcasts. Jimmy had long hair down to here and Dave just wore a trenchcoat with sunglasses and jeans and long hair too, shit like that. Later on, in 1999 we started a band.
What was it called?

KGB: Koreans Gone Bad! After that I went to film school. The thing is, this wasn't supposed to be a feature-length documentary. He didn't want that, and I didn't think of that.
Back in 2000 I made this 10–minute piece on him for a school project, and then around 2003 I had to come up with a thesis to graduate. There are all these 30–minute pieces on artists, so it made sense to do something about him. Really simple, right? Then he ends up going to fucking jail and then comes back and starts preaching about Jesus. The whole game was changed! But when he came out of jail he didn't want to see anybody, and I didn't respect his wishes, I actually found him and forced an interview.
Did you use it?
It's the footage where he's sitting in the chair. Anyway, it had nothing to do with the 30–minute piece, but I wanted to get something more personal. After I shot that, I knew I had to interview anybody and everybody, because how the hell did he get to that place? So when I left school, he became my full-time job. Wherever he went, I'd drop everything in a second and go.
Is he still a hard-core Christian?
No, he hates all that stuff now. But all the Christians are trying to capture him back. They won't stop emailing him.
There was one really powerful moment, when he's talking about his relationship troubles and he just trails off in the middle of a sentence. You can see a million thoughts he's having right there.
He was talking about trying to be normal. It's really funny to see him trying to act normal. He went through this period when he was wearing tweed sweaters. It's really weird. He's just trying to step outside himself for a bit, but he's not going to be normal. But I don't think he's going to steal again. He's replaced that with gambling.
So that's true.
We have a system down, where we go to Vegas together, he gambles every day, I hold the chips, and he has to leave up so he doesn't leave losing money. We have to be partners in gambling so it's really measured and controlled. He calls it "nerd gambling." To give you an idea what a degenerate gambler he is, last time I went to meet him in Vegas somehow he'd already been there for a day, and he'd lost $50,000, and he'd had huge bags under his eyes. Then he won $55,000, and I made him leave. Then we played how we were supposed to. He gives me ten percent. So if I can't go, he doesn't go, because he knows he could lose everything he has and more without me to keep him in check. We call it The Hulk.
Sorry?
The Hulk. It's his gambling side, his animal side. He had a shrine to the Hulk when he was a kid. It means a lot to him, there's a really powerful beast in that guy. On the canvas he can do whatever the fuck he wants, but in most of life you can't. So he has to keep the beast in check however he can.
Has he ever used the Hulk in his work? I've never seen that.
In college he painted it once on a velvet backing. But he's had problems with Marvel, so he doesn't want to go there. They screwed him over on this project, he got super pissed, and DC Comics became great friends.
There was all this art drama that I left out because this movie was really about the rest of his life.
You've shot this film over eight years. How many hours of raw footage did you have?
More than 200 hours. We had a great editor on it. But because of budget we had to cut a lot of corners.
The raw roughness of it really suits the subject, though. I don't think that's a fault, I think that's form following subject matter.
Okay, cool.
One scene was almost a metaphor for his whole life, where he punches himself in the face to get blood running from his nose, to use it in his drawing.
Well, it's one way to put yourself in the work! But this was before he was making big money selling paintings, you know, "I have a piece of DAVE CHOE'S FUCKING DNA!" He just wasn't that famous then. He was just this guy punching himself in the face over his fucking sketchbook. Yeah, that's what the movie's about.
Dirty Hands: The Art & Crimes of David Choe by filmmaker Harry Kim is coming to the Bay Area for screenings on Saturday, March 14th, 2009 at 9:30pm at the Castro Theatre and again on March 17th, 2009 at 4:30pm at Sundance Kabuki Cinemas.
More on Dirty Hands at www.dirtyhandsmovie.com