Interview with D*Face: Sticking it to the man! Part IV
Juxtapoz // Sunday, 06 Dec 2009
1



Helen Soteriou: Do you want to work more in the US?
D*Face: Globally really. Outside of the UK. I don't do anything in London anymore. I feel like I've done a lot in London and I don't feel motivated by London. It is a sad thing to say, but when I go to the US or any other country, I feel like 'I'll leave my mark here'. It feels like the early days. Get around the city and put some stuff up, and that's the most important fact when I travel abroad.

The US is very important to me. The US has been very important to me since I was a child. Yeah, just abroad really. It is not about narrowing; it is about broadening, about getting more people to see my work and the different reactions I get from my work.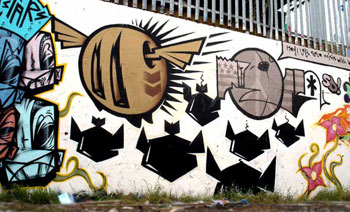 What is happening next year? Can we expect to see you in… Mexico for example?
If I get the invite to go to Mexico, I'll be there straight away.


Do you need an invite?
For the most part, the way I work is through an invitation, unless I want to go somewhere, I just go.

I generally wait to get invited, and also you mix with the right people when you get invited. If you are going to paint a couple of walls, the person who is inviting you know those walls and knows the locals and you get to experience it first hand, as if you were living there as opposed to going there as a tourist and trying to phathom it out, which I generally don't like to do.

But next year there is talk of a show in Tokyo but that has been on and off for ages, and there is talk of a show in L.A. but that would be at the tail end of the year.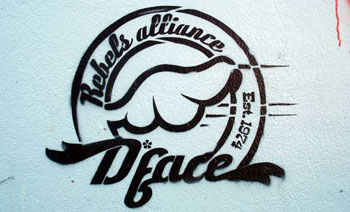 Over the last couple of weeks I have been hearing that Tokyo is the next big thing. What are your feelings on this?
No, not at all. It is just another place on the map. I have a big collector of my work that lives in Tokyo. I would like to go out. He is trying to get me to go out.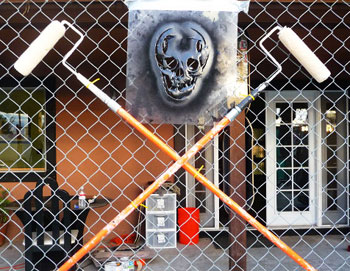 Do you prefer working on gallery shows or painting outside?
I love painting outside. The beginnings of the world were outside.

Look at all these people right now (we are in Spitafields market in the East End of London). Lets assume none of them know much about art full stop, but if you put something in front of them what you suddenly get is a dialogue with people who a) maybe don't understand it or b) they are not interested in it or c) they like or don't like it. d) they are angered by it e) they smile... There are all those and more variations.

If you put work-up in a gallery, you get people who want to see art, or understand art; maybe understand more about the artists.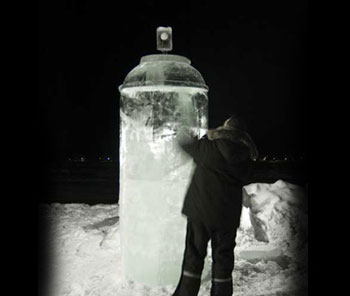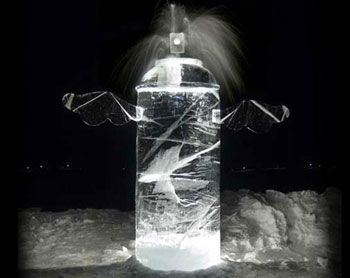 I really enjoy that dialogue and that is why if I put something up in the gallery I try and make it different to what I put up in the street,  so it doesn't loose its edge when its inside, some people try to create 'street' inside the gallery and it ends-up like Disney Land trying to be street.

For me, I'd love to get more spots in London to paint. That would be prime. I would love to spend more time painting on the street than I spend painting in the gallery, but at the end of the day it is just me and my faithful assistant and I paint everything I produce. I'm not like Jeff Koons, I don't have a production line or Damien Hirst that has the workshops for different pieces. It is important that each of the paintings I exhibit are painted by me.
Didn't catch the previous portion if this interview? Part III is HERE.
Learn more on D*Face at www.dface.co.uk