Interview with Derek Gores: Intricacies of Collage
Juxtapoz // Monday, 19 Jul 2010
1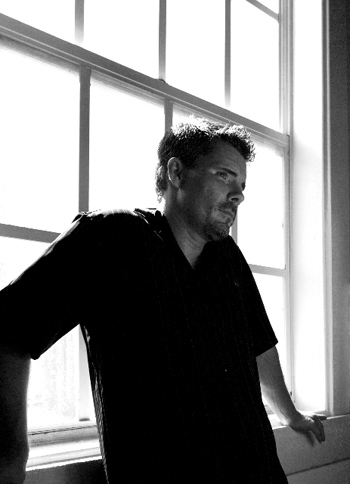 "From far away you see a woman's dark hair, perhaps a few feet from the viewer," states collagist Derek Gores in our interview with the artist where we delve into his unique process and messaging. "When you get closer though, that dark hair is made up of a cityscape at night, with little twinkling windows a mile away."
First thing's first: can you briefly introduce yourself? Who are you, where are you from, how did you get into art, what's your favorite food?
Derek Gores. Born in New York '71. Early years in New England, later in Florida. Built genuine faux robots out of plastic containers circa R2D2 '77.
Around age 11, a healthy dose of Rube Goldberg drawings, Douglas Adams books and my dad's approving chuckle encouraged the nonsensical side. My art history perspective was notably increased one mid-1980s Christmas day when I showed off my new Boris art calendar and my dad asked why all those Greek gods looked like somebody's next-door neighbors.
Fave foods? Lobster, fried green tomatoes, interesting beer.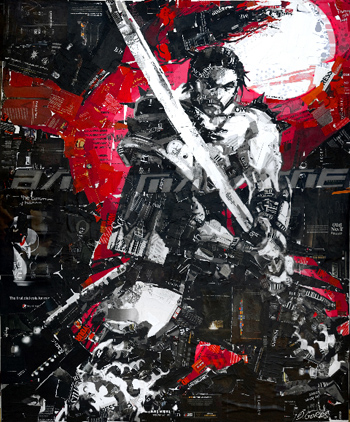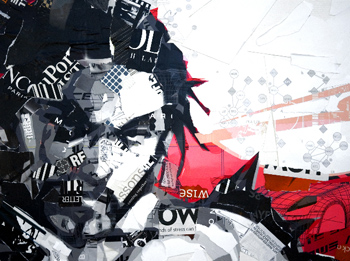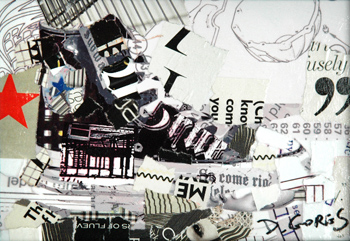 Most of your works are paper cut portrait collages. What are you trying to say via this medium? Why collage? Do you know your subjects or are they random figures?
For the most part I make figurative art, hopefully hinting at living, breathing, dreaming people. I enjoy building these organic subjects using largely man-made textures; schematics, maps, typography, ads, labels... lots of stuff not originally intended as art. Maybe to wake up the senses to see familiar stuff as fresh beauty. Add in the surprise content of some of my resources, and you get what a friend calls 'Zen narrative'. That feels good to me.
Collage started for me completely without personal meaning, as a method to explore more textures, and to attack the art faster than with a brush.
Some of my early collages I didn't know my subjects. But now I take most of the reference pictures myself, with existing light or sometimes having fun with a flashlight. After that I change the figure quite a bit once I start building on the canvas, led by a color or a texture or shape in the ripped stuff.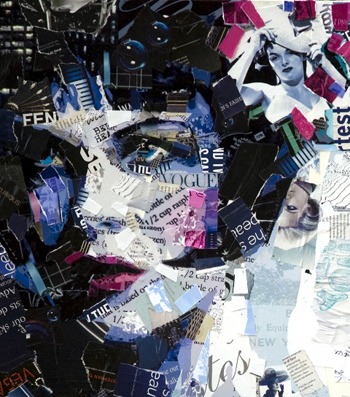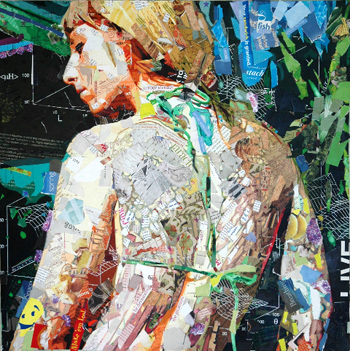 You state that you like your "pictures to barely come together with teasing little details." However, you finished collage pieces appear very cohesive and tightly rendered. Can you elaborate on this statement?
Well, what people see in the collages up-close and what they see far away are quite different. I tease the viewer by including elements that contradict the expected spatial reading of the scene.
One example I've repeated several times: from far away you see a woman's dark hair, perhaps a few feet from the viewer. When you get closer though, that dark hair is made up of a cityscape at night, with little twinkling windows a mile away. I like operating in that confusing space. I like seeing very deliberate and put-together people come into the gallery, and I watch as sometimes their faces look like when babies watch sunlight shine through tree branches... just succumbing to the senses. Some pieces I make tighter, some looser. Some of these pieces are 7 feet tall.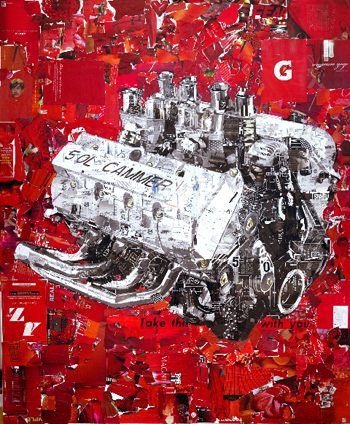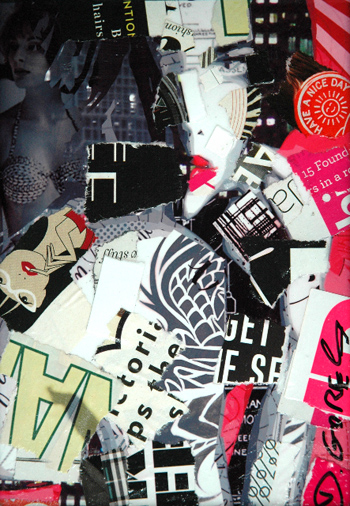 You say you're not interested in "heavy concepts." Is this ambiguity a reaction to the art world's cliché seriousness or grand historical art narrative, or are you simply hoping to make space for viewers to take away anything they wish from your works?
By that I mean I prefer a 'felt' response, instead of a literal, logical one relying on symbols. I also don't care much for contriving a concept on day one and then the other 99% of the time is straightforward execution. I'd rather a simple subject - figure in a space - and all my art world cliché seriousness I save for believing in my process of working quickly and chasing that slippery magic. And while I do need the viewer's brain in there somewhere, I don't want things as wide open as looking for puppies in the clouds. I take things I like in the world and give them a new context. I hope it feels like being distracted, or relying on your peripheral vision.
Why are you an artist?
Artists get to make the new stuff!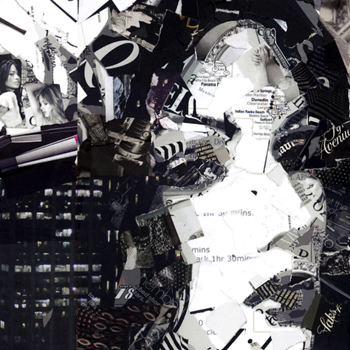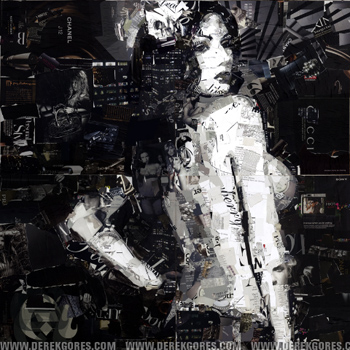 What do you have planned for the future?
On deck:
Thinkspace, LA: Equality show Love Conquers All in August
Elliott Fouts Gallery, Sacramento, CA: 40 and Under show opens August 7
Baisden Gallery, Tampa, FL: Solo show opening September 11.
SLOW Gallery, Melbourne, FL: Solo show Once Removed opening October 23
And, currently making big plans with Thinkspace for some fun during Art Basel Miami, and a three-person show in LA next Spring.
I'm working on commissions for Ke$ha, Aerosmith, some Led Zep posters, and several pieces for the new Orlando Magic basketball arena.
I also have visions for a series partnering with a high-heel shoe designer.
For more info on Derek Gores, visit www.derekgores.com