Interview with David Marsh aka Mesh137 on 'Visual Splendor'
Juxtapoz // Monday, 26 Jul 2010
1


Over three years here, he developed his highly original and instantly recognizable style of work, drawing inspiration from various counter culture movements such as skateboarding, graffiti, tattoo and street art, old records, pulp comics and movies and the art of ancient tribes and societies.
In anticipation of Marsh's upcoming solo Visual Splendor, opening Friday, September 10th at London Miles Gallery in London, get to know the artist in this interview.
There are many different cultural references in your work, are you well traveled?
I haven't traveled much recently, but I was lucky enough to go to some amazing places like Mexico, Japan, Canada, New York and parts of Europe while growing up. I'd say everywhere I've been has had an impact on my work, but I think the modern and historical visual cultures of Mexico and Japan are the most mind blowing. But then as a massive hip-hop fan New York was like a pilgrimage! I'd certainly like to travel through work more - there can't be a more satisfying feeling for an artist then someone on the other side of the world appreciating your work.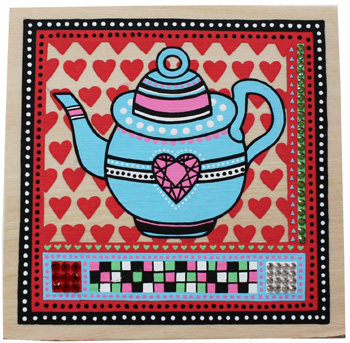 What are your inspirations as an artist?
There's so many! : Old comics - classic romance comics, 'Tales from the Future', 'Amazing Adventures' kinda stuff. Retro playboys, glamour and pinup art. Teapots, cupcakes, shoes, gemstones. Ancient tribal culture/art. Classic Indian, Mexican, Japanese, Chinese art. Modern day street art, graffiti art and pop art. Old records - for the music and the covers! Anything with patterns on, 80's rap lyrics/clothes, the work of author Hunter S. Thompson, B-movie posters, trashy novels Skateboard culture, old skateboarding videos and magazines. Anime and Manga, classic video games, 60's poster art, being an insomniac, dark rum, golden beers, and finally the music, illustrations and artwork of way too many individuals to mention here!
Your artworks are very intricate; you must have a lot of patience. How long does it take on average to create a piece of work?
I can produce a small painting in around a day or two, but one of my larger paintings with all the tiny details like the crystals and patterning can take me up to a couple of months. I like to give my paintings as perfect a finish as is possible which means working very carefully and slowly, but hopefully it pays off in the end!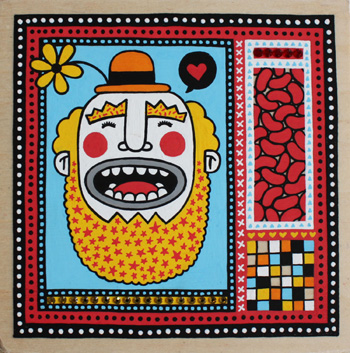 What would you like to put across to viewers with your artwork?
I don't like to take myself or my work to seriously, so I wouldn't say Im trying to get any real message across. I just like to make pretty pictures and have fun with my work. I do like to include a few cheeky/naughty bits in there that hopefully make people smile but I'm not really m aking any statements - maybe just that 'we should all calm down a little, be a bit nicer to each other and try to have fun and enjoy life. Oh and that 'pirate girls are hot'.
Have you ever had artistic block and how did you overcome this?
I'm lucky in that I've never really had a pr oblem with artistic block - if anything I have a problem with having to many ideas at once and never having enough time to do them all! I have about ten notebooks crammed full of little sketches and notes and ideas for future paintings, illustrations, animations music etc. So it's is definitely not an issue for me!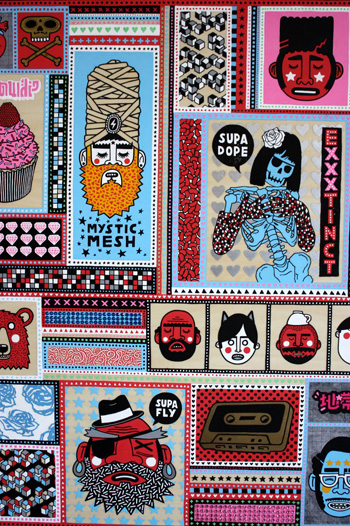 Do you see yourself as part of an art movement or would you rather not be pigeonholed in such a way?
Yes, I'm the founding member of a new art movement called 'Super Dope Spaced Out Next Level Fine Art Pirates'. No not really! But if you feel you must, then stick me with the 'Talented, hardworking people who are doing amazing artwork' movement or failing them the 'Overly modest movement'.
Visit www.londonmiles.com for more information on his upcoming exhibition.
Or visit his blog: www.mesh137.blogspot.com