Interview with Dalek in Anticipation of New Solo, And There Was War In Heaven
Juxtapoz // Saturday, 12 Dec 2009
1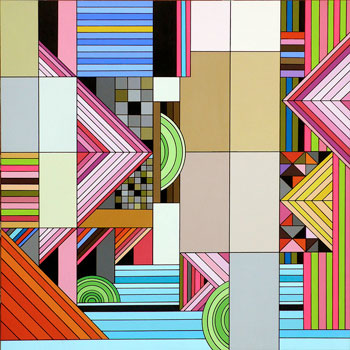 James Marshall aka Dalek (Juxtapoz cover #87) opens his solo, And There Was War In Heaven, tonight at Jonathan Levine Gallery in New York City. It's clear he has achieved a new level of understanding of his craft through this new series, as evidenced by this thoughtful exclusive interview.

Your new collection is titled And There Was War In Heaven. What is the origin or meaning of this?

The origin of it is anyone's guess really. As is the meaning; it's just too much fun being cryptic and it's in line with the way the world operates. And the paintings: continuous redirection and/or ever morphing reconnections; opposing forces; planes of existence; chronological disruption. It's all in there as tied into everything in the universe as we are. Dots connected across dots.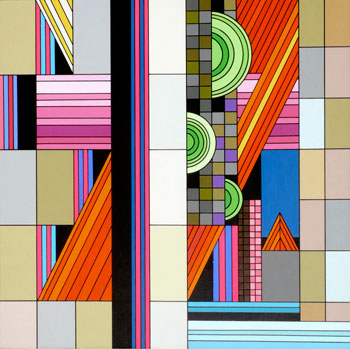 Your iconic Space Monkey, for which you became widely recognized, no longer appears in his usual sense in your paintings. Will you ever bring him back? Do you miss him?

I don't know what happens or happened. I am in a real place of trying to live free of past or future. It's a difficult task, but an interesting challenge. I don't miss them. I see them every day; everywhere I go. They are just are recomposed and camouflaged or decomposed and reassigned.



You have stated that the Space Monkey was often used as a tool to express more complex emotions; perhaps a sort of catalyst for intensity wrapped up in a cute package. In removing that character from your newer work, are you still able to express these emotions and feelings? How have things shifted?

Yeah, the tension has completely transformed along with everything else. I feel that I can far better express what it is I want with the new works. It's just a more covert means of doing so. Not deeper in the art fag sense of the term but deeper in actual depth, perceived or otherwise.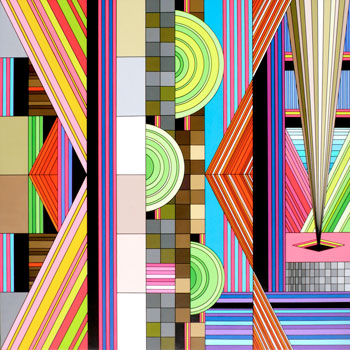 Your canvases always pop with bright colors. What do you love about color? Do you have a favorite? Do you see yourself ever working with a more muted or monochromatic palate in the future?

What's not to love about color? It holds so many great secrets and abilities. There is a reason people connect to color- or more like millions of reasons. Color is good :)  
I have favorite colors for various things: eye color, hair color, sky colors, tree or flower colors, car colors, shoe colors, roller coaster colors, cartoon colors, rug colors, glass colors.
It's impossible to just have a favorite blanket color. Even if you said blue, which shade of the 10s of thousands of shades of blue? And why? What's the connection? I have worked with monochromatics before. It's certainly possible to revisit it in some way down the road. Maybe using 10s of thousands of shades of blue. That's a good idea…I like it.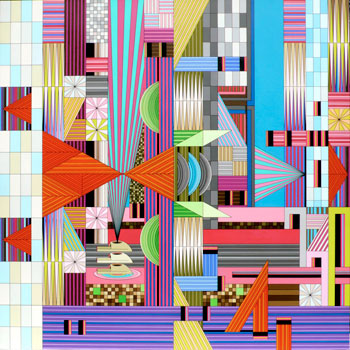 Do you feel that your work is understood? Do you infuse meaning intentionally into each piece?

I think so. There is tons of infused meaning built into every piece but it's really sort of ever changing, even to me. I try to disconnect from what I am doing while I am doing it. I prefer an uninterrupted connection from my mind to panel, pencil, paint, whatever. I am trying to achieve total auto pilot mode; to work without knowing what I am doing so that I don't make conscious decisions that affect the painting. I want it to be natural. A reflection of my true connection to myself and the events that effect my day to day. I think this is how to successfully communicate with people. If I expose myself and my humanity in the work in an uncorrupted way, then people can look at it and connect to it in the same way.
The whole interconnectivity thing is big for me. The boundaries of the civilization we've created are primitive and inhibiting...we need to start thinking outside of what we've been trained into, including how art is perceived and validated.


Of your past collection, Desperate, Rejected, and Angry, you stated the show was cathartic for you. Do you open this show with a similar sense of relief? How do you feel overall about this new exhibit?

Yeah, that show as liberating. Since then I feel that I have completely freed myself from so much nonsense. I feel like I have a much more balanced inner compass for making work now. Among other things, I feel just fine about this exhibit; it's good work. Solid. Some nice breakthroughs. Moving in the right direction.
James Marshall (aka Dalek)
And There Was War In Heaven
Solo Exhibition, Jonathan Levine Gallery
www.jonathanlevinegallery.com

December 12th—January 9th, 2009
Opening Reception: Saturday, December 12th, 7pm—9pm