Interview with Alex Gross
Juxtapoz // Tuesday, 08 Apr 2008
1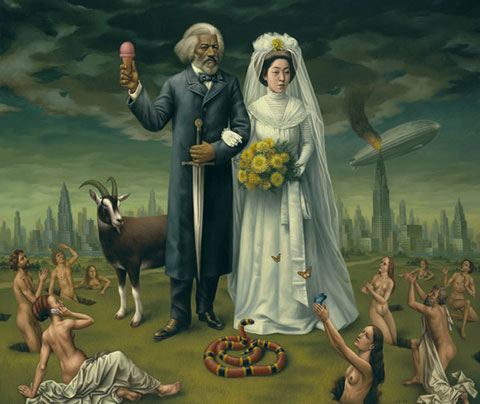 The Last Judgement
Alex Gross took time out of his busy schedule yesterday to talk to Juxtapoz about his new show at Jonathan LeVine Gallery, his workload, and his new book The Art of Alex Gross.
Is there a common theme to "Mysteries and Manners"?
No, I don't really work like that. I try to make everything visually have a relationship, but I wouldn't say I work on a theme all the time. The title is the last thing I come up with and I liked this one because I thought it was a good summation of all of the work in culmination of the mysterious situations that I like to create. "Manners" just reference the composed Victorian side that I have in each piece. There is a lot of old fashion imagery in my work and my paintings are kind of symmetrical and formal.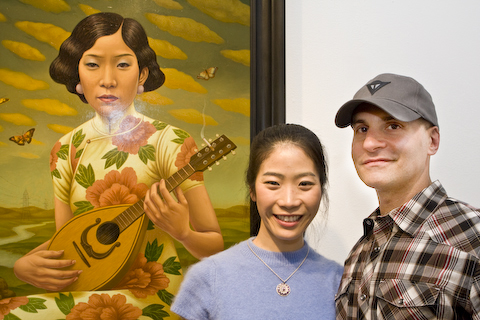 Alex Gross poses with his wife, the inspiration for The Mandolin

How long does it take you to put together a show like this? These are large-scale pieces; can you crank them out quickly, or do you spend a while on your shows?
The show at Jonathan LeVine's is about a years' worth of work. Some of the larger pieces take six to eight weeks each to finish, and there are about three pieces of that size. Most of the other paintings take about a month each. Then I had the really small pieces, which took much less time.
Do you work on a lot of paintings at the same time, or do you finish one and start another?
I work in a series, because I don't have as big of a workspace as I'd like to have. It's hard for me to have more than one thing going unless they're small and most of these paintings were very big. It's pretty linear that way.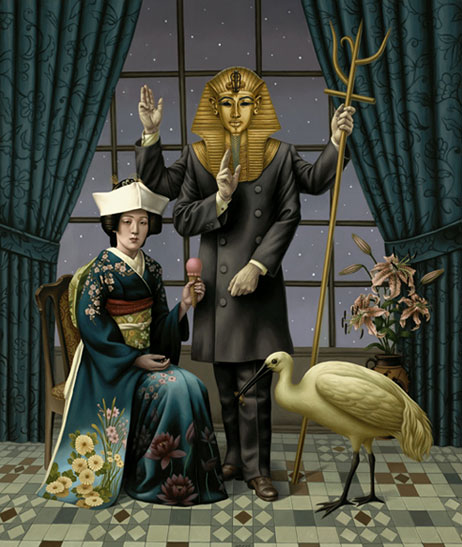 Hierophant, which recently sold for a whopping $32,000.
You've received a lot of critical acclaim for your recent monograph from Chronicle Books. Did you expect such a great reaction to it?
I don't know if I expected it, but has been great. I am extremely happy with how the book turned out and very excited about the feedback. I pretty much made the whole book on my own. I had a little help, but I laid it out, designed it and made sure that it is more or less chronological as far as my work goes. I thought that was the best way to put it together so that you can see the work evolve and change over the years. I included a lot of detailed views of the paintings so that readers can see the work even larger.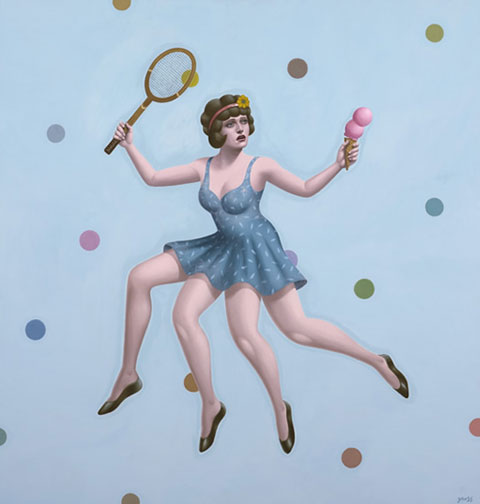 The Tragedy, also the album cover for the Blonde Redhead's record.


One of the paintings in the "Mysteries and Manners" show is the cover of the new Blonde Redhead record. Did the band reach out to you to use your work?
They just contacted me through a designer they were working with who knew of my work and turned them on to me. I think all their previous album covers had been done in an underground collage vibe by their singer Kazu Makino. The art was very really cool but the band has a new label and their music has evolved. So I think everyone thought that their new album should have a little cleaner look to it and they agreed. This is the first time they went out and hired somebody else to do the cover image. I got to meet them and hang out backstage with them and they are all really nice and are happy with the piece. It was just a great experience.
Any plans for the near future?
No, I have nothing lined up. I wish I had something else to mention, but it takes me at least a year to get something together. I'm not like one of those artists that have three shows a year.
Well its well worth the effort. Thanks for talking with us.
Interview by George Koroneos. For more info on Alex Gross, please visit his website, www.alexgross.com.