Interview: Gary Baseman
Juxtapoz // Friday, 04 Mar 2011
1
Tomorrow Gary Baseman's solo exhibit Walking Through Walls opens at Jonathan LeVine Gallery in New York City.  This is an important show for Baseman as he's not only reached new levels with his artwork but also in life. I had the opportunity to spend a few days with Baseman in his studio before he left and learned a lot about his inspirations for the show, one of them being truth, how it has affected his life and how his opinions about it have changed. Following is a short interview.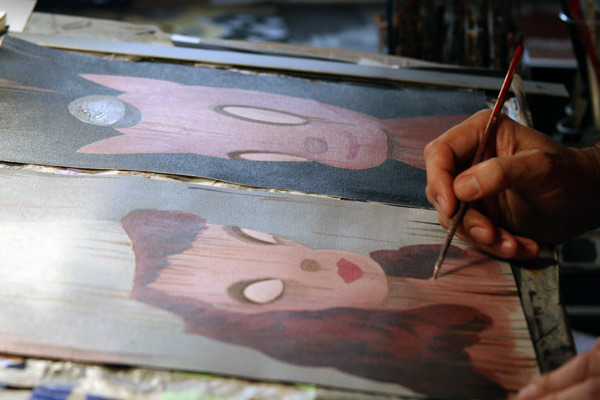 A: Gary, you are having a solo exhibition titled "Walking through Walls" at Jonathan LeVine Gallery in New York which opens March 5th, you've been telling me that a big influence to this new body of work is how you have been obsessed with the notion of truth.
G: Yes, the notion of "Objective Truth." When I was young, I somehow thought objective truth was the magic that opened up opportunity and success in life.
When I was young, even though I looked up to rebels like John Lennon, Bob Dylan, Lou Reed, and Charles Bukowski, and always took risks with my art, in real life I was compelled to do the "right thing," following the rules my parents and teachers told me would lead me to a successful life. I did not ditch class. I did not drink or smoke. I was so straight edge until the legal age of 21. I was determined to do everything right, thinking that somehow I would be rewarded, not in the kingdom of heaven but as an upstanding member of society.
I am not that now.
A: What are you now, and why the change, what influenced the way you looked at and felt about truth, honesty and living by specific rules?
G: What am I now? I don't know. A giant flesh of magnetic creative lightning. I have been fortunate to have lived my entire adult life as an artist. I have practically always worked for myself.  I live, eat, and breathe to create. Period.
What influenced the way I looked at truth? I don't really know. Maybe it was seeing my parents who were Holocaust survivors work so hard to give their children the American Dream. My dad would remind me that since I was born here in the US, I could become president. I was the only one in my family born an American. I also remember my teachers really being supportive of my art. Maybe when I was young It was a bit of the Superman model of Truth, Justice and the American Way.
A: Earlier you mentioned objective truth, what do you mean by this?
G: Well, I am not necessarily meaning "empirical truth," like scientific facts --things that are absolute, like gravity. I am talking about ideals on how to be good and successful and responsible. I still live with some of my younger rules like always paying off my credit card every month so I never have an interest payment. But it goes so much deeper.
As a teen, I felt I should always be honest, to a fault. Always tell people how you feel, even if it hurts them. I do not to that now, unless it is constructive.
I am definitely not perfect, but I wanted to be perfect. Objective truth was perfect.
In my new exhibition "Walking through Walls," I wanted to create an environment where I did not have to accept societal walls. Instead, my own talent and efforts would take me anywhere I cared to be. I don't want to live with the restrictive nature of the world we live in. Of course, we all must, to a degree. But I want to find a way to live outside of the box, if I want to move through the box of life as I wish. Funny thing is, we are our worse enemies, and I seem to always put myself into a box.
A: And "objective truth" kept you in a box?
G: Yes, because I thought it was a safe box. But it wasn't safe. It was claustrophobic. It actually led me to a certain amount of success as a commercial illustrator, earlier in my career.  I was a hard worker, and still am, but I was really good at hitting deadlines and staying within the boundaries of what was appropriate for the publication I was working with, like Time, The New York Times, Rolling Stone. It also made me successful in TV with "Teacher's Pet," when we had standards and rules of practice and education requirements. But as a painter, I wanted to see what I could create without such boundaries and unlimited opportunities.
But back to truth, or in Hebrew emet or in Latin, veritas.
A: Emet is the Hebrew word for truth?
Yes, Emet in Hebrew is "truth." There is a Jewish 16th-century folktale of the "Golem," a Frankenstein-like monster that was created out of mud, and was mindless and would do everything you said, if you wrote the word "Emet" on his forehead. Now, emet in Hebrew is the first letter of the Hebrew alphabet, the middle letter and the last letter. Golem would do whatever he was told, so in some ways, I could relate to him. To deactive him, you would remove the first letter in the Hebrew alphabet, the aleph, and it would then say "met." And met means death.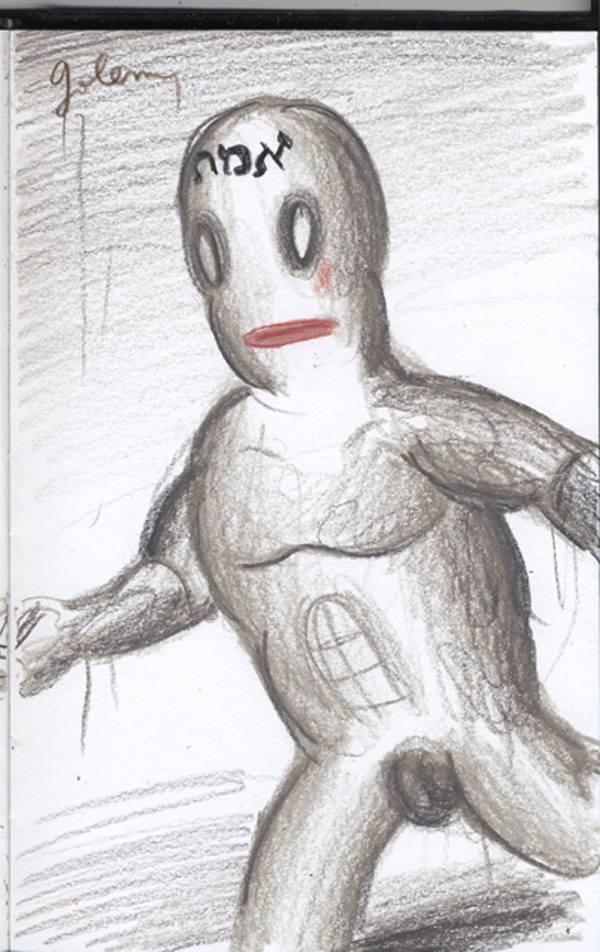 A: So you could relate to this monster?
G: Actually, yes. I think I could relate to monsters more as a child. I wrote a children's story entitled "Gary and the Monsters" when I was in 4th grade. Not to give the ending away, but I became a monster.
I was so obsessed with the notion of "objective truth" that I created my own hand sign. I grew up as a baby with the "peace" sign, and in adolescence with the "fuck you" sign. I wanted to create the "truth" sign.
I did a drawing in my sketchbook showing you how the hand sign was made. Now, not many folks can do it. To me, that decided who was truthful or not.
I remember being friends with a girl whose sister was married to Gary Lockwood, who starred in "2001: A Space Odyssey." He was trying to direct this rock-n-roll movie and wanted me to be his art director. It was the only time I considered taking a quarter off of college. Of course, I never did. But he wanted me to use the truth sign as the sign of the band that the fans would make during their performance.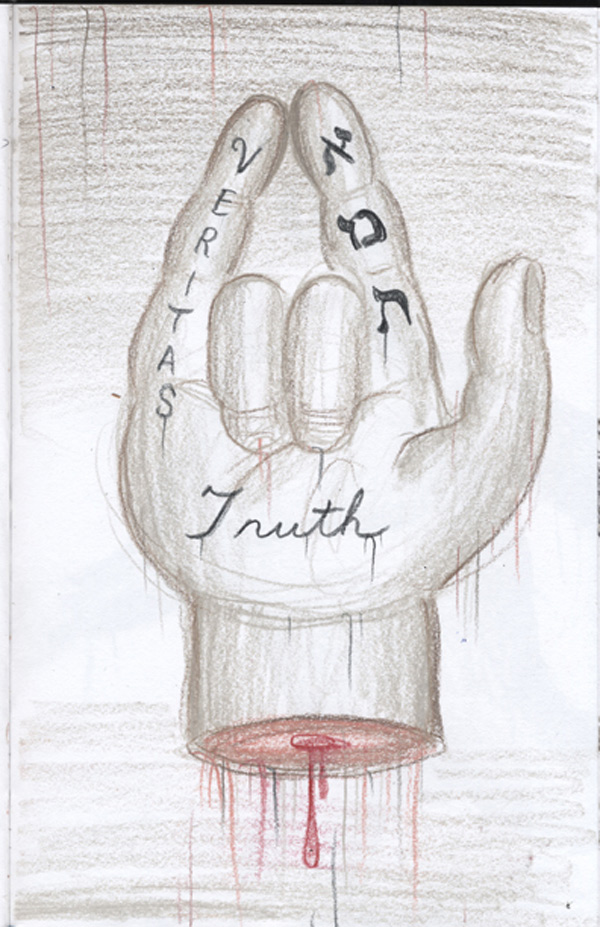 A: Very interesting. Well, I'm going to let you get back to work, thank you for making time to give us a little insight on what we can look forward to with this new body of work.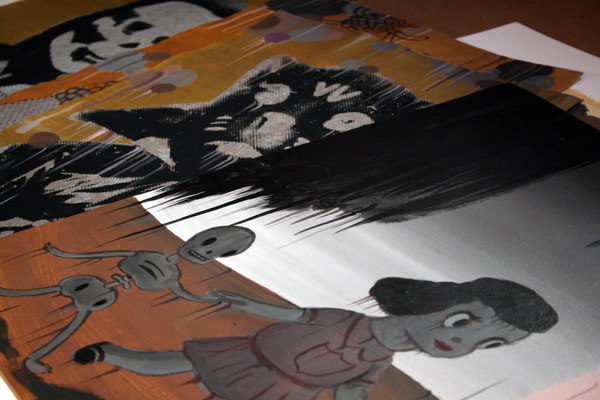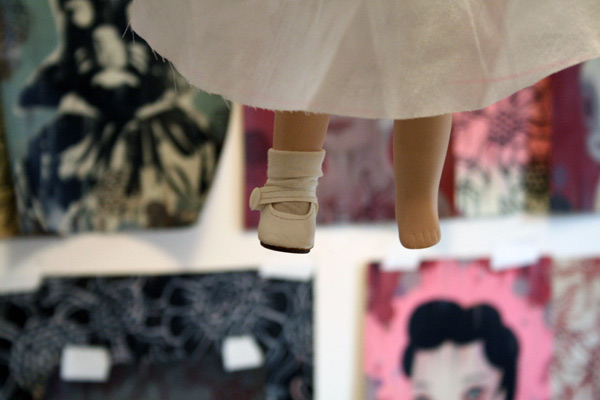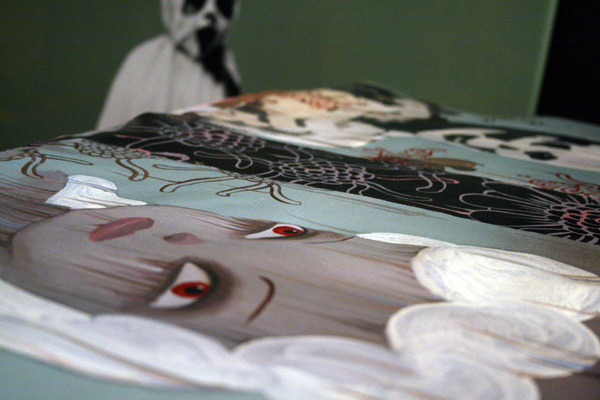 Gary Baseman
Walking Through Walls
Opening Reception: Saturday, March 5, 6—8pm
Jonathan LeVine Gallery
New York City, New York