Interview: Ferris Plock
Juxtapoz // Monday, 28 Mar 2011
1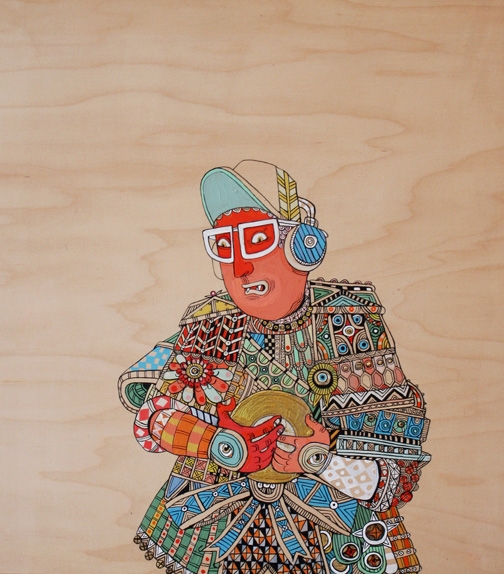 Over the past few years, fine artist Ferris Plock has become one of the most active artists in San Francisco. Recently, he was the Artist-in-Residence at Recology in SF, and had a solo show at Shooting Gallery. Many would say Plock holds a trademark style, mixing, at times, contemporary culture with the Ukiyo-e art form. Maybe you should just read the interview.

Interview by Caitlin Fitting, images via Shooting Gallery

CF: Are you working on anything right now, is your art hanging anywhere is San Francisco currently?
Ferris Plock: I am currently working on a bunch of animation projects... It is nice to take a break from painting and do some other work...Most of it is to recharge and to try to make my wife laugh. Tuff Taco was basically an attempt to cheer up my lady last year... I am hopefully going to be shooting a couple of short video projects too... Who knows... there is radiation floating towards us from Japan... Maybe I will be hiding in refrigerator with my family in the sewers soon... yeah technology!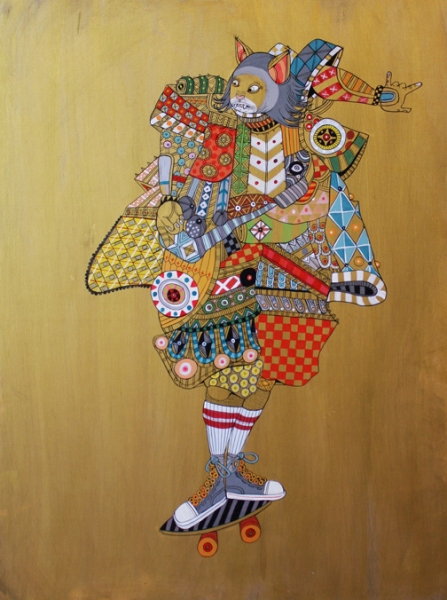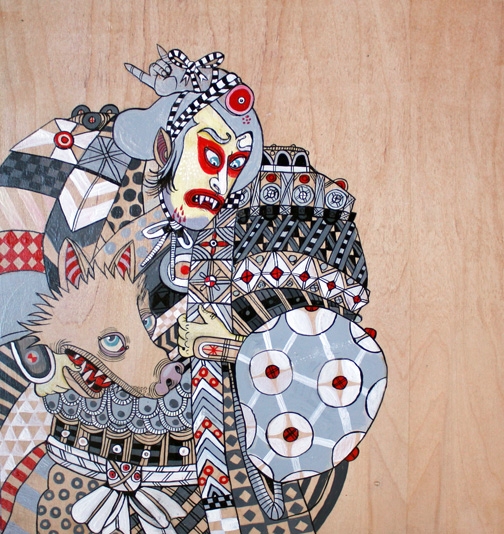 Have you bought an earthquake kit?
We have a basic kit together already... I grew up in the Bay and remember 1989 pretty vividly.
How can you describe the way your work has evolved?
I think my work has evolved over time mostly because I work my ass off trying to get better. That being said, I don't think the creative process is a linear process... It's not a matter of just practicing... Other elements have to coincide with working your ass off. Element is a good word to use when you don't have any idea why stuff happens. All I know is that I have to draw all the time... it's my crutch/therapy/obsessive compulsive disorder. Um... I have learned which tools to use and how to use them better as well.
Do you ever get curious and try new tools or are you devoted?


I try new stuff all the time... I just did a series of drawings from a pile of carbon paper I found at the dump.
Some of your characters embody a fierce personality while others are softer, do they reflect specific experiences, people or what?
My paintings usually reflect where I am mentally at the time. Most of my paintings are based off of drawings that I get off my chest in the middle of night while I am half asleep.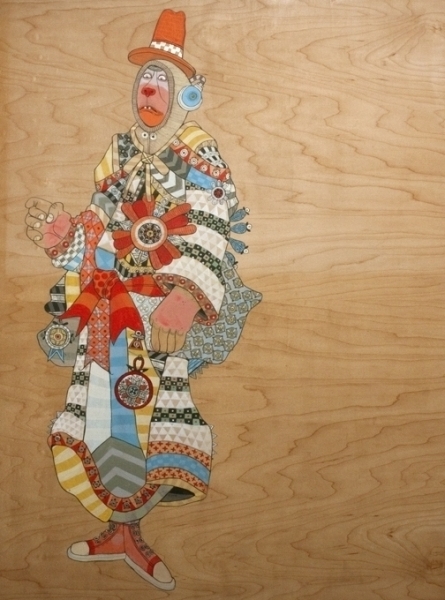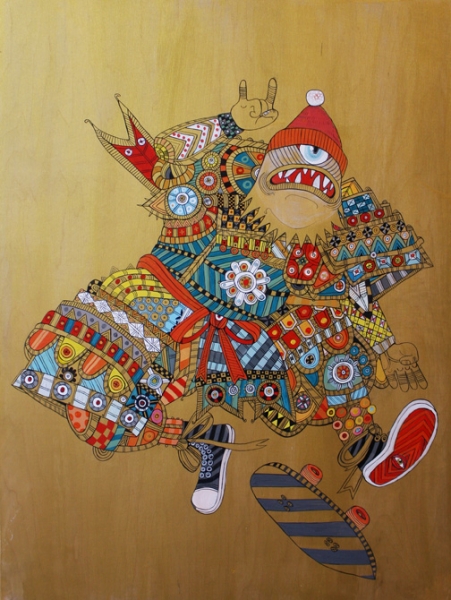 I feel as if your characters should be illustrations/paintings in a children's book, they are so imaginative and emotive. Have you ever done anything like that before?
I don't know man... I'd love to do children's books... I grew up with an awesome schoolteacher as my mom. I guess I am in a place with my time and energy where I can't do too much due diligence work. I can't create a book and pitch it to publishers and I don't have the cash/time to create a book and then market it. Maybe Juxtapoz should do kids books... wow... that's a good idea actually...
Has your work ever made it outside, hit the streets?

It has indeed.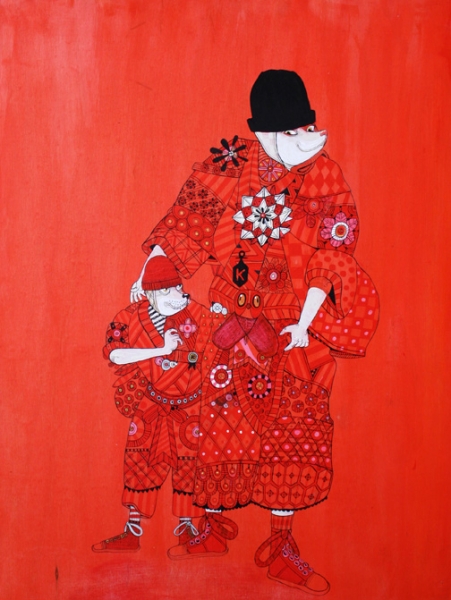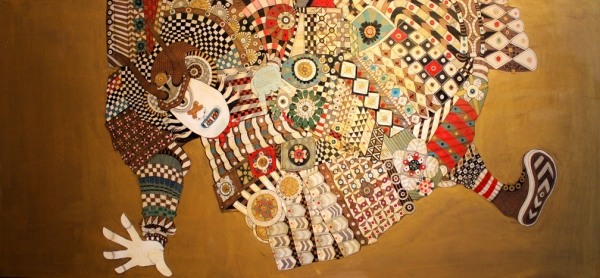 So how do you feel about street art?

I think (other people think whatever you want to think!) street art grew out of graffiti art, which was and still is part of hip-hop culture. I grew up with and still identify with hip-hop culture... I love breaking, MCing, DJing and graffiti art. All of these have the potential to feed artistic culture good stuff and bad stuff. There is a bunch of street art that I don't enjoy just like there is a ton of rapping and DJing that I don't enjoy. Street art has grown in a lot of ways just like the other aspects of hip-hop culture.
You have a great partner and collaborator, how has that effected your work/process etc.? Any other artist in your life that you like to collaborate with or who may of inspired you in one way or another?

My wife has changed everything... She has taught me so much about materials and process... She taught me how to use and clean a brush... she taught me how to use gold leaf... she taught me how to leave a painting alone when its done... She taught me that I could take myself seriously and still play... Before I met her, I just thrashed, worked drunk as a skunk, high as a kite, and supremely nervous about really trying... We love to play with different materials when we have the time. We have both learned a lot from our studio experiments.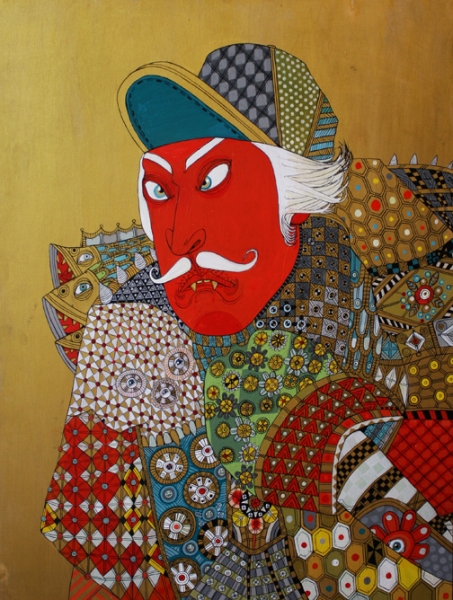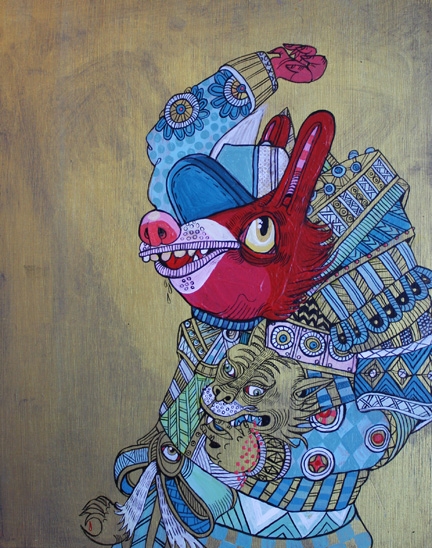 That's a fantastic partnership if I've ever heard one! Who else?

As for others, hmmmm.... All sorts of people inspire me... I love watching Brian Barneclo paint... He makes me excited to paint and he has taught me a lot about painting just by collaborating with him… Marci Washington has energy in her work that is intangible. The pictures of her work are flat in my mind but, when you sit in front of one of them, they open up and whisper secrets to you. Henry Lewis is amazing. Paul Ulrich's new stuff is awesome. Damon Soule is like, "REALLY?" Nome's work freaks me out in a good way. Deth P. Sun is prolific on levels I don't understand. I've always loved Maya Hayuk's use of color and composition. Walter Kitundu's wooden instruments still puzzle me even though I haven't seen one in a couple of years. I am inspired by Kill Pixie's work. Skinner's work makes my head hurt. Matt Furie. Nate VanDyke. Mike LeSage. shitttttttttt... this could go on all night. I will end with this...

Mars went through a door and never came back...

Jeremy Fish has dialed his shit in so nicely...

Jay Howell makes so much fun of everything, including me and I still love his work...

Porous Walker is still out there...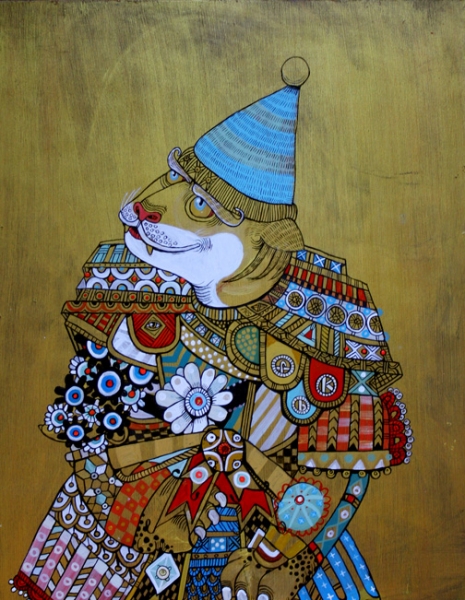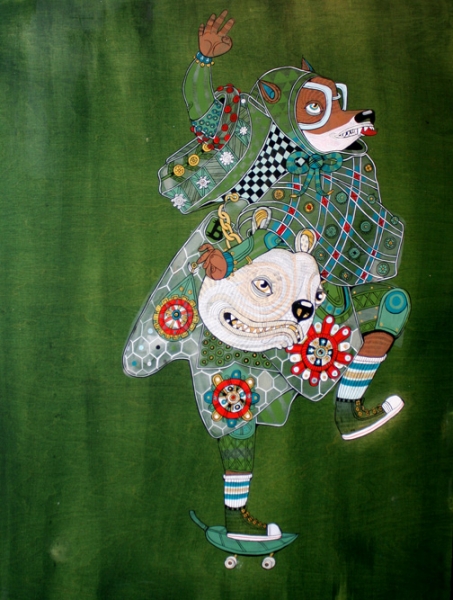 Anything else you want to shout out to the world?
When some wild-eyed, eight-foot-tall maniac grabs your neck, taps the back of your favorite head up against the barroom wall, and he looks you crooked in the eye and he asks you if ya paid your dues, you just stare that big sucker right back in the eye, and you remember what ol' Jack Burton always says at a time like that: "Have ya paid your dues, Jack?" "Yessir, the check is in the mail."
http://www.ferrisplock.com/
http://shootinggallerysf.com/