Interview: Amy Sol
Juxtapoz // Wednesday, 16 Apr 2008
1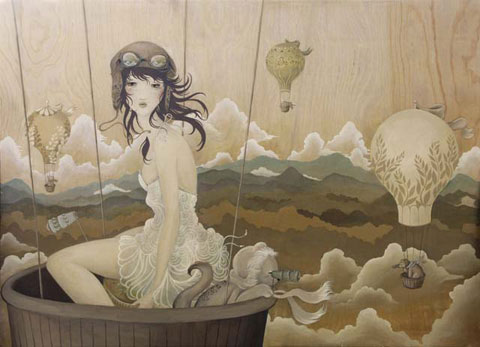 To You From My View
How did you get involved with Semi Permanent?

I was called up by the organizer and asked to speak. I was told that they were looking for a diverse group of people so I think I was chosen for being different than anyone else that was speaking. I think I got lucky.

What were you hoping people would take away from your talk?

I hope it was educational. I hope that some artists would get an idea of putting together an exhibition. It's not really as hard but it's also not really as glamorous as it seems.

Have you spoken about your art or practice publicly before?

No. Never. I don't think I've even spoken to more than five people at one time before. I've never even spoken in front of a class at school.
Obviously, I had a little bit of anxiety but actually, I felt humbled due to the fact that I got invited to come out here and flown out to Australia and all I had to do was talk for an hour. I felt that I owed something, which kept me focused on stage.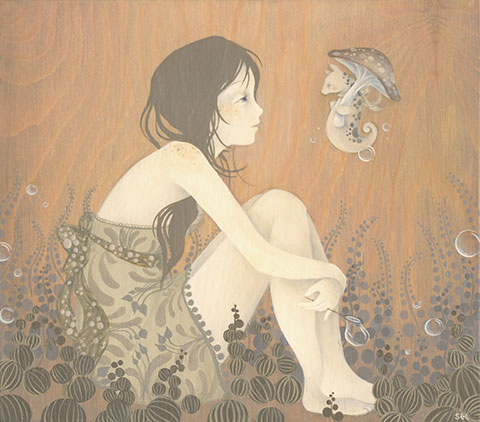 Hello Sea Pony
I've read articles that start out by saying that you're Korean-born but working in the United States but I've also seen you correct that. What's the story?

See, the story is that my father was in the air force and he was stationed in Korea where he met my mom and in two months they got married. My mom didn't speak a word of English and my dad knew only a few words in Korean. It's a really cute story and when my mom got pregnant with me, they moved to the States to raise me. I haven't been back since I was about eight years old but I did spend a lot of my childhood there and even went to school there for a year and a half.

Can you tell me about working at nighttime? How did that work regime start?

Even since I started working fulltime as and artist, my life has changed. I started working through the night because I had to work a 9-5 job during the day. Now, my art is my job so most of my life and my living space revolve around my work.
Things definitely have changed a lot, going from jobs where I had a set schedule and a manager or employer and now working toward deadlines instead of just doing art for my own sake, not caring if people saw it or not.

Were you working at art-related jobs?

I was trying to, all the time. I tried doing art related-jobs doing logos but it was pure torture. Harder than anything I had ever done, it was spiritually draining. I have respect for commercial artists and the work they do but I would rather be a maid and I actually did clean houses for half a year. I did all sorts of work; I was a waitress in a nightclub.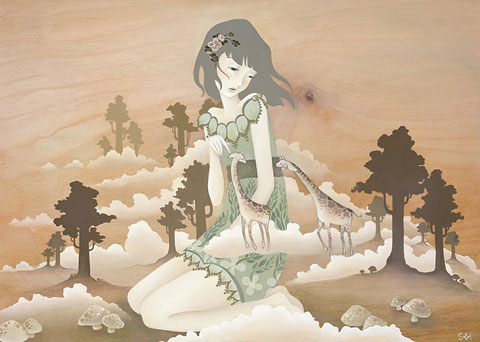 Friends of Rose Clouds
How and where do you start your studies?

I bring my notebook everywhere and it's filled with a lot of random sketches. I keep a good record of everything that I see, a cloud that is in a certain shape or an animal.
When a deadline is coming up for a show, I just look through everything that I've done and seen in the last four months.
I'm not good at remembering things so sometimes I'll see something that inspires me and I can't recall it a few days later so it's really important for me to be able to draw as evidence.

Your paintings are like very vivid streams of consciousness. Does this take place while you are translating your studies to canvas or far before that?

I'm very flattered that you say that. I do try to depict the time or moment when the logical part of your brain turns off.
When I do the study is when I'm inspired. It's like a whisper; it's very vague.
When I'm doing my painting, my brain shifts to a more focused state of mind.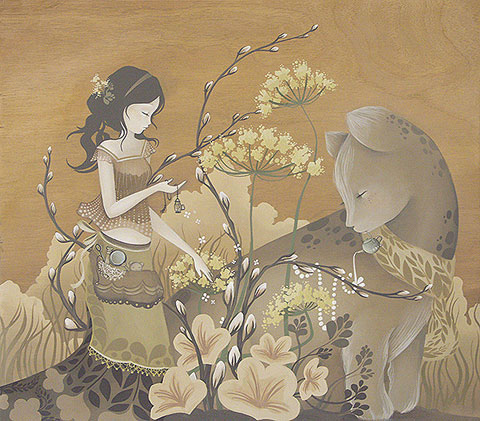 Miquedis Bouquet
Your paintings describe a sense of solitude, particularly in the singular female characters among their whimsical, animal friends. Is that a direct translation from living and working behind closed doors, amidst the craziness of Las Vegas?

The fascinating thing about Las Vegas is that it's a miniature landscape of modern society. I like to call it a 'fish tank city' because it developed out of nothing it depends on the outside world to feed it.
I've become conditioned to Las Vegas. When friends visit me, they ask how I can stand all of the noise around me but I'm conditioned to it. It just fades away.
People behave differently, socially in other cities.

Have you felt any pressure to sacrifice things in your life to keep up with your artistic practice and output now that you are constantly being asked to contribute to projects or tour your shows?

The first few shows were overwhelming but I evaluated the value of my life and doing what I love.
The major sacrifice is goofing off and what I mean by that is, staying in bed late or reading the same book over again.

The titles for your works are very poetic and lyrical. How do you come up with them?

Sometimes I don't have a title and I have to come up with them on the spot for a gallery. I'm not a writer at all, but I think it's like writing poetry.

Interview by Alana Armstrong.
See more of Amy Sol's work at www.amysol.com.