Inside the Studio with Chloe Early: Preview New Works
Juxtapoz // Thursday, 06 May 2010
1
Exploring the power of the figurative and the abstract in her picturesque studies, Chloe never ceases to experiment with the unexpected. In her almost utopian visions, Chloe melds realistic figurative works with looser backgrounds, dripping paint, and a variety of techniques. The results are mesmerizing and your eyes jump from beautiful body shapes to flowers, back to colorful washes of paint and then return to further inspect why each figure is positioned in the exact manner it is.
Chloe walked us up to her second storey studio in Shoredich, London. A small but bright space, the studio is littered with linen and aluminum canvases Chloe gets specially made for her. In the midst of working on 15 new pieces for her upcoming show this Fall with Corey Helford Gallery in Los Angeles (her first LA solo show), Chloe is already well on her way preparing for this new series.
The artist tells us that this new series will revolve around the theme of Adam and Eve. Unlike her last major solo, Clouded Apollo in November 2009, which explored natural landscapes and floating figures juxtaposed against urban machinery, this upcoming show will revolve around the classical Biblical tale of development, temptation, and exploration.
Take a very advance sneak peek at the new works that Chloe is currently working on: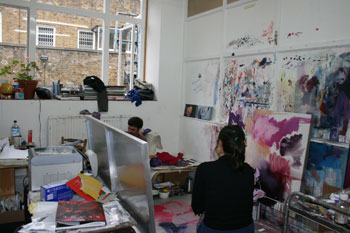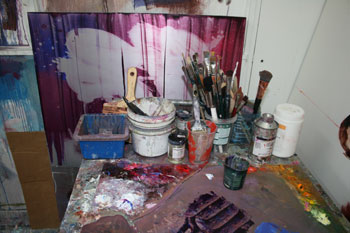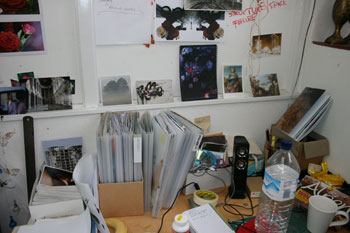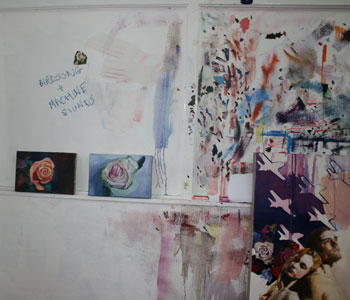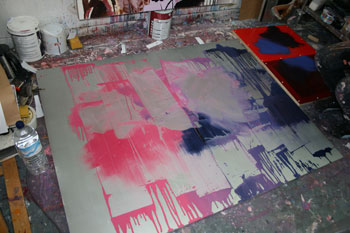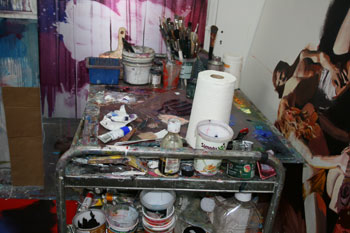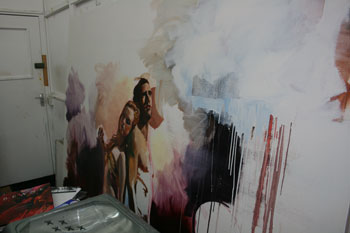 More info on Chloe Early at http://ChloeEarly.com
Hear more from Chloe in our Back Talk feature with her here and an interview with her here.