Inside the Home of Natalia Fabia
Juxtapoz // Friday, 31 Jul 2009
1
Take a handful of gems and a wealth of tattoos, mix in some ruffled lingerie and top off with glitter, lots of glitter. This tasty recipe is just a rough serving suggestion- the real magic lies in the viewer's interpretation. However, one thing is for sure: Natalia has learned how to tease oil paints into virtually any position while maintaining a strict adherence to the classical roots of oil painting, even if she does insist on painting "Hookers".
Natalia Fabia takes a somewhat juvenile, voyeuristic impulse—catching beautiful women in intimate scenarios—to an artistically sophisticated level. The overall sense of play and adult attraction is supported by a mature iconographic sensibility rooted in Natalia's mastery of oil paints. In peering into a world usually reserved for behind closed doors, Natalia's work possesses a vibrancy that is sexy and alluring in nature but also maintains a delicate and feminine charm.

It's a muggy spring day in Los Angeles and as I pull my rental car into the back of a long driveway, I begin to worry that I'm at the wrong house. A young woman stands nearby cradling a child, eyeing me suspiciously. I begin to pull out my cell phone and catch a sparkle out of the corner of my eye. Turning my head, I notice a row of glimmering tear shaped gems strung like laundry along a windowpane. Yes, I tell myself. This is definitely the right place. Natalia Fabia lives here. --Katie Zuppann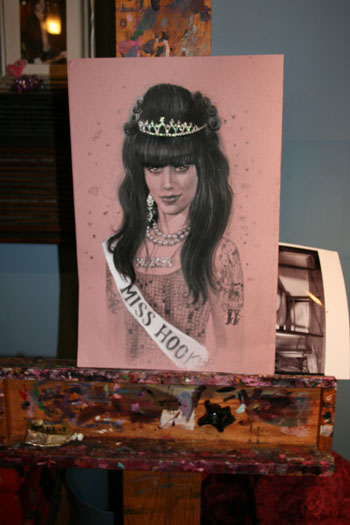 Piece from Natalia's Hooker Beauty Pageant fashion x art x jewelry event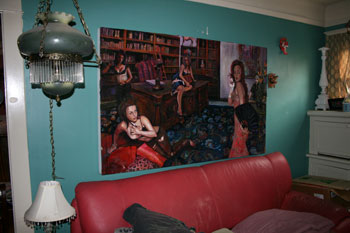 Massive painting Natalia completed a few years ago adorns her teal living room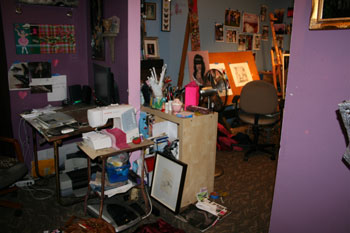 Her spacious bedroom also serves a studio area, where Natalia's painting, as well as clothing and jewelry fabrications come to life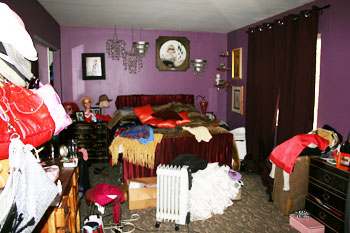 Natalia Fabia: slave to fashion. Wild clothing covers her home

The bathroom was great. Not only is the entire room pink and covered in hanging gems, but the walls are covered in art and paintings of other people...in the bathroom!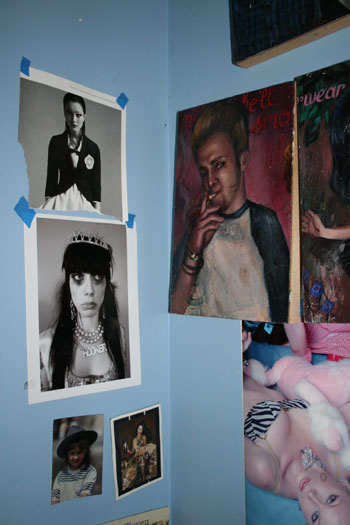 Inspiration and photos are everywhere

...as well as hats and masks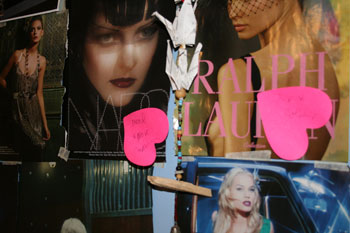 Heart-shaped Post-It notes mark posing and lighting Natalia is attracted to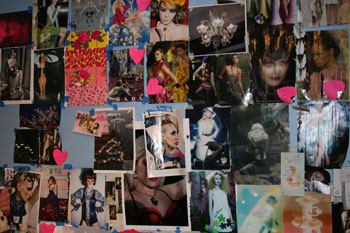 Lots and lots of inspiration keep Natalia energized.
Stay tuned for a behind the scenes feature on Natalia Fabia's photoshoot for her feature article in our current August 2009 issue.