Inside the Graffiti x Urban Art Scene in Prague: Interview with Pasta Oner
Juxtapoz // Saturday, 28 Aug 2010
1
How did you two get into street art?
The first time I saw graffiti was in 1993. One needs to realize that there were communists here in Czechoslovakia before 1989 and we were basically ruled by Russia. Everything was under tight control and there was a minimal information exchange with the West. The Czech Republic borders on Germany, so the information flow after the fall of the Iron Curtain was fast. After painting pure graffiti for seven years, I saw some Shepard Fairey and Dave Kinsey pieces and I was captivated. I immediately started using the different processes like posters, stickers and stencils. I returned to spray cans after some time, but I am now using more acryl than spray. I have built a screen printing shop and I print small poster series and canvases, which I combine with painting.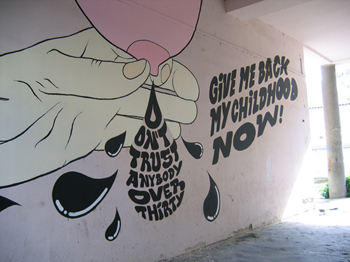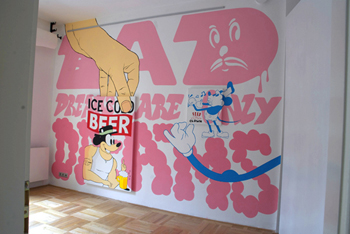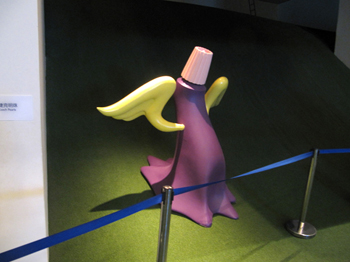 How would you describe your style?
My style is on the line between street art and pop art, but it has completely departed from graffiti, which I still love. I work a lot with letters, which has to do with my graphic education. I am interested in elements of consumer and ideological propaganda of the 1950s - 1980s, which I like to integrate in my work. I am inspired by artists like Andy Warhol, Claes Oldenburg or Takashi Murakami.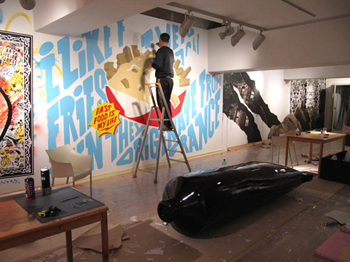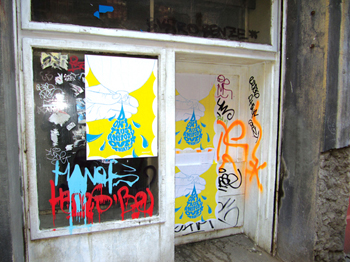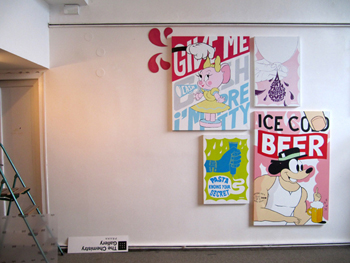 What is the art/graffiti scene like in the CR?
In a country of 10 million people it is not very big, but it's certainly interesting. Everything important happens in Prague. Other interesting cities are Brno and Olomouc, where strong graffiti scenes exist, but they haven't made the step to art or street art. Prague has more artists who have background in graffiti and some art education at the same time. There are a few spaces and galleries that cater to this art form. Moreover, there are active contacts with street artists from around the world here.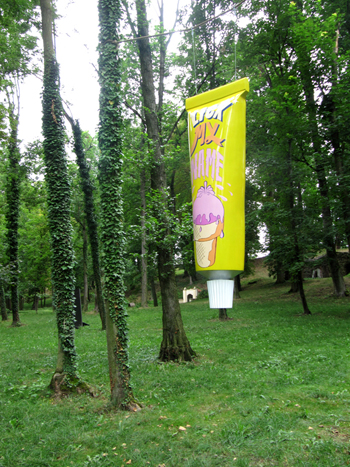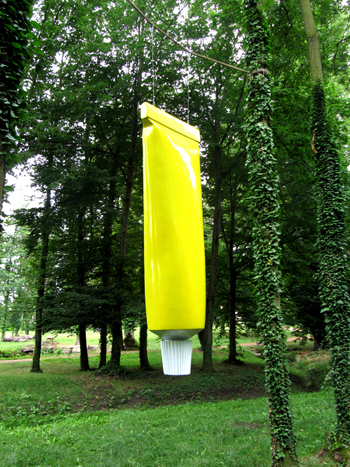 What are the similarities and differences between the street art scene in Prague and other places you have visited?
The first generation of writers was special in that most of them studied at some art school. Graffiti has always been approached with more responsibility in Prague. Basically everybody knows everybody on the scene and there were big sessions every Friday during the nineties. The main and most important thing has always been the letters, their structure and design; everything else is just a decoration. Prague was never big on huge productions with complicated backgrounds. Bombing is a great tradition here and people are used to working with chrome and black colour a lot more than in the US. In other cities around the world, individual scenes are more anonymous and people may not know each other. Also in some countries like France or Spain graffiti is generally connected with crime. This is not to say that the Prague scene is innocent.
When it comes to the gradual evolution of artists coming from the graffiti scene, Prague has a lot to offer. Two years ago, Prague hosted a big festival of street art called "Names" which attracted a great number of artists from around the globe. Currently there are a couple of crucial figures who have come from the graffiti scene and who exhibit regularly in galleries, paint big murals in the streets and work with commercial companies from time to time.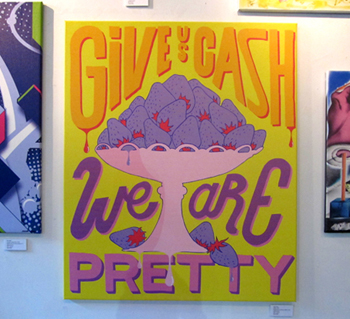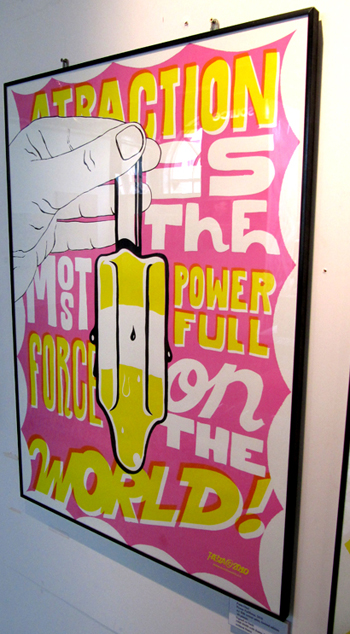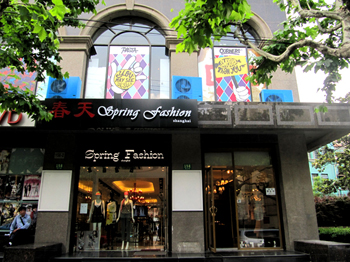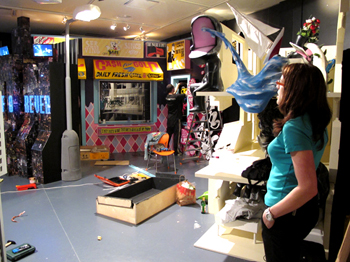 What is "Clique"?
Clique is the only street culture magazine published in the Czech Republic. I am its editor in chief and publisher. I work with an external team of writers, photographers and translators who create the content. So far five issues have been published; the last two in 12x18 inch format. The magazine is published in Czech and English and is distributed also abroad, mainly to Europe.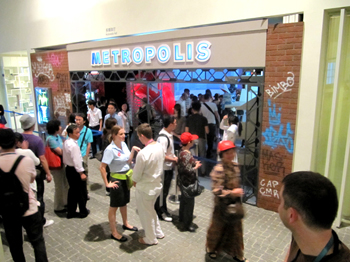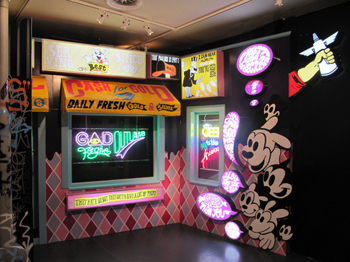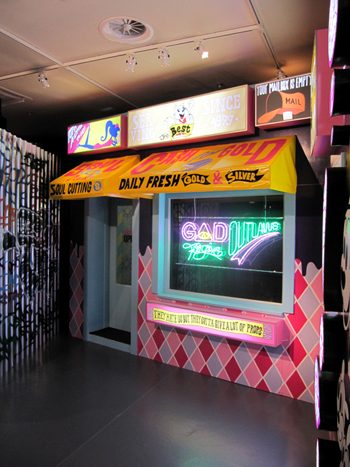 What do you have planned for the future?
Right now my plans revolve around project "Metropolis". This is an exhibit that was created by me and five other authors for the presentation of the Czech Republic at Shanghai Expo 2010. We will transport the whole project to the Czech Republic and it will be on show at the centre of contemporary art - DOX in Prague (http://www.doxprague.org). The Metropolis is a vision of a city on the area of 65x65 feet, where the spectators can move around. Each of the authors created one of the objects that make up the city. We spent half a year working on it. I also want to paint big murals. And I would like to do another exhibition, a solo show this time.