In the House of the Radiant Baby: Keith Haring's Apartment
Juxtapoz // Saturday, 30 Jan 2010
1
Wendy Goodman reports for NY Mag:
In retrospect, it seems like destiny. "We were meant to be here," says Cole Nahal about the Broome Street apartment he shares with Garrett Bowser. "About a month before we found it, I took a picture of Garrett in front of the Houston Street Keith Haring memorial mural."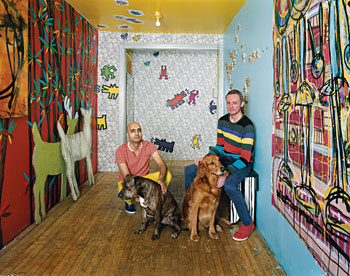 Destiny because a few weeks later, the artists/designers were signing a lease on a slightly dingy two-bedroom walk-up they'd found on Craigslist, which turned out to be Haring's former apartment."I liked the space," says Nahal. "It felt sort of cavernous. And it's a nice neighborhood."
They barely clocked the exuberant eighties graffiti-style drawings covering the front door until the landlord told them those radiant babies were genuine works by the most iconic of eighties New York artists. Before they moved in, admits Nahal, "we weren't terribly interested in him." But once there, "I think we started channeling or something," Nahal says.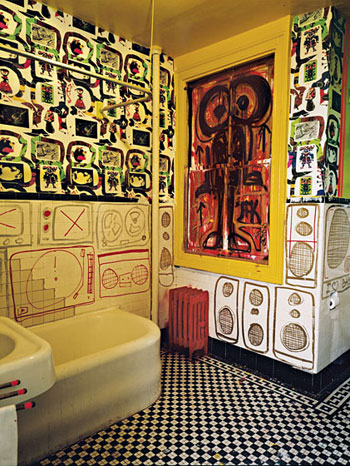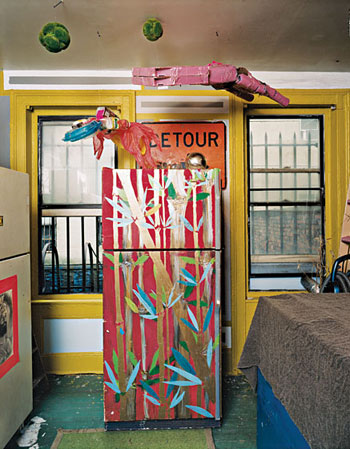 Haring became the guiding décor spirit, animating choices like the Pop-colored furniture, the DIY masking-tape wall—and, of course, the "barking dogs" decals Nahal and Bowser got from Blik.
Read more at NY Mag.com