In process: Joao Lelo at Work with the Birds
Juxtapoz // Thursday, 15 Jul 2010
1
Lelo's work alone caught our eye with its rich oranges, yellows, browns, and gold hues, but when he sat us down to explain the meaning behind his work, it took on an entirely new meaning.
A modest and friendly man, Lelo is from Rio de Janeiro, one of the few artists participating in the Transfer exhibit from that area. Though he is considering moving to Sao Paulo, Brazil's art capital, he admits that he would miss the beaches and beauty inherent in Rio, as opposed to the tall buildings and bustling vibe of Sao Paulo.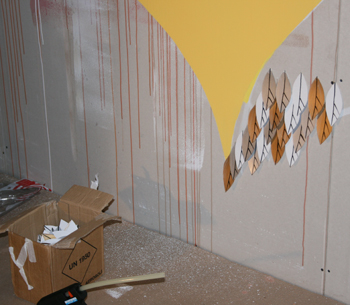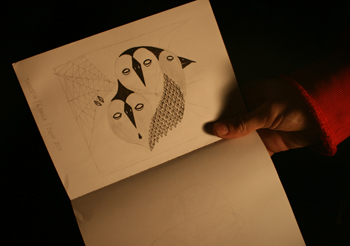 We caught him sitting cross-legged meticulously gluing hand cut and metallic painted paper 'feathers' measuring approximately 2 inches in height. The portion of his installation that will be covered in these small feathers measures approximately 6 feet by 2 feet, so Lelo has his work cut out for him.
He explains how birds have been the focus of his work for the past two years. He finds meaning in all types of birds – the freedom, the fluidity, the movement - all capture his heart, but it seems as if the phoenix is of particular importance to him. One piece, titled The Phoenix, features a two-headed phoenix, which Lelo explains, "only happens to a phoenix when it is dying or resurrecting for the ashes. It represents transformation and growth." Latin words line the bottom of the painting, as well as meticulously rendered gold paint, which is so finely layered that it literally shines like bright sunlight. It's impressive to view in person.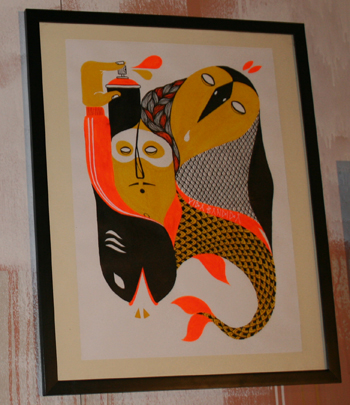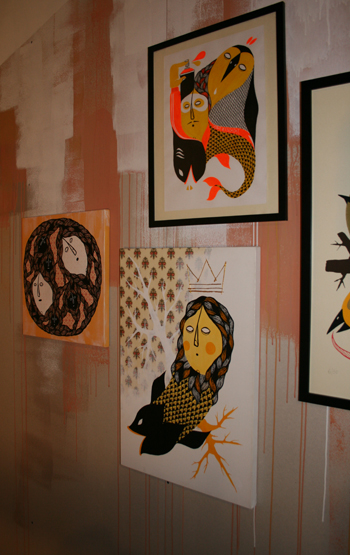 Lelo's site-specific installation is comprehensive, with framed pieces on paper, mixed media paintings on gift paper, acrylic and china ink on canvas as well as un-stretched canvas, and a painted mural of birds with those hundreds of hand painted feathers flocking its wings.
Lelo says he is interested in the cycles of life and the meaning behind the food chain using animal instinct as a metaphor for human behavior. "It's all a food chain. I use animals to represent human nature; one fish eats another as a human getting over another human. A bird with two faces to show different, perhaps hidden parts, of people. I find a lot of meaning in the animal world."