Image Gallery
IN L.A.: Zhang Huan at Blum & Poe
Juxtapoz // Thursday, 02 Jun 2011
1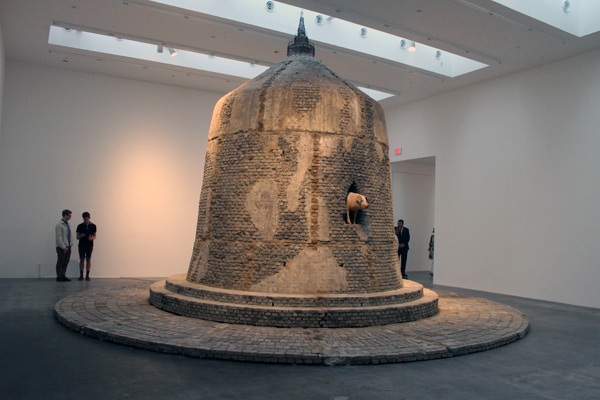 Chinese-based artist Zhang Huan's first Los Angeles solo exhibition, 49 Days, is currently showing at Blum & Poe. This body of work consists of stunning large scale sculptures fashioned from salvaged brick which Haun collected from demolition sites surrounding Shanghai. The press release reads:
Central to his exhibition at Blum & Poe will be Pagoda, 2009, an imposing brick sculpture originally displayed at the Shanghai Art Museum. The twenty-two foot tall bell shaped pagoda is comprised of salvaged brick collected from demolition sites surrounding Shanghai (centuries old buildings that have been bulldozed in place of modern architectural progress). Near the center of the structure is a carved window from which a taxidermied pig periodically emerges and from where clouds of incense ash are dramatically emitted into the gallery.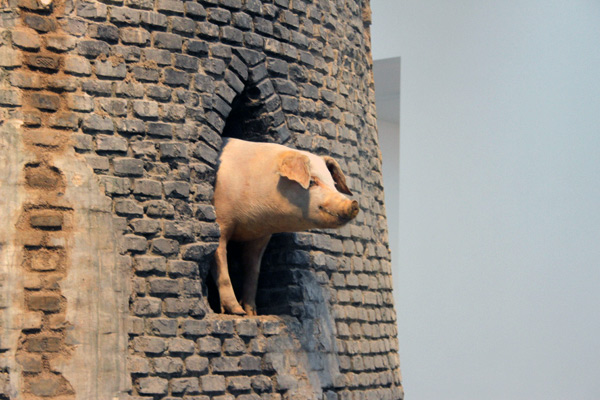 Pagoda serves partly as a tribute to Zhu Gangqiang, or the "Cast-Iron Pig", now famous for having survived 49 days in rubble, following China's historic 2008 Sichuan earthquake. Upon hearing its story of survival, Zhang negotiated the pig's purchase and has subsequently adopted him into his studio, employing a full-time caretaker and making his likeness a central part of his artistic practice.  The number "49" (from which the show takes its title) is dually significant, both for its relationship to Zhu Gangqiang's story and for its connection to Buddhist thought, as the Buddhists believe 49 days is the amount of time ones soul remains on earth between death and reincarnation.


In addition to Pagoda, Zhang will present a series of newly constructed brick sculptures taking the form of pigs (often larger than life) and skulls. Relating back to the story of Zhu Gangqiang, and larger notions of mortality, the pigs and skulls compliment Pagoda in their formal construction and emotional tenor. Zhang will present sculptures that function as both freestanding floor pieces and two-dimensional hanging wall pieces, in some cases weighing in excess of 4,000 pounds. The sculptures testify to Zhang Huan's interest in personal, community and artistic survival; topics he has been exploring in depth since his physically intense performance pieces of the early 90s.  The brick may also be viewed metaphorically, as the works are constructed by the hands of Chinese laborers, representing the building blocks of a new world super power and place of constant reinvention that depends on its vast population to ensure progress as a nation. —Amy Duran


Zhang Huan
49 Days
Blum & Poe
Through July 9, 2011