Image Gallery
In L.A.: Todd Schorr @ Merry Karnowsky Gallery
Juxtapoz // Monday, 19 Mar 2012
1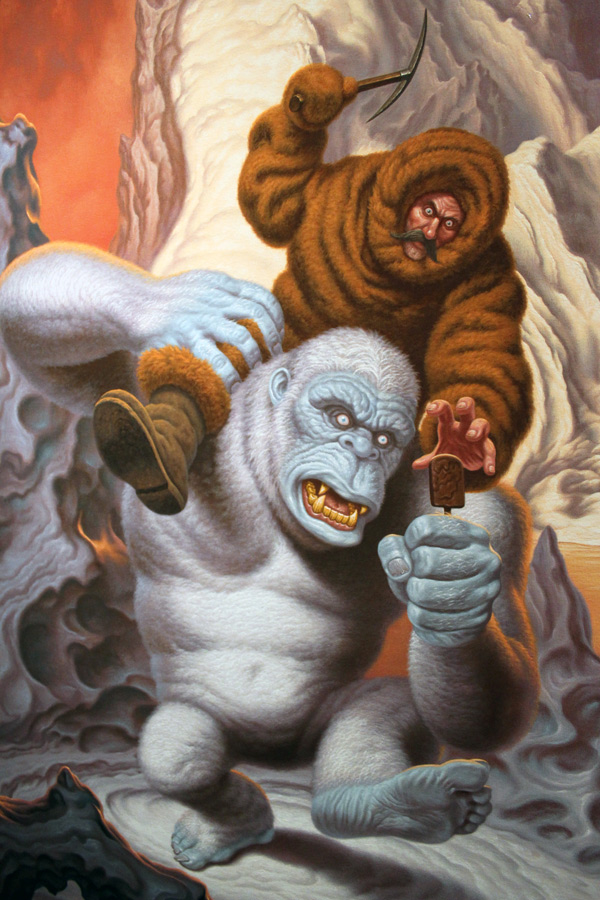 Legendary artist Todd Schorr's latest exhibition Neverlasting Miracles consists of a stunning array of work, several large-scale paintings which are accompanied by small studies in graphite and acrylic allowing the viewer a peek into Schorr's artistic process.  The exhibit also includes a gigantic Humpty Dumpty-esque sculpture, which stands an impressive 9 feet tall.
Always one to play off of the complexities within our DNA, Schorr has once again delved into the intricate world of evolution, or lack thereof, as the case may often times be, by exploring the Modern vs. Primitive behavioral dichotomy that makes up our present human condition. It is a topic often approached by the artist, questioning how we can be so technologically advanced in certain areas, yet sinking back into primitive behaviors when relating to the world and each other. Painting with masterly technique influenced by the likes of Bruegel, Dali, Bosch and Parrish, the painterly labors of the artist continue to overwhelm with amazing detail and impressive scale – both large and small. With tongue-in-cheek perfection, Todd pokes a finger of warning at the creeping decay of our modern society and our collective moral compass.
Of his new body of work Schorr says:?"In a way my paintings are like an animated cartoon that has been frozen into one frame with all the clues to its storyline present somewhere within the composition.  Generally speaking all of my paintings do follow a narrative that is up to the interpretation of the viewer to solve. The challenge is to be able to engage the viewer through the use of arresting subject matter and a dynamic composition that will lead them through a scenario that is hopefully powerful and thought provoking.
The many varied and amusing complexities of human behavior continue as avenues of exploration in my latest group of paintings.  The genome of our kissing cousins, the Neanderthal, has been decoded and they are alive and well and swimming within our modern day genetic lottery. Narcissism has reached an all time high as aesthetically challenged physicians in the plastic surgery arts continue on their frantic quest to enhance and beautify. It won't be long before Father Time himself will be opting for his own nip and tuck.  These thoughts and more are given full reign across generous fields of colorfully pigmented canvas.  My new works seek to entertain while at the same time provide the viewer with tasty morsels of contemplative thought."
Following are a few images from the opening reception.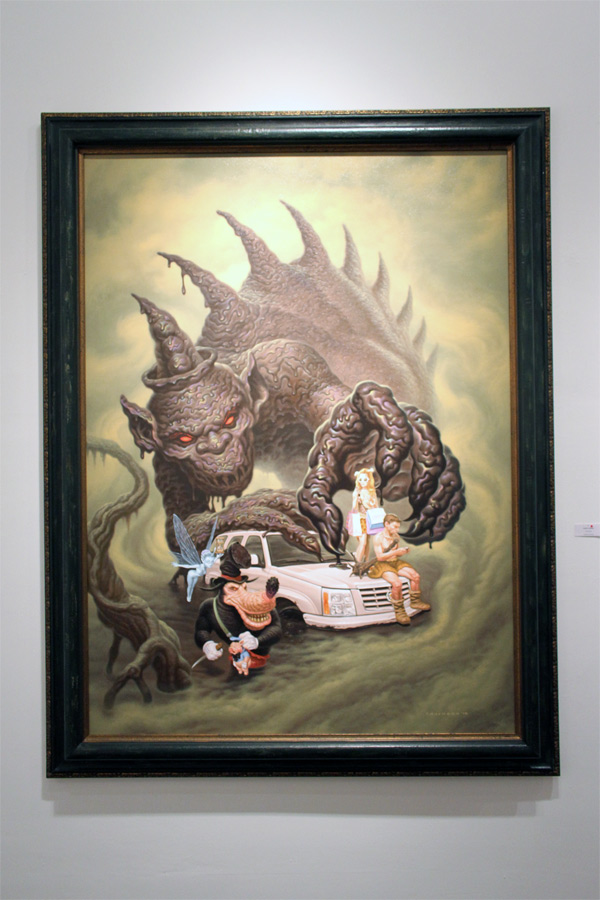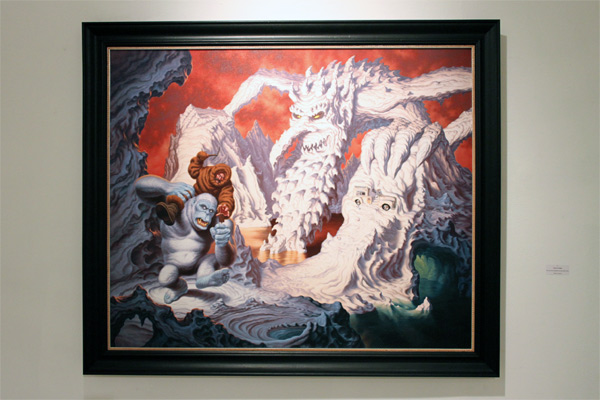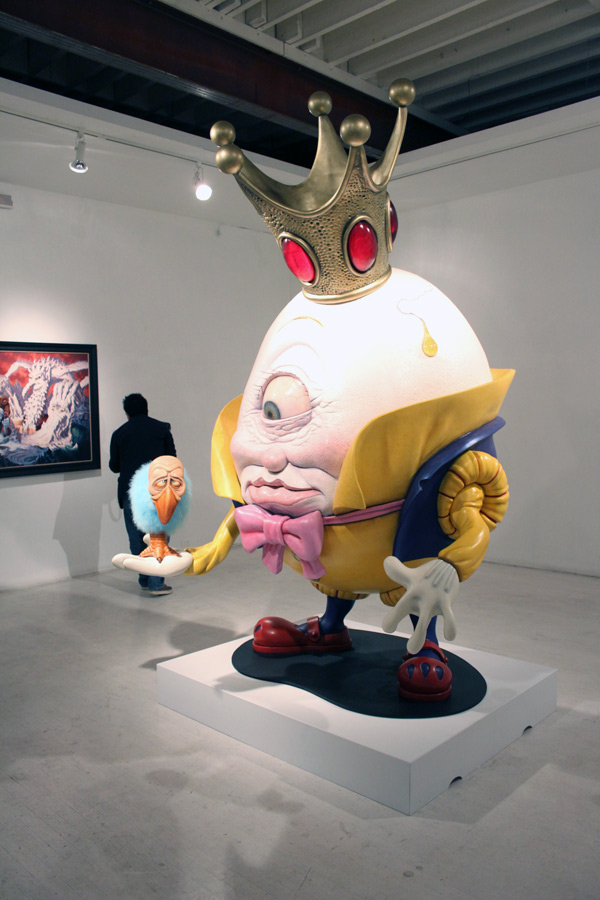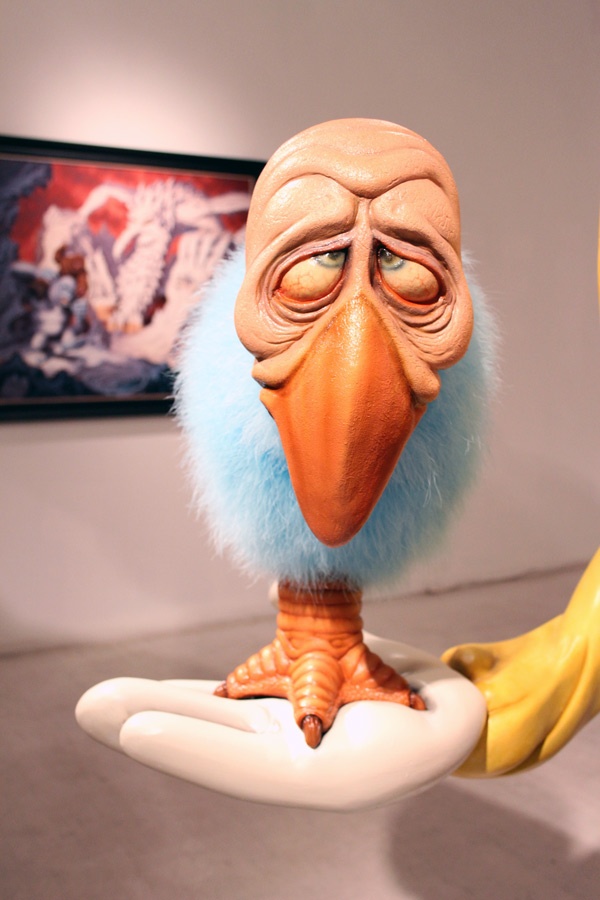 Todd Schorr
Neverlasting Miracles
Merry Karnowsky Gallery
Through April 14, 2012