Hugh Brown's "Allegedly" at GCAC with Greg Escalante and Nathan Spoor
Juxtapoz // Tuesday, 23 Jun 2009
1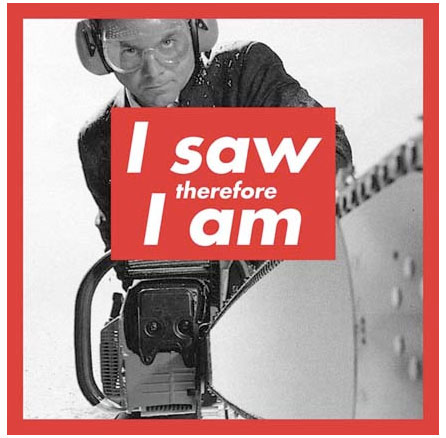 For years it has been rumored throughout the art world that there was a privately held collection of works created in secret by the top tier of modern art's contemporary brain trust. This special grouping of masterworks is coveted by several in the know as the "holy grail" of unattainable properties and irreplaceable objets d'art. Now, for the first time in history, in an unprecedented fashion, Hugh Brown reveals this body of work through years of research and painstaking determination, contacting major holders of modern art and leveraging for the entire collection to appear publicly for the first time.
The object of so many desires, you might ask? Chainsaws. That is correct; chainsaws are the subject of well-hidden and ingeniously covered connections in several historically relevant figures in the art world.
After several meetings with Brown, Gallery Director Mike McGee came to the same conclusion you are probably formulating right now. Either Hugh Brown is a clever cover name for a secret society of eccentric patrons, or this Brown character is out of his genius mind with generous amounts of time on his hands. Either way, hoax or legend, this exhibit is well worth the time it takes to spend investigating the mystery that is, "Allegedly: The Hugh Brown Chainsaw Collection." --Greg Escalante and Nathan Spoor
Barbara Kruger, currently a professor at the renowned UCLA, is an internationally renowned conceptual artist. She began her rise to fame at Mademoiselle magazine, becoming chief designer within her first year. Her love for successfully blending graphic design and images, predominantly black-and-white pictures, and consistent usage of the Futura Bold Oblique font is her established and worldwide trademark.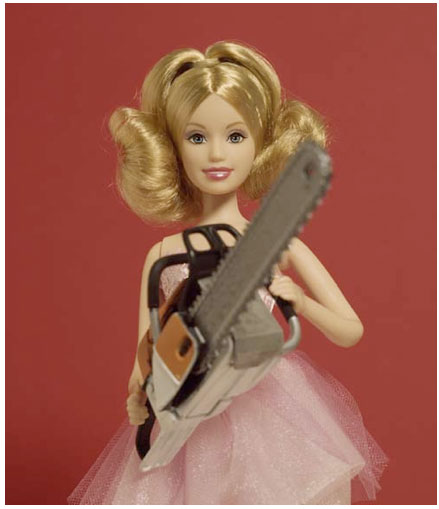 David Levinthal is a fascinating study of genius at work. He holds degrees from MIT, Yale and Stanford, and is most well known for his explorations into American culture. Shown here is one of his Barbie pieces, "Barbie Saw", displaying his fascination with mini environments that challenge the viewer's emotions in relation to the socialization of modern youth.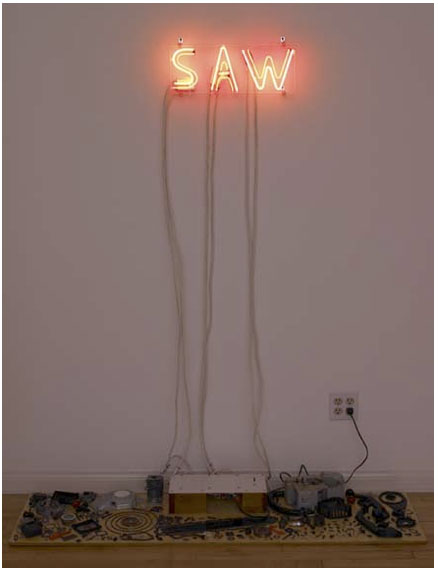 Bruce Nauman, the highly touted American conceptual artist, displays his interest in the chainsaw with "WAS / SAW." Nauman is most well known for his playful displays of language in neon lights. He is a highly decorated individual as well, being named the American representative to the 2009 Venice Biennale.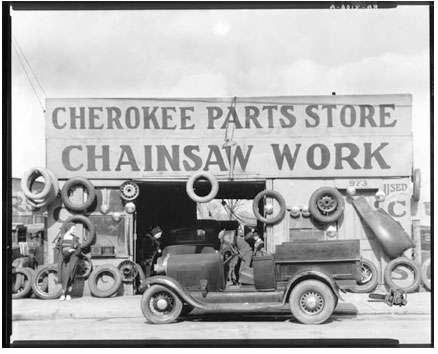 Walker Evans "Chainsaw Parts Shop" clearly epitomizes the stunning work he undertook for the Farm Security Administration to document the Great Depression (called the most massive economic depression in the 20th century). On his departure from the FSA in 1938, an exhibition of his work graced the walls of The Museum of Modern Art, New York. It was the first exhibition of its kind in the museum, being that it was entirely devoted to the work of a single photographer.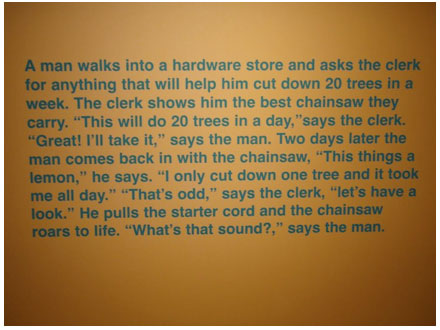 Richard Prince is most famously noted for his highly publicized legal feuds over his controversial "rephotograhs." It is often thought that he is the father of what many call Appropriation Art in the 1970s. In this work, a standard sized mid-80s piece titled "Man walks into a hardware store," Prince's love for the usage of stand up comedy is seen in full playful force.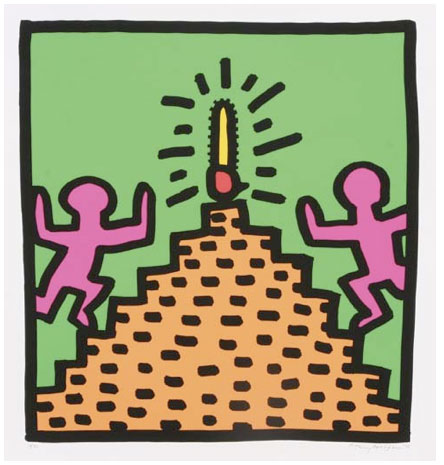 Keith Haring's "Untitled" screenprint depicts what is arguably his most prolific period, before his all-to-soon departure at the age of 31. Haring rose to prominence with his chalk drawings in the New York subways, and quickly rocketed to fame and fortune in the early 1980's. His work put a bold and colorful stamp on the '80s as well as the emerging New Wave subculture that would affect generations to come. He is noted as a contemporary of Basquiat, Madonna, Kenny Scharf and even superstar icon Andy Warhol.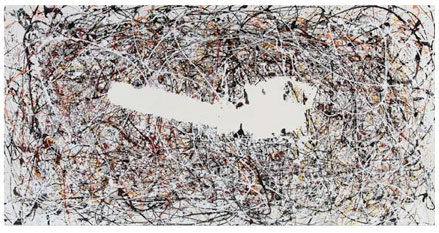 Jackson Pollock needs nearly no introduction to any artist born to any realm of modern visual art. This selection, "Arterial Mist," displays the great reclusive abstract expressionist's homage to his creative flow of work in contrast with the implications of the chained beast within. His work remains without question one of, if not "the" most important discovery and challenge for the modern contemporary art world and future generations.
To more fully understand the scope of the exhibit, it might be most helpful to read Cal State Fullerton Gallery Director Mike McGee's essay on the subject.
To continue the experience, visit: grandcentralartcenterblog.blogspot.com