How to Steal Banksy Work From Its Original Street Location
Juxtapoz // Tuesday, 30 Aug 2011
1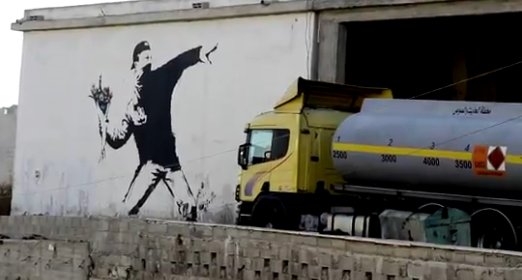 We feel dirty just watching this, but we felt we should post this video of art dealers stealing, taking, ripping
Banksy
's work from a 2007 trip to Palestine (some of his best work in our minds) because, well it is interesting to see art dealers go to these lengths to steal, rob, take, rip a street art piece from a wall for a gallery show across the world.
The music is horribly melodramatic, too. Reminds us of Sting doing World Music. This whole video reminds of a world of Sting's doing World Music. Hopefully that makes sense.
As
Slamxhype
reports, "
Keszler Gallery
has already opened the doors for their 'Original Street Works' exhibition featuring Banky's street art. Lifted from their original walls in Los Angeles, Palestine, Brighton and New Orleans, dating back to as far as 2002, these works are now collected and being presented in one location. The video above features the process involved in transporting the 'Stop and Search' and 'Wet Dog' pieces from Palestine to the United Kingdom and getting the works ready for their current location in New York. The gallery is geared to run til September 30."