How I got to Interview Mercedes Helnwein
Juxtapoz // Tuesday, 18 Aug 2009
1
Tommy continues:

"March 2008, I was unemployed, so it was only natural then that I should eat a meal costing half my rent. That was the dinner price for the Heal the Bay gala: $500.

I didn't have $500. I had a friend named Joy Limanon. She handled publicity for Class, a trade show for eco-friendly fashion. This gala was part of it and Joy had free tickets. I loved free galas, I loved friends like Joy, and I wanted to love $500 dinners, but I didn't eat enough to know.

I ate $20 worth.

I drank $480.

I was at the bar so much that I missed four of seven courses; if the servers didn't see me, then they didn't set down a dish. How they expected me to heal a bay like this, I didn't know. It required calories.

I quickly got over it and got my reward: Dionysian delight. My throat was a champagne chute and my body, a chemical massage. Life shimmered. Unemployment didn't faze me anymore and I laughed in the face of the unknown. It laughed back.

Dinner guests laughed too, so I joined them by the window, and from this penthouse ballroom, we overlooked Santa Monica -- delusional gods. One pantheon worked for Class: Shannon, the sommelier, Matt, the production manager, his fiancé, the graphic designer, and Jason, the creator. There were others: a writer from San Diego, a singer-songwriter, and two journalists who reported that their table guests weren't conversational -- I looked over, saw red hair, and went to authenticate this claim.

"I'm Tommy. Who are you?" I said.

The source of red hair said she was an artist. She did drawings recently for WeSC (We Are the Superlative Conspiracy), a fashion brand, exhibiting at Class. She also published a novel this year. Her name was Mercedes. Her verbal ability was fine and I concluded that not all journalists could report the news.

I don't remember saying anything to Mercedes' companions -- perhaps other than my first name -- but I would later learn that they were Chris Watson of the band, Love Lies Sleeping, and Alex Prager, artist and photographer. Mercedes wrote down her Web site and her email address. She encouraged me to see her art.

I asked about the next exhibition.
There was currently one at the Bergamot Station, she told me, and in August, there would be a new one, somewhere else.

"Great," I said, "I'll check it out in May."

"August," she corrected.

"Oh, August, okay. Hmmm. I don't know why I said May. Well, maybe I just want to see you sooner." I was revealing too much, so I changed the subject, "Um, some of us are going over to the Viceroy after this. You guys should totally come along."

The gala emptied.

Joy returned home to her husband and daughter.

As advertised, I went to the Viceroy with five people I had known for thirty minutes. We sat around the lobby, held hostage by acoustic rock music, euphoria draining out of our skulls. Mercedes, Chris, and Alex didn't miss a thing.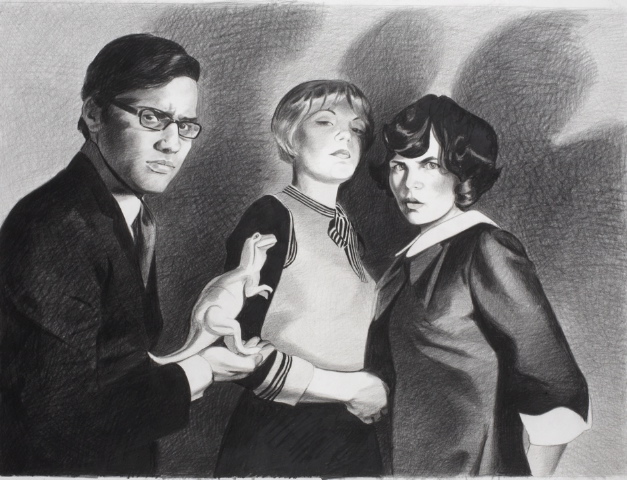 The next day, I saw the artwork on her site. Her skill was unparalleled; pencils performed better than any camera; characters were both familiar and otherworldly; in each drawing shined the spectrum of human experience, with gradations of irony and pathos. Mercedes was a singularity in the modern art universe.

I emailed her and shared a description of my novel, Taurus Ikkanda. Then I bought her literary fiction debut, The Potential Hazards of Hester Day.

Life went on.

I made friends with a two-hour half-life and others with a lifetime membership. I wrote my novel. One character wasn't fully alive but the moment I named her, Mercedes, was the moment I revitalized her -- and she wasn't Mercedes Helnwein -- she was Mercedes Suarez, blond-haired music journalist, raised in Argentina and living in San Francisco, head over heels for puns ("great minds drink alike"). But she needed whatever spirit I recognized in Helnwein -- principled, pioneering, kind -- and she needed her name, because sometimes a word just fit, like a chord progression into a key -- I know it when I hear it -- a feeling. I finished my novel thereafter.

In May, I got a job with Google as a Quality Evaluator. When I left the office, I read, wrote, partied, practiced Tarot, went on nightlife safari, sometimes waking up in the dining room, sometimes working with hostile hangovers. But I always remembered the exhibition in August -- not May.

The day arrived.

Her exhibition, "Whistling Past the Graveyard," opened at the Merry Karnowsky Gallery on La Brea. It was being hosted by actor Jason Lee, who collected Mercedes' art and was also part of WeSC.

I invited people but nobody wanted to come -- a common occurrence -- and so I went anyway -- another common occurrence. I prepared a congratulatory gift bag and brought her novel to the gallery. I planned on getting an autograph.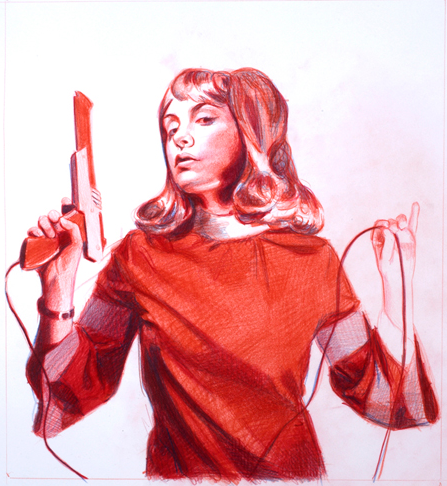 I learned that such desires cannot be planned; I had never seen the place more crowded. Mercedes had a mob and an occupied expression -- lots of people, lots of questions, little relaxing time. I waited in line to see her. After four people gave their accolades, it was my turn: "Hi, it's me, Tommy. I met you at the Heal the Bay gala. Back in March"

Two seconds. That memory was accessed. Understanding took her face. "You came," she said.

"I did. Congratulations." I gave her the gift bag. "I read your book, too. I was hoping to get an autograph."

She asked her representative for a pen. The man said it wouldn't be possible and promptly steered her away. I overheard him saying she had to meet someone.

I had no one to meet, so I wandered the gallery and got lost, despite its three rooms.

I found my way home.

Crestfallen, I picked myself up and repaired my psyche: I had expected things to unfold a certain way -- my way -- and this was poisonous. Ancient kings had met their end like this. Of course, it was fine to have purpose -- every inspired person should -- but I couldn't marry expectation and believe in a single outcome. Room was needed for change, discovery, and pathways. Method was needed to house this room. An open mind could furnish this reality.

The next day, Mercedes Helnwein appeared in my Inbox. She apologized for the chaos and the unsupplied autograph and thanked me for the gifts: the cookies were being enjoyed, while the tea had yet to be. But I wasn't worried. Black tea was her habit.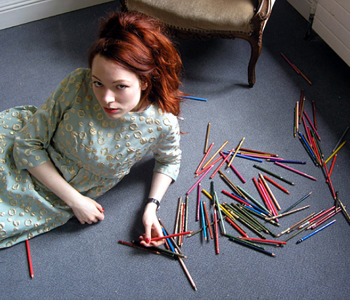 Two weeks later, the Merry Karnowsky Gallery invited me to a cocktail reception with Mercedes Helnwein. I attended with Joy's husband, Matt Anaya, one of my best friends. He marveled at her drawings and their photorealistic detail. This time, the gallery only had twenty people.

And they didn't mob Mercedes.

And there wasn't a queue.

She wore serenity and wore it well. After signing The Potential Hazards of Hester Day, she spoke to me about it, about her artwork, about whatever I wanted to ask, because no one stole her away to meet someone important. I was important. I always had been. I had this habit of forgetting.

Later, I met her boyfriend, Chris Watson. We both realized we had seen each other at the Heal the Bay gala. At the end of the reception, I suggested an interview to Mercedes. I didn't know which publication I would pitch the article to -- SOMA perhaps -- but I was intent on doing it.

She agreed.

Today is eleven months after that agreement. Though the article is written, it almost wasn't published: When I queried Juxtapoz in July, editor, Katie Zuppann, declined in 24 hours: "Thanks for the inquiry, Mercedes makes some great art, but at this time we aren't looking for an interview with her." The next day, Katie changed her mind: I could write the piece for their online edition.

In preparation, I read every article in cyberspace about Mercedes. I read her online journal. I reread passages in her novel. I restudied her artwork. I became her biographer, her scholar. When I finalized my interview questions, I didn't retread old topics and I sent them to her in Tipperary, Ireland.

I gave her a two-week deadline and she replied in a week and a half.

She emailed that of all the interviews she'd done, mine was probably "the most thought-through." Five thousand miles away, Mercedes couldn't see how sunny I was in Los Angeles, how ethereal, for her words were a new kind of champagne. They glowed on the monitor, and I drank them again, and they were still there -- real as her autograph in my book.

I decided then that I loved $500 dinners.
---
If you have yet to read the interview One Million Questions for One Mercedes Helnwein, Part 1 lives here & Part 2 lives here.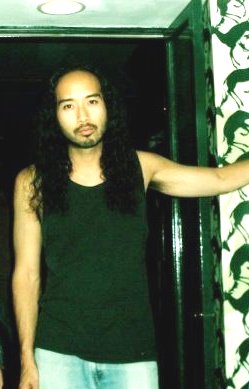 Tommy Tung lives in Los Angeles and writes fiction (mostly), but also practices Tarot, peace, and alternative rock music. He seeks literary representation for his novel, "Taurus Ikkanda: a concept album in Times New Roman." Tell him what's on your mind: tungtalk@hotmail.com