"Homage to Frida" at Australia's 19 Karen Gallery
Juxtapoz // Saturday, 04 Jun 2011
1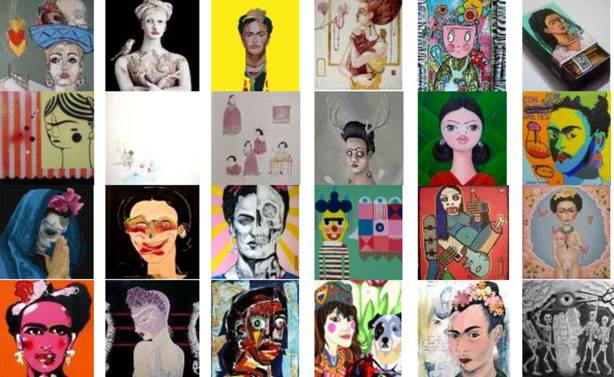 Australia's 19 Karen Gallery will transforme into a living, breathing Mexican carnival June 4, celebrating the life, death, and spirit of the inspirational Frida Kahlo. Multiple works by 25 of the galleries emerging artists will display diverse and varied pieces; each artist using their signature style to unravel and illuminate Frida's vibrant and vulnerable art, her strong and humble character, and the larger-than-life legend she has left behind.


Homage to Frida is a group show curated by 19 Karen's director Terri Lew, who's love affair with Frida began in 1978 when she discovered Frida's autobiography novel. "I identified with the character in the book (Frida) as if I lived this life before," Terri said.


Travelling alone to Mexico on her fiftieth birthday, she visited the landmarks and explored Frida's heritage. Terri built her home four years ago in the spirit of Frida: living everyday surrounded by paintings and sculptures of the woman that motivates her most.
This group show will flourish in the dedication of 25 artists exploring and rejoicing in Frida's life and art as never seen before. Artist responses to the Kahlo concept are as varied as Luke Yocum who feels deep inspiration from Frida's works. "The surreal world she created was a divine one... I can feel her angst hidden behind the vibrant canvases," he says.
Ben Sheers, who's four works focus on the commoditization of Frida's life, said, "These Frida related objects (that Ben has painted) show how much her myth has been permeated into contemporary culture and the public's psyche."
Participating artists include Abigael Whittaker, Amanda Shelsher, Amaya Iturri, Anne Smerdon, Beck Wheeler, Ben Sheers, Dan Withey, Jeremy Piert, Jesse Dolman, Jessica Charlotte, JME Pool, Johnny Romeo, Joshua Smith, Juan Arata, Juliet Foxtrot, Luke Yocum, Kate McCarthy, Maria Rozalia Finna, Nolwenn Stephan, Rebecca Murphy, Richard Denny, Sarah Beetson, Simone Maynard, Sonya G Peters & Will Duncan
For more information, visit 19karen.com.au/.