Hi Sallys: A Tribute to Quentin Tarantino's 'Greatest Collaborator' Sally Menke
Juxtapoz // Thursday, 30 Sep 2010
1
Menke was found dead this Tuesday due to apparent heat stroke while walking her dogs in Griffith Park, Los Angeles.
She worked with Tarantino for 20 years, editing every one of the famed moviemakers' films; from Reservoir Dogs in 1992 to last year's Inglourious Basterds, for which she received an Oscar nomination. She also received an Oscar nomination for her work on Pulp Fiction. Quentin Tarantino does not write with anyone else, but has referred to Sally Menke as his greatest collaborator.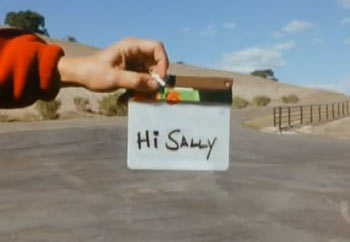 Tarantino developed an endearing habit of encouraging his actors to say hello to Sally before, and even within, the midst of takes. It was an unusual and heartwarming inside joke that the actors and Tarantino consistently offered Menke who worked remotely in the editing room in Los Angeles.
The following are 'Hi Sallys' from the set of Inglourious Basterds," comments from Tarantino himself on collaborating with Sally, and other 'Hi Sallys' from the set of Deathproof.
Her death marks the death of one of the world's most talented film editors and will surely affect not only Tarantino's future endeavors, but Hollywood as a whole.