Hey Babe, or the 100 Faces of Eve
Juxtapoz // Thursday, 24 Jun 2010
1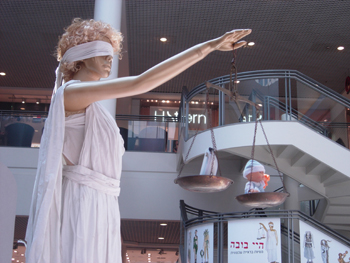 Hey Babe, or the
100 Faces of Eve
Text & Photos by Mendi Kogosowski
"You would be hard-pressed to find a woman today who does not struggle with the conflict between her inner image and the myriad of external roles she fulfills, which define her identity towards the world", says curator Tami Sinar.
"Through this exhibition we aim to tackle this conflict head on and demonstrate a different kind of female empowerment".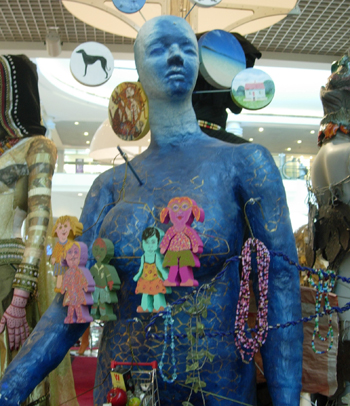 "Amalia" (Irit Raiten)
Sinar is the curator of the "Hey Buba" exhibition - Hebrew for doll, or babe - currently on display at the Ramat Aviv Mall in Tel Aviv.
The exhibition is comprised of 100 full-sized mannequins, each uniquely designed by a female artist who used her "buba" as a blank canvas in order to express her personal interpretation of the contemporary female identity. Each mannequin is a statement on to its own, and together they comprise an intricate weave of hopes, fears, dreams, frustrations and desires.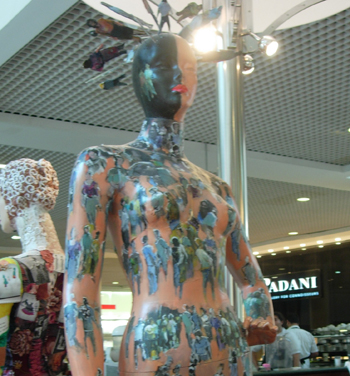 "A Heavy Load" (Maureen Rosen)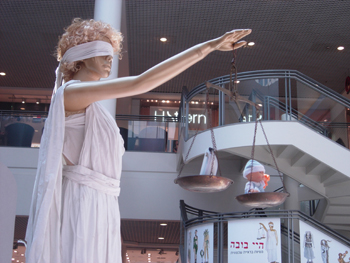 "The Lace Knitter" (Hedi Bernthal)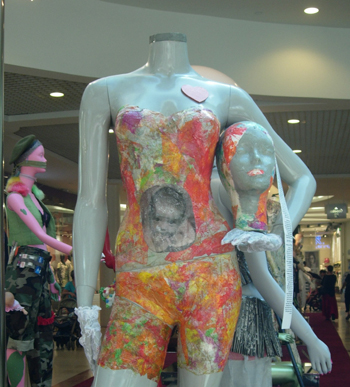 "You" (Ester Kedar Shahar)
The artists come from diverse cultures and backgrounds: Jewish, Arab, Ethiopian, Russian, South American and more. Still, they are connected to each other and to femininity. "What they have in common", explains Sinar, "is the internal voyage they have embarked on in order to understand their identity as people, women and artists in this world".
And indeed, while no two mannequins are the same, several common themes run through the exhibition: multitasking, family and career, social expectations, mother earth, creativity and intuition, the woman as property, pain and hurt, and balance and power.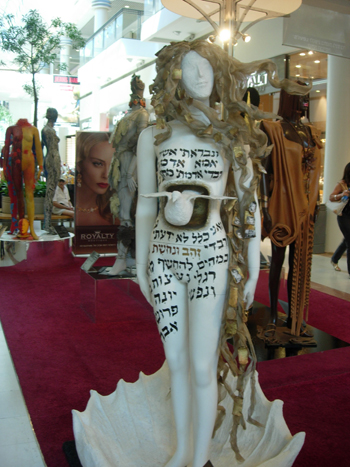 "And I Was Created a Woman" (Varda Solel-Shamai)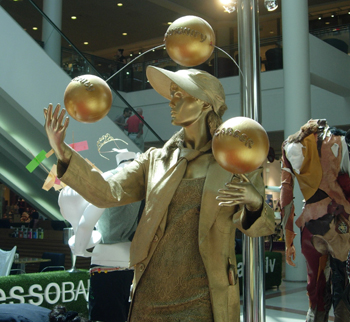 "The Juggler" (Nili Pardes)
Another layer of meaning is added to "Hey Buba" by displaying it at a shopping mall, where the perfect mannequins behind the display windows are positioned in sharp contrast to the "real women" of the exhibition.
"What is a mannequin? A lovely yet shallow, hollow and empty-headed being, just like the ones in the stores"' says Sinar. "We know this stereotype of femininity, which still exists to a certain point. But ours are different, empowered and empowering. Each mannequin with its story, each with its inner truth".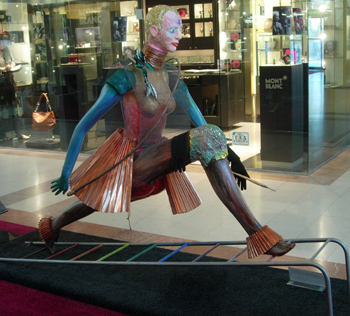 "The Voyage of the Heroine" (Malka Kochavi)
Very first image title: "Femina" (Tatiana Belokonenko)