Here Be Dragons: Topology of Allegory
Juxtapoz // Monday, 10 Aug 2009
1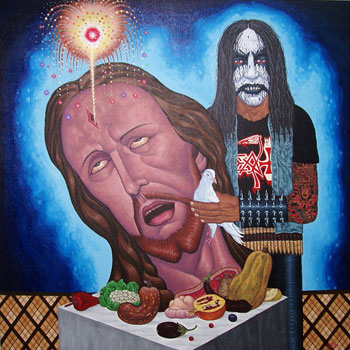 Here Be Dragons: Topology of Allegory is a group show coming to Manila Contemporary, and curated by Ronald Achacoso. It promises to provide a "virtual topographical exploration of the Philippine landscape, it's oddities and peculiarities."
In ancient times, mariners would refer to remote, uncharted regions as places of sublime terror and great wonders. They evoke rumors and fantastic tales of places inhabited by strange imaginary beings and by wondrous exotic landscapes.

These gray areas would be left unspoiled but in its stead is denoted with the latin words hic sunt dracones, a warning that "Here be dragons" or the edge of the abyss.

The Southeast Asian region and the Philippines in particular is relatively uncharted waters when it comes to art. And its artists are modern day equivalents of cartographers of old who define the lay of the land, while the artist plays an analogous role and outlines the virtual terrain of our collective consciousness, virtual cartographers delineating the periphery of the psyche.

August 15 to September 5, 2009.


Participating artists:

Ronald Achacoso, Alex Aguilar, Johnny Alcazaren, Poklong Anading, Felix Bicolor, Ringo Bunoan, Roberto Chabet, Mariano Ching, Lena Cobangbang, Louie Cordero (work shown), Bembol Dela Cruz, Dodo Dayao, Nilo Ilarde, Jonathan Olazo, Jason Oliveria, Bernardo Pacquing, Gary Ross Pastrana, Alwin Reamillo, Raul Rodriguez, Juni Salvador, Gerardo Tan, Jay Ticar, Trek Valdizno, Cris Villanueva, Reg Yuson, and Bea Camacho.