Image Gallery
Herbert Baglione Mural in Mexico City
Juxtapoz // Wednesday, 30 Nov 2011
1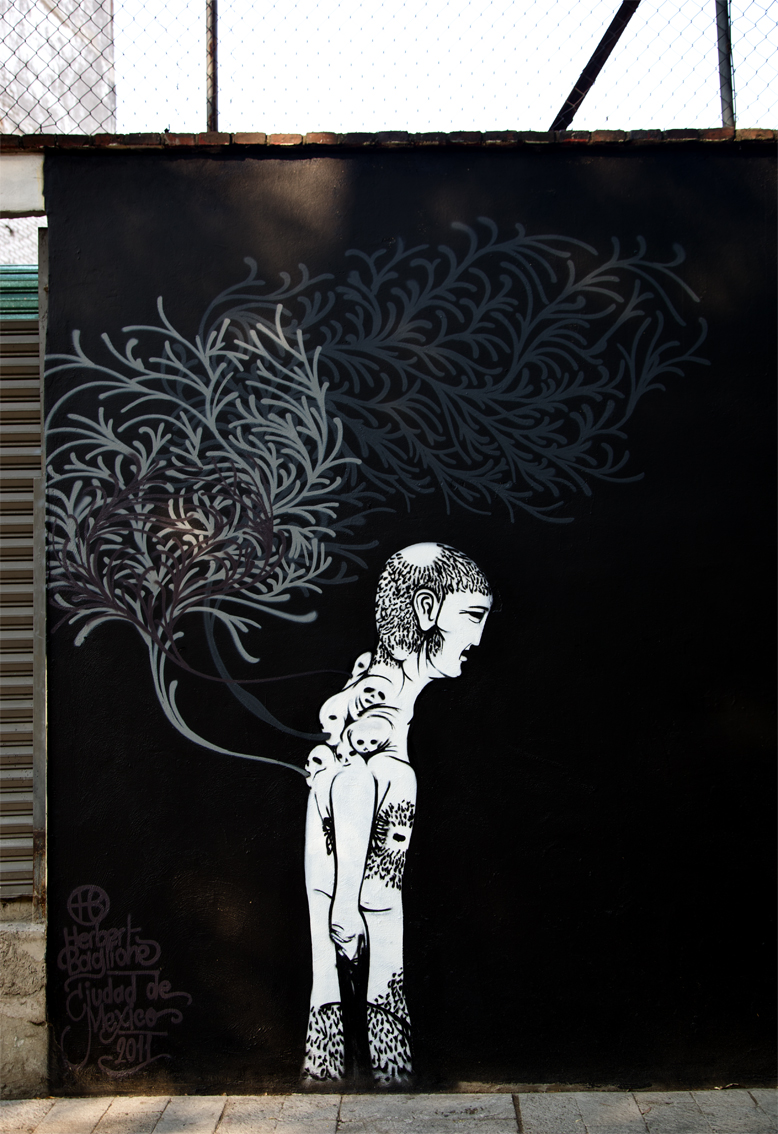 After we left Herbert Bagline in Oaxaca after Day of the Dead (and his collaborative work with Dr Lakra) the Sao Paulo artist headed to Mexico City to paint murals around the massive city. We found some photos of one of the murals, with a bit of an explanation from Herbert himself.

From Herbert:

I have a lot of difficulty on painting in the streets for no reason. I end up creating thousands of barriers that prevent me from doing something just for the pleasure. But, since my last trip to Europe I have noticed the power that the streets have, and I've forgotten. The communication with the people in the neighborhoods is a very valuable thing.
After one month there, I've stayed a few days in São Paulo, breathed my daily carbon monoxide and traveled to Mexico so that I could give death a kiss.
You know that feeling when sometimes you need to be in another place to see where you came from and what made you happy? It was that kind of feeling I had in Oaxaca. I can try to describe it saying that I died and there they gave me a new opportunity to reborn.
At the party of the Dia de Los Muertos I felt all the passages of the soul. In the color and simplicity of the people's houses I saw similarities with the Brazil I like.
I'm far from being mystical, but I feel that in many places I'm not there by chance.
Strangely, the stone streets, the wind and the lights reminded me of the places that I consider the best to paint in São Paulo. Parque São Lucas, Vila Ema, Vila Prudente, Ipiranga and Mooca (neighborhoods in São Paulo) are the places that I miss and every time I go there, my heart beats differently.
I remembered some paintings I did with Boleta and Vitché, our wanderings and endless conversations.
It's different when you are invited to paint with another artist that you don't have the intimacy, and your work flows so naturally that scares. So it was with Lakra.
The first thing I admire about someone, regardless of their art, is their simplicity in life in general. I identified immediately with him and this was a safe step for our work. In fact, in this kind of experience, the least important thing is the result. The process is priceless. The people who passed by, the conversations during painting, a child dressed as Spiderman seeing everything with curiosity, filming and photographing friends. All those things show that it meant something else other than what was recorded on the wall. —Herbert Baglione