Hello March 2010: James Jarvis x Ericalilcane
Juxtapoz // Tuesday, 23 Feb 2010
1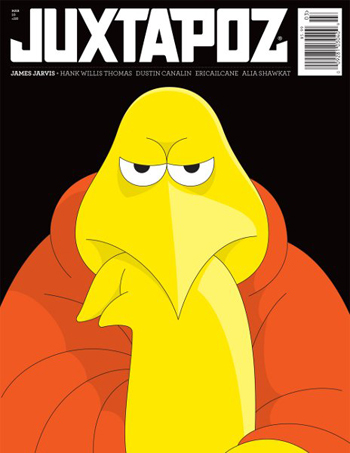 March is already upon us and with it a brand spanking new edition of Juxtapoz. Issue #110 features James Jarvis on our newsstand cover and Ericailcane on the subscriber cover. It may still be cold out there, but this issue is hot.
Look up. James Jarvis is staring at you. Right... at ... you. Actually, that's James Jarvis' Bird God staring at you. Not judging you, just sort of judging everything. We welcome March 2010 with the great illustrator, fine artist, comic, vinyl artist, product designer, and marathon runner James Jarvis as the cover artist.
And because we wanted to make sure everyone saw Italian fine artist and muralist Ericailcane, we put him on the subscriber cover (below).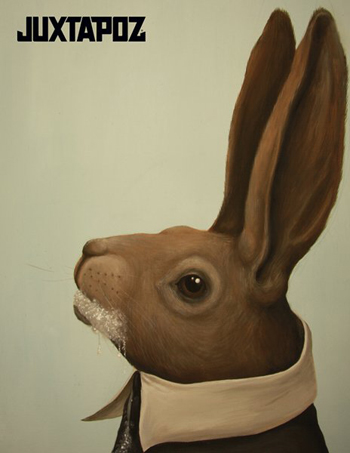 March rounds out with fine artist Hank Willis Thomas, who likes to skew with the typical advertising stereotypes. Because his interview was so long and he's such a smart guy, we feature his unabridged, full-length interview online starting HERE.
Dustin Canalin of UNDRCRWN talks about his projects with And1, Undefeated, Rockport, and his own brand.
Aaron Koblin speaks of his projects, including the art direction of the laser and sensor-centric "House of Cards" music video for Radiohead. Montana Colors talks about owning the spray paint world, and Alia Shawkat (yes, Maeby Funke of Arrested Development) paints. You probably did not know that.
If you haven't already subscribed, get with the times and save 58% off the newsstand price. Also, you'll get the exclusive subscriber only cover when you subscribe to Juxtapoz Magazine HERE.
Or, grab a digital subscription and have access to your issues at any time, forever! Great for our international friends. Info on digital subscriptions is HERE.