Hello Kitty Smart Car Wraps Now for U.S. Fans
Juxtapoz // Tuesday, 26 Oct 2010
1
"We are expanding the highly successful smart program by adding licensed brands as part of our wrap offerings," said smart's Kim McGill. "Both Hello Kitty and smart are expressive with a passionate following, and this is a special opportunity to bring the two fan bases together."
"Our collaboration with smart USA allows fans to truly embrace the Hello Kitty lifestyle," said Janet Hsu, president of Sanrio. "This is the first time that Sanrio will offer a Hello Kitty car in the United States."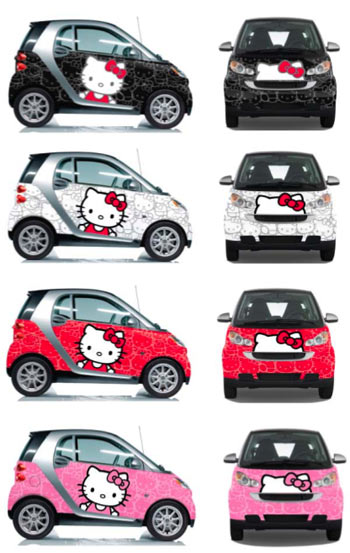 The Hello Kitty wrapped cars will appear at many Sanrio 50th Anniversary events this fall. The Hello Kitty customized cars can be seen at various stops on the Small Gift mobile pop up tour and will also have a presence at the Small Gift West and East Coast events, taking place November 12–21 in Los Angeles and December 2–5 in Miami.
Keep an eye out for the Hello Kitty wrapped smart cars in additional locations nationwide by following the tour at www.sanrio.com/smallgift.
To view a gallery of each Hello Kitty wrap design with select color options, interested customers can visit the smart Expressions design studio at www.smartusa.com/smartexpressions.