Heavy Metal Ice Cream Smile by Buff Monster
Juxtapoz // Friday, 14 Aug 2009
1
For the show, bright geometric and camouflage patterns are juxtaposed against dark monochromatic themes, and new fluorescent orange and yellow hues sprinkle his acrylic-on-birch squirting landscapes. Buff Monster continues to develop his trademark pink palette, titillating kanji translations and Superflat technique while experimenting with stipling and repetition to create illusion and depth.

The exhibition will feature his highly-anticipated new book Life Is Sweet: The Art of Buff Monster, limited-edition signed and numbered serigraphs and a giant custom balloon installation.

Open to the public, the reception for Heavy Metal Ice Cream Smile will take place on Saturday, September 5 from 7 to 10pm, and the show will be on view until September 26, 2009.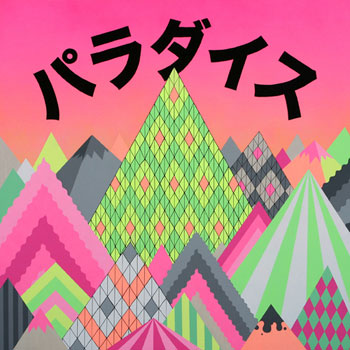 Buff Monster lives in Hollywood and cites heavy metal music, ice cream and Japanese culture as major influences. The color pink, as a symbol of confidence, individuality and happiness, is present in everything he creates. His creative endeavors began by putting up thousands of hand-silkscreened posters across Los Angeles and also in far-away places.

His original and one-and-only wheat paste brush and frequent poster missions have developed into a very productive street art career, and he now works on fine art paintings, collectible toys and select design projects. He paints on wood, taking great care to create them as flat as possible.

His work has been shown in numerous galleries, usually creating large installations to accompany the paintings. He has released loads of signature vinyl toys through MINDstyle, and has many other projects in the works with other leading toy companies. His art has been published in a long list of magazines, newspapers and books, including Juxtapoz, Vapors, Angeleno, XLR8R, The Los Angeles Times, The New York Times, and others. Buff Monster works tirelessly day and night to spread happiness, joy and a love of pink.

For more information about the artist, please visit buffmonster.com