He Cain, He Saw, He Suspended
Juxtapoz // Saturday, 03 Dec 2011
1
Wave goodbye to media darling Herman Cain. In a requisitely bizarre,
Pokemon-tinged
speech, Cain announced immediate suspension of his sensational campaign today. Many observers are left scratching their heads as to why an accusation of adultery and hush money derailed a campaign completely
deluged by harassment allegations
, but trying to comprehend, let alone diagnose, the sickness gripping our political system, its cartel-esque parties and its willing lapdogs in the beltway media is an exercise in futility. Sterner folks than I have
gone utterly bonkers
in the attempt.
So instead, I lift my Republican Primary/Cain-sideshow boycott to share with you some wit and wisdom from twitter dot com's greatest minds– and some of its dimmest bulbs!
Swole Nerd breaks it down: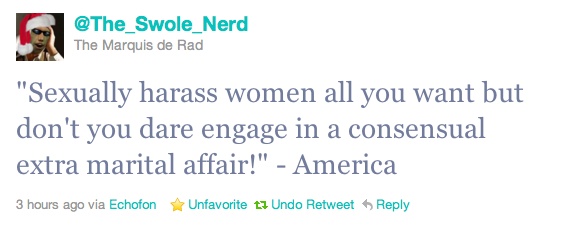 White Person Happy Loam with the Hockey Pun:

Stefan goes the literal route:

The Greatest and Best Twitterer Ever:

And just so I don't get accused of piling on, a word from some of Cain's defenders: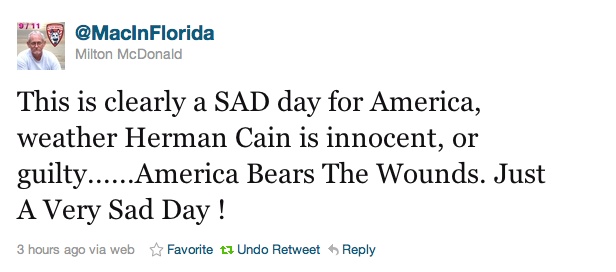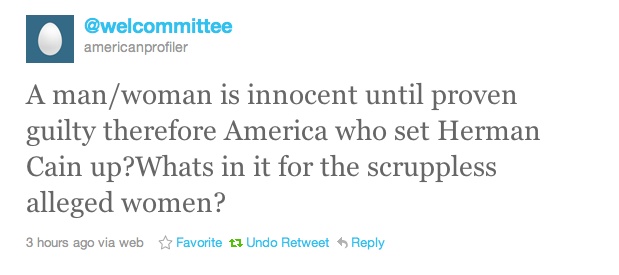 No matter what happens next this election season, the joke's on us.