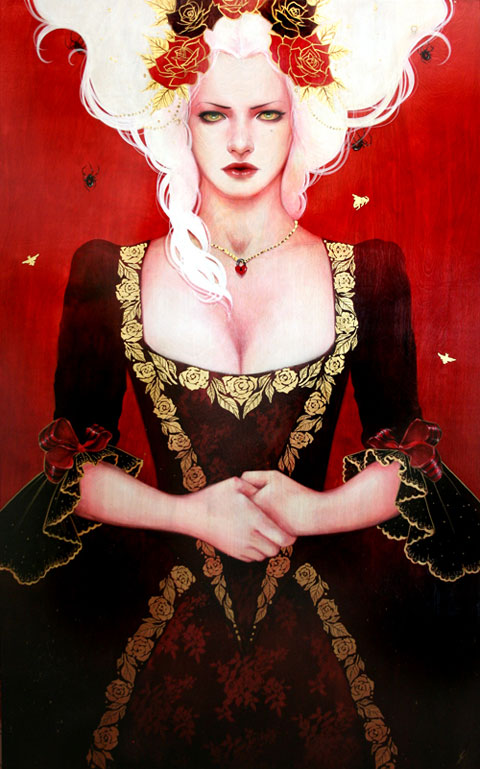 Haute Epoch, the solo exhibition of new works by highly-collected Los Angeles artist Sylvia Ji (Juxtapoz #80)comes to Corey Helford Gallery this Saturday, April 11, 2009.

Returning to Corey Helford for her second solo show, Ji continues her evolution in the mastery of capturing the dark side of the beautiful and the sublime. Words cannot adequately express just how excited we are about this show. Good thing we have Sylvia's stunning paintings to help articulate that feeling for us.

For Haute Epoch her work reaches majestic heights as her macabre catrinas intermingle with exotic empresses, taking on a regal elegance. Ji's imagery is a visual elixir of life and death, combining sacred symbolism with mystical glamour and opulence. Influenced by historical costumery, Ji incorporates Baroque detailing such as luxurious tapestries, ornamental feathers, and gold leafing into her work for a more elaborate and decorative effect. Opening night will include a video presentation by filmmaker Phill Schwartz creating a stunning sensory exploration of Ji's work.

The reception for Haute Epoch is open to the public and will take place on Saturday, April 11 from 7 to 10pm. The show will be on view until April 28, 2009.


Sylvia Ji was born in 1982, and raised in San Francisco, California, where she received her BFA at the Academy of Art University.
Upon graduation, she relocated to Los Angeles in 2005 where she currently resides. Ji's work encapsulates an alluring beauty that is both cutting edge and a nod to time-honored technique.
Her paintings are symbolic reflections of herself, portraits of people she knows or nameless faces set in a landscape of fleeting and decaying beauty. Possessing an artistic voice as unique as the times we live in, Ji is at once contemplative, spiritual, enigmatic, and yet whimsically funny.
Above all else, it is perhaps beauty that emerges as her defining characteristic, and her art reflects this: an extension of herself; a passionate appreciation of simple aesthetic pleasure fused with intimately complex subject matter.

For more information about Sylvia Ji, please visit sylviaji.com.